How Clairol planned a digital ad campaign to boost a Target sale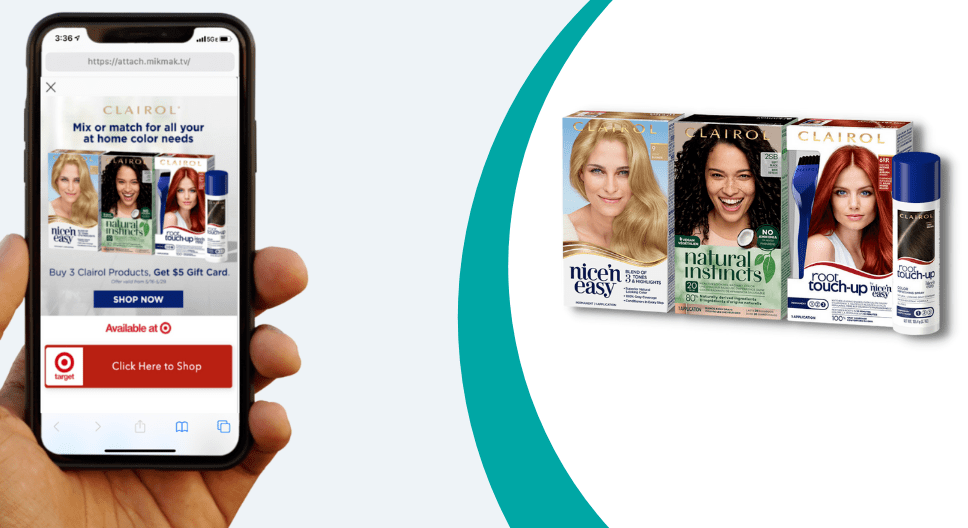 Image via Clairol
Traditional CPG brands are finding new ways to go digital. 
This past spring, Clairol rolled out a digital campaign to coincide with Target's in-store and online promotions of Clairol products. The hair color brand participated in the retailer's "buy 3 products, get a $5 gift card" promo, which Target runs for limited periods across hundreds of CPG brands. 
Because Clairol doesn't have its own direct-to-consumer website, the campaign was a way to parse customer conversion through social media and digital advertising. Clairol tested two promotional runs at Target: the first from March 31 to April 9, and the second from May 16 through May 31. In using call-to-action ads throughout its social and digital campaigns, Clairol helped drive sales to four retail partners' sites — including Target during the "buy 3 products, get a $5 gift card" promotion. Across all e-commerce sales, Clairol saw a 30x higher conversion rate, along with a 16x increase in add to cart (ATC) rate compared to when the brand didn't run the call-to-action ads. 
Bringing legacy CPG products into the digital age
Farrah Linden, director of media at Wella — which owns brands like Clairol and OPI nail polish —  said the idea was to marry the marketing material run by Clairol's marketing vendor, MikMak, with the brand's ongoing retail promotions. 
Throughout its history, Clairol — founded in 1931 — didn't have clarity on the effectiveness of its campaigns in driving sales to retailers. "We don't have a direct e-commerce checkout, so we rely on our retailers for product sales," Linden said. 
Clairol's Target marketing campaign was promoted across all its social media pages. Clairol also ran ads across connected TV, which Linden said was utilized with the help of QR codes. "We learned that customers need enough time to scan it in order to drive engagement," Linden said. 
Clairol's ads highlighted Target's bundle deal to coincide with its limited run. But during the same time, the brand also ran other ad formats highlighting three other retail partners to drive sales to: Walmart, Amazon and Ulta. "We wanted to let customers check out at the retailer of their choice," Linden said.
A way to gain customer insight
Caitlin Yacey, marketing director of Wella's retail hair division, said these campaign test runs "allow us to get to know our wholesale customers." One finding is these recent conversion rates "reflect Target's strong offer," she said. In this case, it showcased that Target customers are incentivized to stock up on a brand's products to save or receive credit back at the retailer.
Shelf or online sale tags like Target's are a major tactic to drive sales for drugstore-geared beauty brands, said Yacey. While they vary across different retailers — with some deals tied to a store's loyalty program — these promos are a great way to increase cart size, said Yacey. 
The promotion also gave the brand more insight into customers' buying behavior when shopping Clairol products. "With Covid accelerating at-home home color, bulk buying has been on the rise," Yacey said. Clairol also found certain SKUs became more popular during this time, such its Root Touch-up product compared to its Nice and Easy at-home color kits. 
Just one step in an effort to digitize sales
Testing different retail campaigns is necessary to learn about the brand's changing customer base, said Yacey.
There are also challenges to running a limited-time offer. While it helped drive immediate sales at Target, its findings will largely be used to inform future campaigns, said Linden. For example, A/B testing multiple creatives featuring different images and banners to see what works best, she said. Clairol plans to run similar campaigns in the coming year. One of them will be for its Natural Instincts color line, which will specifically target TikTok audiences while testing the platform's new shoppable tools.
Using online call-to-action promotions is becoming popular among legacy brands, which often don't sell directly to consumers. Recently, General Mills ran a similar campaign to promote its breakfast cereals for the back-to-school season. 
Katherine Black, partner in the consumer practice of Kearney, a global strategy and management consulting firm, said Clairol's campaign is an example of older brands looking for solutions to find their customers digitally. "Using multiple retailers' data can provide some distinct advantages," Black said, along with leveraging campaign results to understand a broad range of customers, in this case big box stores' shoppers. 
While A/B test results are great, Black said often the biggest insights are "lurking in which customers responded to which ads and how to further personalize communications and localize assortment."