'We have to maintain relevance': Inside General Mills' updated back-to-school marketing strategy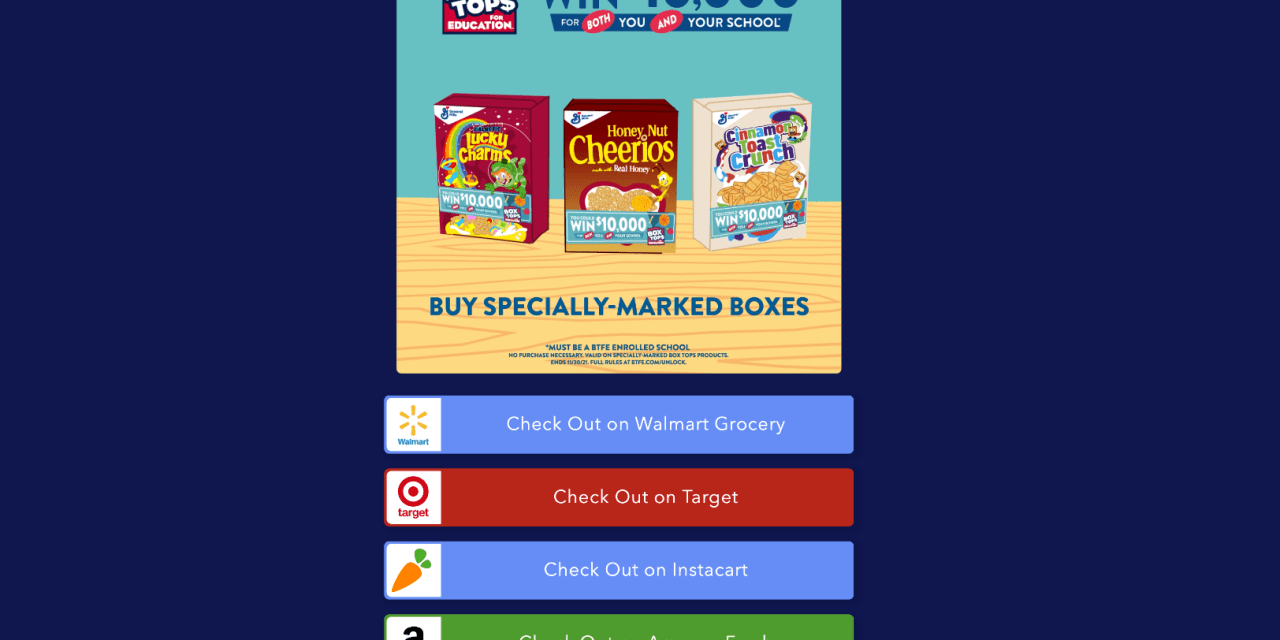 Image via MikMak
As more back-to-school sales shift online, brands are having to adapt. 
According to the National Retail Federation, consumers expect to spend a record $37.1 billion on supplies as many schools reopen for students' attendance. Furthermore, 48% of those surveyed by said they plan to shop online for items like electronics, clothing and shoes.
General Mills is one example of a brand that is trying to modernize its back-to-school campaigns in response to the e-commerce boom. The CPG giant is hoping that households will stock up on snacks ahead of the back-to-school season, and building on its e-commerce and marketing efforts in time for the fall schedule. This month, the company began integrating click-to-buy capabilities into its digital marketing campaigns. At the same time, General Mills has also been working to digitize its annual Box Tops for Education initiative.
Even for parents who plan to do most of their back-to-school shopping in-person, e-commerce is playing an increasingly important role. According to a recent Google survey, over 50% of North American respondents said they'll be checking inventory online before heading to a store for back-to-school shopping. 
Historically, back-to-school has been an important season for General Mills, Stephanie Steidl, commerce manager of cereal and dairy at General Mills. This is largely due to the fact that many of its brands have become school staples, including breakfast cereals like Cheerios and Cinnamon Toast Crunch, as well as snack foods by Nature Valley and Annie's. 
However, after decades of shopping for General Mills products at grocery stores, in the past year many customers have been accustomed to buying them online, via store pickup or delivery. Like other CPG brands, the company is looking for more ways to encourage its audience to directly purchase products through its marketing channels. 
As a result, Steidl said that General Mills began integrating click-to-cart capabilities into its digital media campaigns. The e-commerce technology allows customers to view General Mills' entire portfolio of products and check which local retailers have them on hand. The ad also features the fulfillment options available. Users being served a General Mills product ad will see this information after clicking on the "buy now" tag.
The tech investment comes on the heels of a big year in sales for the company. General Mills recorded net sales of $18.1 billion during its 2021 fiscal year, a 3% increase from the previous year.
The data-driven approach, Steidl explained, helps the company target specific markets and customers — something the company wasn't able to do in the past due to its fragmented wholesale channels. "It's also the first time we've had a call-to-action capability across all our brands," Steidl said.
General Mills worked with e-commerce solution platform MikMak to court busy shoppers across Facebook, Instagram and Pinterest. Rachel Tipograph, founder and CEO of MikMak, said the click-to-buy integration works on any social media platform, QR codes or other paid media advertising.  
Tipograph said the campaign's summer timing was especially important, because this year saw families shopping for supplies as early as mid-July. "Many are stocking up on pantry and snack items during the month of August," she explained. Furthermore, she noted the media channels driving the highest conversion rates are Facebook, Instagram and YouTube — which digitally-savvy parents tend to browse.  
These e-commerce investments come as General Mills has also been attempting to digitize its annual Box Tops program over the past few years. To participate, customers submit Box Tops — either clips from physical product packaging or receipt scans — to earn cash for their registered school. In 2019, the company launched an app for students and teachers to submit box labels — in an effort to phase out physical mail-ins. 
Part of the program's return this fall includes the Unlock Brighter Futures contest, which gives shoppers the chance to win $10,000 for their schools by purchasing General Mills products. For the first time since its launch in the mid-1990s, Box Tops will have online "buy now" capabilities for the sweepstake.
Steidl said that especially after the past year, General Mills wanted to craft a back-to-school campaign around teachers and schools. "They've kept many of us sane the past year, so this year we wanted to focus on giving back through the Box Top program," Steidl explained. 
General Mills' back-to-school strategy is also a blueprint for other upcoming e-commerce-focused campaigns, including sporting events and the holidays. Next, the CPG company will test its click-to-buy feature on Tailgate Nation, its partnership program with ESPN and college football. The campaign will feature recipes such as the Chex Puppy Chow and other game day-friendly brands, like Bugles and Chex Mix, Steidl said.
Carly Sutherland, a brand strategy consultant, previously told Modern Retail that modernizing the customer journey is a big part of CPG companies' long game. "A lot of legacy brands are catching up on building in-house customer relationship management," she said. Furthermore, digitizing product purchases and programs, like General Mills' Box Tops for Education, is another way to gain first-party consumer data. 
For a legacy brand like General Mills — Betty Crocker and Wheaties both celebrate their 100-year-anniversary in 2021 — there is a constant need to create awareness among young consumers and families. "We're aware we have to maintain relevance and solve problems for customers to create loyalty," Steidl said.