How Bic revamped its social media strategy for its temporary tattoo product line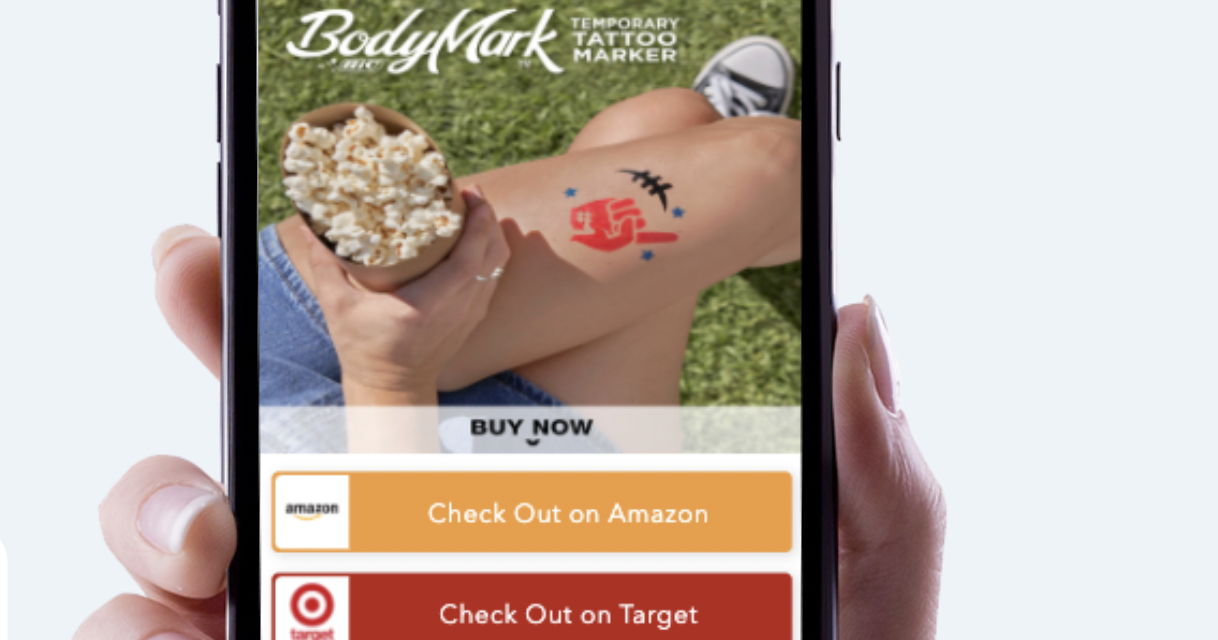 Bic BodyMark, the temporary tattoo sub-brand of the legacy pens and razors company, is hyper-focusing its social media on Instagram.
Bic launched BodyMark in 2019 with the idea of expanding its coloring and writing tools to a "skin safe marker" in partnership with tattoo artist Miryam Lumpini, said Anna Ritchie, the global business director of BodyMark. During the pandemic, BodyMark grew in popularity thanks to artists sharing TikTok videos of them trying out the product at home.
Now, Bic has used sports to further drive brand awareness. In September last year, BodyMark announced a partnership with the NFL for temporary tattoo markers customized to each of the leagues 32 teams' colors. Throughout that time, it ran a long-term social media campaign tied to the BodyMark brand to both grow its presence and get a better sense for who its customers are.
For Bic, its move into temporary tattoos is somewhat uncharted waters. Despite being 78 years old, many of the company's products like pens and lighters are viewed more as exchangeable commodities. To grow its presence as a body art brand, Bic has focused on social media ads to better tell its story.
One issue has traditionally hampered Bic's social media marketing strategy: first-party data. Currently, 90% of BodyMark's sales come from third-party retailers that don't share full-funnel social media advertising data with the brand, and tattoo markers have very little historical data as a relatively new product.
As a result, over the last six months Bic has tested out a variety of social media channels to figure out what works best. When the NFL line launched at the beginning of the season in September, BodyMark originally ran a wide variety of creatives on platforms like Snap, Facebook, Pinterest, YouTube and Instagram. Data, however, showed the majority of people purchasing the NFL products were purchasing after seeing Instagram ads that highlighting the product in use (that linked to its Amazon product page).
After pushing their ads to Instagram and this format, BodyMark quintupled consumers' add-to-cart rate. After pivoting the majority of its budget to this strategy this month, BodyMark saw a 968% lift in attributable sales, or sales made in the 14 days after viewing the campaign.
To get better insight into what creative people gravitated toward the most, Bic worked with the vendor MikMak. The pilot was centered solely around BodyMark products and one of Bic's newer lighter types, EZ Reach.
"Being able to understand what content was really driving the most inspiration and conversion [online] was really key," said Ritchie. "Who are the audiences that are most likely to buy? Where are they buying? Really, all of that data was lacking."
Bic has been at a disadvantage to other direct-to-consumer brands who owned their own sales data, said Rachel Tipograph, founder and CEO of MikMak, which helped the company with its social media campaign. "So many of [BodyMark'] sales come from places like big-box retailers — Amazon, Target, Walmart — and they don't really have visibility into the investments that they're making in big media channels," said Tipograph. "They're flying blind."
To aid this, Bic focused on crunching the numbers of which social media posts and platforms worked the best. Bic focused specifically on the number of people viewing ads, adding products to their carts after viewing the ad and what retailer cart they are adding it to. This data allows brands to see which platforms, creatives and retailers are driving the highest conversion.
"We honed in on the two or three pieces of content that were making the most impact, versus trying to spread it too thin," said Ritchie.
A new product focus
The pivot to temporary tattoos may seem like an odd move for the brand, but Richie says Bic has been increasingly focused on "creative expression." The brand saw trending interest in "people expressing themselves on their skin" and felt their experience in "artistic instruments" would help them develop a new product type.
Since BodyMark's founding in 2019, Bic has doubled down in the space. This January, Bic acquired direct-to-consumer temporary tattoo brand Inkbox for $65 million. In a press release announcing the deal, the company predicted that the "skin creative" market would grow to $1.5 billion within ten years.
"We have a really strong innovation arm here at Bic that drives our product innovation, both from a near term and a long term," said Ritchie. "The philosophy is really just to be as consumer relevant as possible."
To make such a pivot requires new types of marketing strategies. Carly Sutherland, a brand and communications strategy consultant, said that consumer data is particularly important as the heritage CPG brand moves from "commodity products" to "more creative" products like BodyMark.
"If we're talking about pens or lighters, it's really just a transactional item," said Sutherland. "I don't think you really need to learn much beyond what gets them to buy, how frequently are they buying, and how often are they returning." For creative products, however, zero party and first party data is more important, added Sutherland.
Thanks to this campaign, Bic says it has a better grasp of which geographic markets are responding to the BodyMark products and which retailers consumers are buying from.
"Here are the audiences we're going to go going forward, here's the content we need to create, here's a new pool of people that we're going to retarget, here's how we prioritize our e-commerce platforms," said Ritchie. "This gave us the tools to hone our marketing strategy around BodyMark even more and I think it's just continuing to expand this year as we kind of explore new content and new partnerships."