How 4 e-commerce brands are using product bundles to drive sales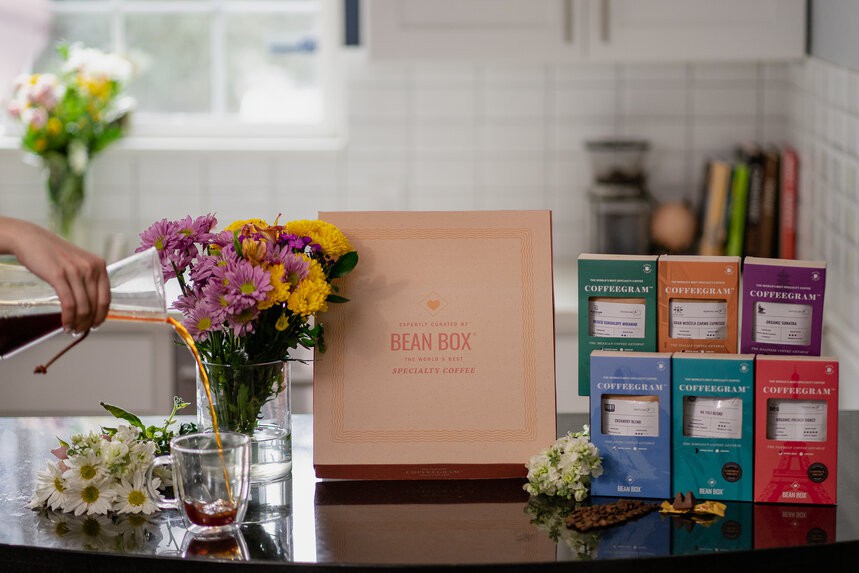 Bean Box
As inflation continues to rise, more DTC companies are betting on bundles to drive sales. 
Curated bundles are nothing new, but some digitally-native brands across several categories have placed a greater emphasis on bundles over the past year to help them hit specific goals.
These companies range from t-shirt maker Goodlife to portable container brand W&P — and, more recently, subscription coffee brand Bean Box and dog food brand Maev. With bundles, the ultimate goal is to create bigger basket sizes, as well as to drive up repeat purchase rates in specific categories. However, some brands are also using the strategy to help reduce supply chain-related costs, such as shipping and packaging.
Coffee subscription service Bean Box, founded in 2014, found bundling to be an effective way to offset operational expenses. 
Bean Box's co-founder and CEO Matthew Berk told Modern Retail that in the past year, like other brands, Bean Box saw "higher prices and lead times from suppliers." Bean Box sources artisan coffee from 50-plus roasters all over the U.S., many of which have been impacted by the high demand for coffee. The rise of agricultural production has resulted in coffee prices to hit a decade-high rate earlier this year.
"Since our business model is designed around having an intentionally broad supply chain; we have a built-in hedge where [if] one supplier runs short, we almost always have one or more fallbacks," he said. But due to continued port and shipping delays in the past 12 months, Bean Box has had to get creative with the product the company has on hand.
"The biggest pivot we've made in the past year is orienting our company around a seasonal rhythm to develop new products that are unique in the market," Berk said. This approach, he explained, has helped position the company's unique offerings amidst a crowded coffee field. One example was its holiday 2021 Bean Box, in which Bean Box developed a "12 mornings of coffee" advent calendar that sold out within a few weeks. For the first quarter of 2022, in which most of the marketing was specifically targeted to Valentine's Day gifting, Bean Box heavily promoted its Coffeegram Collection. The bundle featured six coffee varieties, inspired by romantic destinations around the world, and each were paired with chocolates featuring complementing flavors. 
"That approach worked very well for us in our direct-to-consumer channel, and by the first quarter of 2022 it had the unintended benefit of helping us break into the wholesale and retail channel," said Berk. This year, Bean Box began selling these bundles to specialty retailers and small businesses via business-to-business platforms Faire and Abound.
Other established brands also pivoted to bundles at the onset of the pandemic. 
Intimacy lubricant brand Coconu, which has been around since 2012, began offering bundles in 2020.
"We launched our bundles in 2020 at a discount as a way to encourage customers to try each of our unique product formulations," said Coconu president Sarah Belzer. One of the brand's bundles is the $50 combo pack, which includes its water and oil-based lubricants. Another bundle is Coconu's $85 'Intimacy' gift set, which contains the two aforementioned SKUs as well as hemp-infused body oil. Customers receive a small discount in the form of free shipping when purchasing the bundles.
"We've seen a 20% increase in average order value since implementing these bundles and the free shipping threshold," said Belzer.
DTC dog food brand Maev, which launched at the end of 2020, began offering curated bundles this spring. In April, Maev rolled out several bundles tailored to specific types of dogs and their needs. 
"We launched these bundles to target specific ailments" that provide pet parents with a customized assortment of science-based nutrition, said Maev director of brand marketing Maddy Tank. 
Maev launched eight assortments that range from $127 and $219, and each bundle includes a variety of foods designed with a specific pet attribute in mind. For example, The senior dog bundle includes 20 pounds of the brand's flagship raw food, along with vitamin bars and bone broth. Tanks said that by creating bundles that meet Maev customers' needs in one purchase, customers are "now buying products across multiple categories from our site that they may have otherwise made at home or bought from another brand." 
To date, Maev's bundles have resulted in 15% increase of average order value and unit per transaction is up 20% on bundles, said Tank. "So we're noticing that customers who purchase bundles are more likely to spend more money on the site, and purchase more offerings from us." Furthermore, Tank noted that contribution margin is also increasing — due to shipping savings — "which drives an even faster payback period for us once the second box ships."
Finally, Tank said given that these bundles are being shipped in one box, they're generating margin gains for the startup.
Allison Bloch, founder and CEO of online-only clothing brand In Common, which launched in early 2022, said "bundles have been a part of In Common's DNA since the idea for the brand came about earlier this year." 
In Common, which specializes in sustainably produced cotton pieces, launched with undergarment bundles "for her" and "for him." Customers receive a discount by buying a bundle. For instance, customers save $20 by buying a five-pack of underwear for $80. Another popular bundle is the bra bundle, which costs $70 for two as opposed to $45 each.
Bloch noted that for tees and undergarments, in particular, most customers tend to buy multiples anyway. "With that in mind, we knew we should give them multiples of what they love at a better value to them," she said.
Bundles are the latest merchandising approach e-commerce brands are testing to improve margins amidst historic inflation. Moreover, they also drive home other initiatives — such as sustainability and customized assortments.
For instance, In Common's shipping costs are based on package weight, "so bundles do not really help to save on shipping costs," Block explained. "However, they do save waste and tend to help the average order size scale up." 
As more customers seek out value, Bean Box's Berk said online brands are feeling the pressure to provide unique assortments that warrant premium prices. "This is in contrast to the rising price of basic commodities consumers are seeing everywhere," he said.