'Hardware is a uniquely bad retail environment': Why paint brand Backdrop partners with apparel retailers like Madewell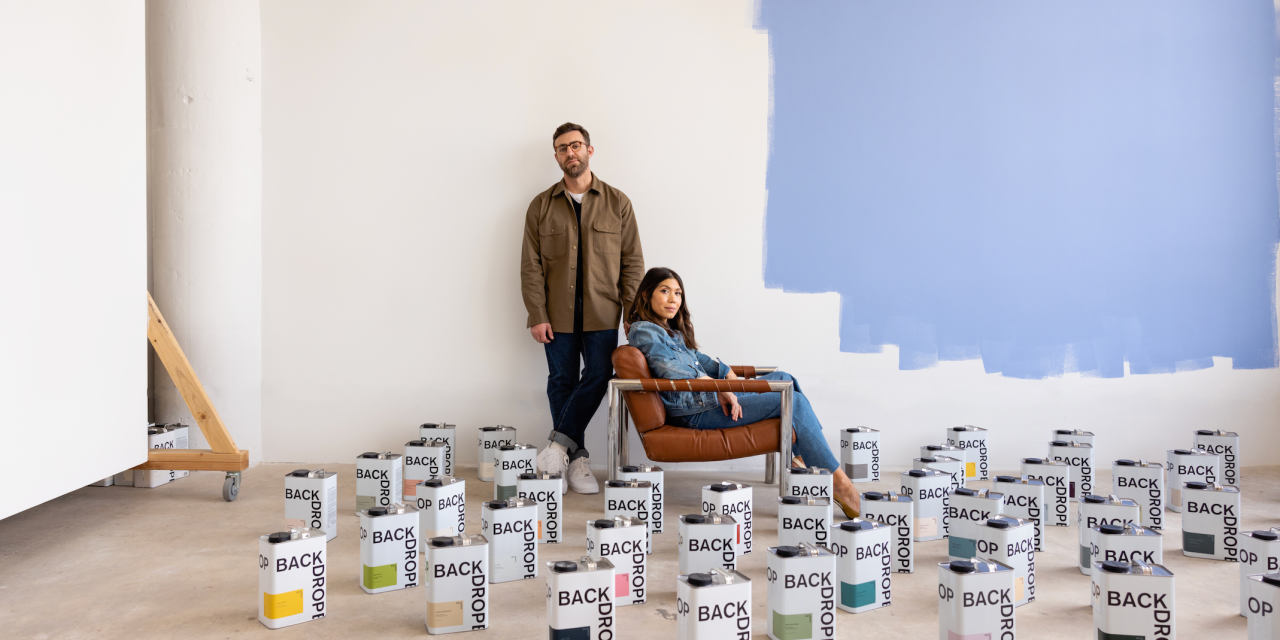 Backdrop
Last week, direct-to-consumer paint brand Backdrop announced its latest retailer partnership: a paint and paintwear collaboration with Madewell.
Since founding Backdrop in 2018, co-founders Caleb and Natalie Ebel have eschewed traditional paint retailers like Home Depot or hardware stores. Instead, Backdrop sells its products in-store and online at apparel and lifestyle retailers like Urban Outfitters, Nordstrom and, now, Madewell.
Three-quarters of Backdrop's sales still come from its own website. But for Backdrop, the model serves as a longer-term customer acquisition strategy: when customers are actually ready to paint, they'll have been introduced to Backdrop on previous apparel shopping trips. For lifestyle retailers, meanwhile, Backdrop's limited product range provides an entry point into the booming home improvement space.
Emulating a type of collaboration more commonly found in footwear than in home improvement, Backdrop and Madewell partnered last week for a limited collection of paint and paintwear — all in a single tan color dubbed "Studio Hours.' The collection is available online and in 15 stores and includes pieces like an artist smock, chore coat and overalls, as well as gallon and half-gallon sizes of Backdrop's interior paint. Madewell reached out to Backdrop, explained Natalie Ebel, with the idea of collaborating on a line of apparel that could be worn both for painting, as well as other activities.
"Paint has so much artistic, design and cultural potential that it easily flexes into these other [product] categories," Caleb Ebel said.
Backdrop was founded in 2018 and acquired in 2021 by design house F. Schumacher & Co. for an undisclosed sum. Madewell is now the third retailer to carry Backdrop's paint alongside Nordstrom and Urban Outfitters. Backdrop has also created co-branded, limited edition paint collections with Dunkin Donuts and design store Coming Soon.
"I think when you… create a brand that people want to be a part of, you can draw them in [anywhere]," Natalie Ebel said.
According to Industry Research Reports, the paint industry is worth about $29 billion, with 150-year-old companies like Sherwin Williams retaining the lion's share of sales. These brands traditionally sell thousands of shades in home improvement stores to both DIY customers and contractor professionals.
For upstart brands, it's harder to standout in those types of stores. "Hardware is a uniquely bad retail environment," Caleb Ebel said. "[Paint] should be a pretty frictionless, low-dollar investment purchase; it's the cheapest way to transform space. But it turns into this really high consideration, multi-trip, painful customer journey."
That's why Backdrop focuses mostly on selling its product on its website, and thinks about retail partnerships more as branding relationships. "We're a digital-first brand and we spend a lot of time really agonizing over every touchpoint," Caleb Ebel said. "We've been really thoughtful [in] showing this massive catalog of user content with real painted spaces."
Backdrop offers only four finishes — standard, semi-gloss, cabinet and outdoor — and roughly 50 colors. On Backdrop's website, customers can order samples in any of the company's colors, but only 50% do so before purchasing paint. Backdrop's limited product range comes premixed and ready-to-purchase — unlike other brands who offer thousands of shades that have to be mixed at in-store paint counters. When orders are placed at one of the company's retail partners, Backdrop fulfills the orders themselves, through a drop-shipping model.
At retailer partners, however, sales are a bit more complicated. Most customers coming directly to Backdrop's site are already considering painting their spaces. However, casual shoppers at Madewell or Nordstrom likely won't impulsively purchase a gallon of paint alongside beauty or apparel.
"I think [retail] is a discovery platform," Caleb Ebel said. "It's credibility building, it's a point of discovery. That person who's buying jeans at Madewell may not be painting for a year, but they've now been introduced to Backdrop and we can start that journey together."
Wade Bjubrey, a principal at Kearney, said the model has "similarities" with the retail showrooms commonly used by high-priced fitness brands and their retailer partners. "We're seeing more and more examples of experiential retail augmenting traditional transactions," Bjubrey said. "Nordstrom, for example, has implemented a similar partnership with Tonal."
It's a good time to be in the home improvement space. Harvard University's Joint Center for Housing Studies recently predicted continued double-digit sales growth in home remodeling into the third quarter of 2022. That's on top of a two-year pandemic sales boom in the space.
Bjubrey said retailers' strategies toward providing "a more complete" set of home products could be beneficial given the home goods and home improvement boom, but that retailers should be cognizant about what their customers are looking for in the new category. "For example, the Urban Outfitters consumer might need to understand what a DIY project looks like," said Bjubrey. "A Nordstrom consumer might be more interested in what an integrated color scheme looks like for the home, while ensuring professional painters are willing to work with their product."
Going forward, Natalie Ebel said Backdrop is aiming to "fully own the walls" and is launching Wallpaper in March.
"For our target consumer, there are a lot of opportunities over the next 10, 20 years of their life to be able to paint," said Caleb Ebel. "[In retailers] we find that people really like engaging with the brand, the content and the ethos of Backdrop, but they're not ready to paint. When they are ready to paint, we become the natural choice."