Cheatsheet: Home Depot and Lowe's are trying to extend the home improvement boom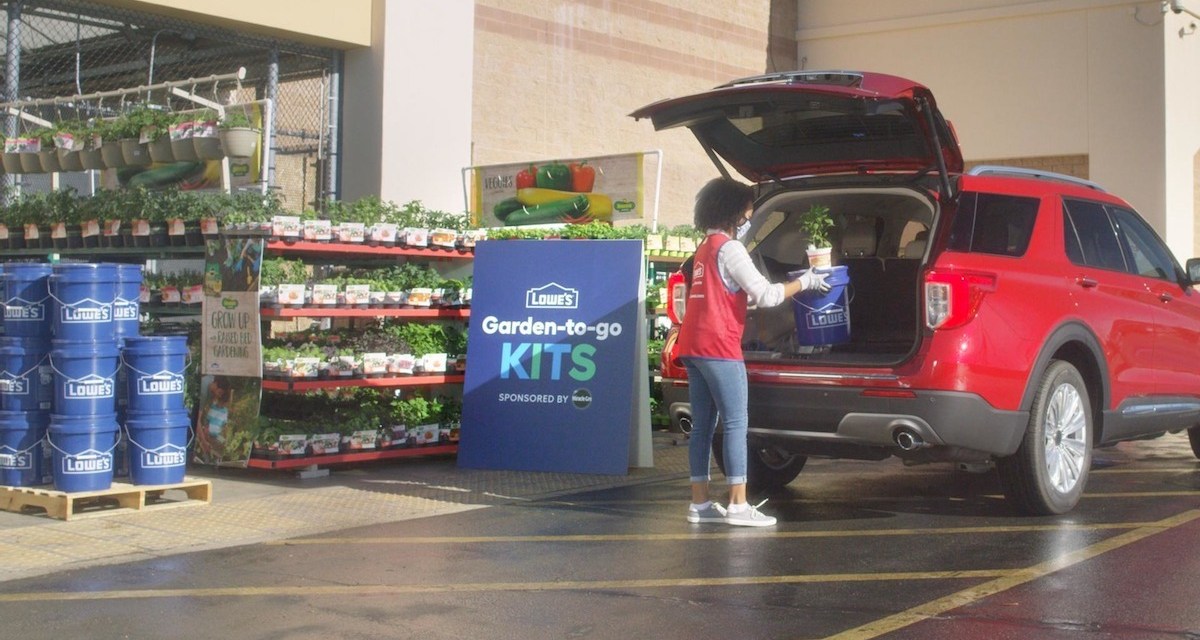 Lowe's
Last year, Home Depot and Lowe's reported huge sales gains on the backs of people spending more time — and subsequently more of their money — at home.
Now, the question is whether or not these gains can continue into 2021. During their first quarter earnings calls this week, Home Depot and Lowe's laid out their strategies for retaining customers this year. So far, shoppers' enthusiasm for home improvement projects isn't waning —  Home Depot's sales were up 32.7% year-over-year during its first quarter, while Lowe's sales were up 24.1% year-over-year.
Home Depot executives said that a big area of focus for the retailer is to grow its professional business by adding more products for contractors, as well as expanding services like tool rental. Meanwhile, Lowe's is trying to capitalize on the sales growth it saw last year by marketing itself as more of a home decor destination, while also trying to take more business from contractors away from Home Depot. Over the past year, Lowe's has been adding more products on its website in categories like fitness equipment and bedding. Home Depot and Lowe's are betting that these respective strategies will help drive up average order values and keep customers coming back to their stores.
Read on for more about how Home Depot and Lowe's strategies for 2021 stack up.
The numbers
Both Home Depot and Lowe's reported that sales were growing more quickly compared to the same period last year.
Home Depot's key stats: Home Depot reported net sales of $37.5 billion during its first quarter, up 32.7% year-over-year. Online sales were up 27%. Home Depot's net income for the quarter was $4.15 billion
Lowe's key stats: Lowe's reported net sales of $24.4 billion during its first quarter, up 24.1% year-over-year. Online sales were up 36.5%. Lowe's net income for the quarter was $3.2 billion.
Home Depot: Betting on its pros and online businesses to drive growth
Though Home Depot and Lowe's are the two biggest players in the home improvement space, their customer base differs slightly.
"Home Depot has leaned in more [to focus on] contractors," while Lowe's is a little more focused on the end consumer and decor," said Bryan Gildenberg, svp of commerce at Omnicom Consulting Group. Historically about 45% of Home Depot's revenue has come from contractors — which both chains refer to as their "Pro" business. At Lowe's, it accounts for 20-25% of sales. Both companies did not break out during their most recent earnings, however, how much of their sales came from their Pro businesses.
"Pros continue to tell us that project demand is strong and their backlogs are growing," said chief operating officer Ted Decker, adding that Home Depot's pro business reported that its "best quarterly growth rate on record."
"The biggest advantage for Home Depot is that it has been in the professionals space for longer and so has built up a solid customer base," said Neil Saunders, managing director of GlobalData Retail.
Decker said that for the company's Pro customers, "we know that brands matter," so a large focus for Home Depot has been trying to land exclusive products and tools for its Pro customers. For example, the company said it now carries 200 exclusive products from the electric tool brand Milwaukee.
Another focus for Home Depot is adding more e-commerce features — the company is rolling out the ability to rent tools online and pick them up at 1,300 stores. Home Depot has also said it plans to increase its fulfillment square footage by over 70% this year, in order to serve more e-commerce orders.
Lowe's: Marketing itself as a total home decor destination
Though Lowe's Pro business has historically been smaller than Home Depot's, growing it has remained a focus at Lowe's for the past several years. Lowe's CEO Marvin Ellison said during the company's first quarter earnings call yesterday that Pro sales growth outpaced sales growth from "DIY" customers during the first quarter. And, that the company is hoping to grow the size of its pro business to eventually account for 30-35% of its sales. Lowe's did not give an exact timeline for when it hoped to hit this metic.
Like Home Depot, Lowe's has tried to grow its Pro business by acquiring more exclusive brands and products. In April, Lowe's announced that it was acquiring carpeting company Stainmaster.
Lowe's has also been trying to market itself as more of a home decor destination, by carrying more products like fitness equipment, cookware, bedding and towels mostly on its website. Since the end of 2018, Lowe's has more than tripled the amount of SKUs it carries on its website, chief merchandising officer Bill Boltz told Modern Retail in December.
Boltz said during Lowe's first quarter earnings that sales in decor, kitchens, and bath increased during the first quarter, but declined to give specifics.
Like Home Depot, Lowe's has also been focused on building out its e-commerce fulfillment options, though it has lagged behind Home Depot in that regard. Lowe's said that it now has in-store lockers for buy online, pickup in-store orders rolled out to all of its U.S. stores, something that Home Depot started doing in 2018.
Despite all of these investments, Lowe's sales growth still lagged behind that of Home Depot in the first quarter — which in Saunders' eyes, bodes well for Home Depot for the rest of the year.
"At some point, consumers will curb spending on home improvement and the growth of individual players will become much more dependent on their ability to compete with each other rather than relying on organic growth," said Saunders. "Given the evidence we have seen, Home Depot appears to be in a much more favorable position."