Google adds new shopping analytics tools to boost merchant sales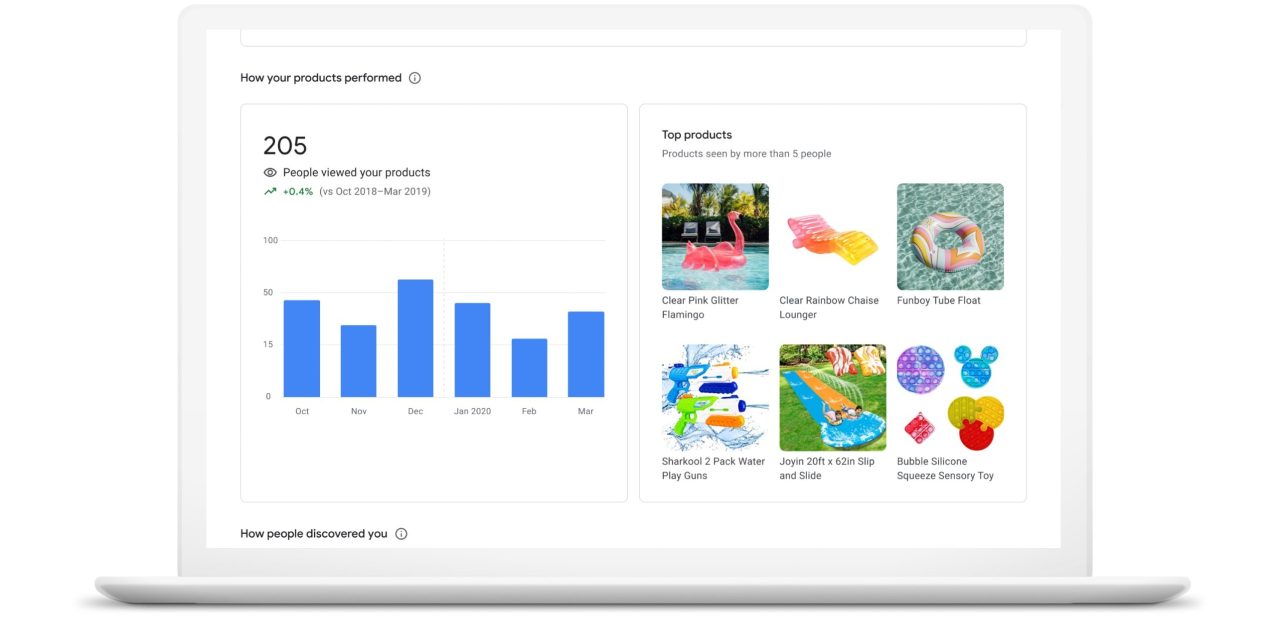 Google
Google Shopping announced the rollout of a slew of new updates and tools on Monday aimed at helping merchants better how their listings are performing.
The company unveiled a new conversion measurement tool, a new price insights tool and new shipping and return overview pages, which are all designed to inform merchants on the impact of their listing and how to improve their offerings. Additionally, Google is releasing a new Shopping Experience Scorecard program in the coming months, which gives brands who meet certain criteria a "Trusted Store" badge. All the new features are offered for free.
Since rebranding its marketplace as Google Shopping in 2019, the tech giant has added a number of features to woo more merchants, in a bid to play a larger role in consumers' shopping journeys. The company revamped the look of its Search tab and added several new interface updates in September. Last year, Google announced that it would allow products from brands that use WooCommerce, GoDaddy and Square to automatically show up on its search results.
By equipping merchants with free insights, Google aims to give merchants the ability to stand out against other online competitors, which it hopes will make Google Shopping a more favorable destination for merchants compared to say, Amazon.
For instance, the conversion measurement tool allows merchants to analyze their listing's traffic, impressions and conversion rate. Google's new price insights tool lets merchants check if their products are priced competitively, as consumers continue to make price a top consideration for product purchases. Meanwhile, the new shipping and return overview pages helps merchants "see their offer coverage at a glance and optimize their setup," according to an emailed announcement. 
Sellers can also benefit from getting the "Trusted Store" badge because it means they met Google's standard for shipping speed, shipping cost, return cost and return window.
"On the merchant side of the ecosystem, providing them more tools alongside our ability to deliver free listings that'll help them really grow their business," Matt Madrigal, vp and gm of merchant shopping at Google told Modern Retail. "We want to make Google really the best place to shop."
Though Google Shopping does not consider itself a marketplace, it has long been compared to Amazon. Buy On Google attracted nearly 8,000 sellers by the end of 2020, which is relatively small compared to Amazon's more than 6 million third-party sellers as of 2021, according to Marketplace Pulse. 
"We're trying to build out… this open ecosystem where when users come to Google, we're the most helpful place in all phases of the shopping journey," Madrigal said. "What we want to do is connect merchants directly with our users."
Based on several updates it has rolled out, Sky Canaves, senior analyst at Insider Intelligence, said the company is focused on making Google a more valuable source for finding products. In late 2019, the company tapped former Paypal Chief Operating Officer Bill Ready to be the new president of commerce. 
"They've outlined pretty clearly the strategy for e-commerce and retail to be a big part of their focus," Canaves said. "That's been driven by the competition from Amazon."
Over the past couple of years, Amazon has become the go-to resource for product search. Amazon is the starting point for 74% of U.S. consumers searching for products, according to Jungle Scout in 2021. 
But Google has slowly been chipping away at Amazon's dominance, Canaves said. A survey from Morgan Stanley conducted last November indicates that 57% of respondents researched a new product on Google platforms like Search and Youtube. In the same period, the number of Amazon Prime subscribers who have used Google for these searches rose to 56% from 51%.
"Making Google a better place to shop will draw more users" for its shopping platform, she said. "It's really about helping people find like products wherever they're looking for them whether it's online or in stores."
Since Google Shopping has shifted away from being a paid-only shopping ad platform to being commission-free for sellers in 2020 and mixing in organic search results, it has become easier to distinguish ads on Google than on Amazon, Canaves said. 
Google has also been rolling out a number of updates aimed at giving customers more ways to search on the platform, including visual product search and a mark attributing a business as Black-owned. Madrigal of Google said that the company plans on continuing to improve various capabilities on the platform. "On the consumer side, you'll see more and more, you know, experience updates." 
"This is [our] early days on a multi-year strategy as we build out this shopping ecosystem," Madrigal said. "We're starting to see some really good results as we've scaled out."