Exclusive: Klarna strikes latest retail partnership with Macerich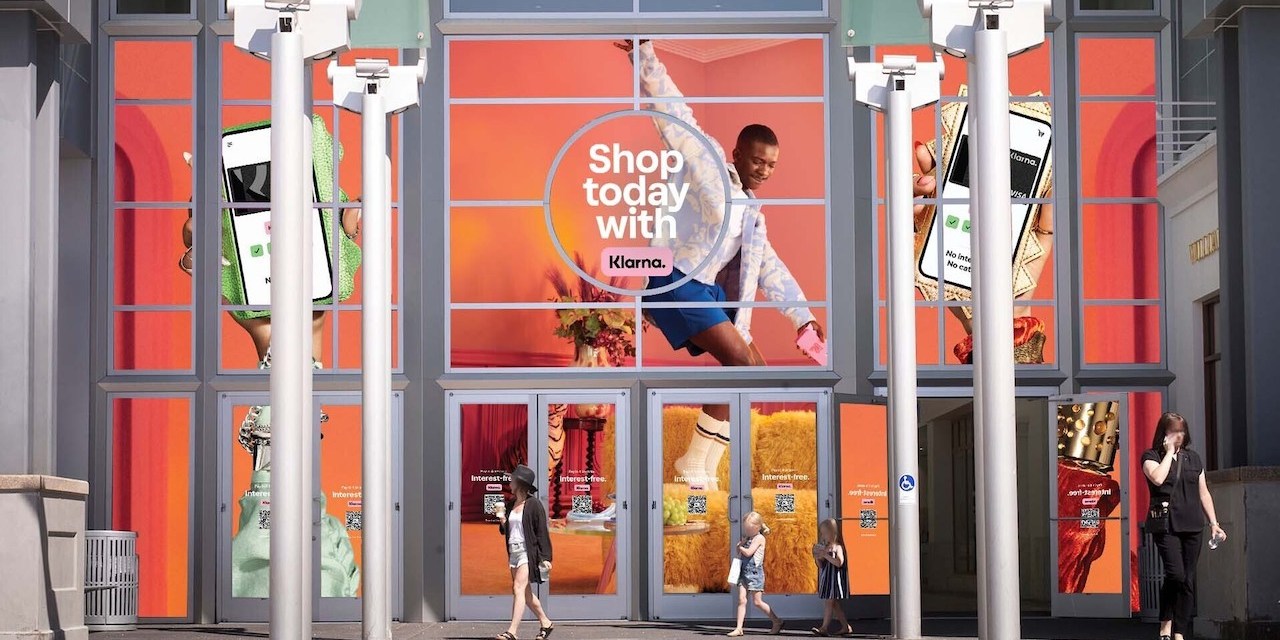 Image via Klarna
After signing on thousands of e-commerce retailers, buy now, pay later services are setting their sights on brick and mortar counterparts. 
Klarna's latest physical retail partnership is with mall operator Macerich. Starting this week, the buy now, pay later provider will launch several marketing activations throughout all 52 of Macerich's properties. The announcement follows Klarna's deal with Simon Malls, announced in early October, along with 2020 brick and mortar partnerships with H&M and Macy's. 
Klarna's growing array of partnerships come as buy now, pay later has become a more popular payment solution among young consumers. According to eMarketer, as of 2021, 75% of BNPL users consist of Gen Z or millennials. BNPL usage has even penetrated small businesses, such as medical offices and car dealerships now offering the payment option. More recently, big box stores have been adding BNPL options to encourage budget-conscious holiday shoppers. 
The new partnership will include several marketing components, such as out-of-home displays and in-store Klarna signage. Much of the campaign will also be geared at customer acquisition, said David Sykes, Head of Klarna U.S. Part of the marketing efforts will include Klarna representatives to onboard customers to its service, as well as promotional deals for downloading the app at Macerich locations. Shoppers will also be able to pay via Klarna at several Macerich retail tenants, including Sephora, Foot Locker and The North Face, among others. 
Sykes said that the new partnership is part of the company's foray into physical stores. "The mall partnerships bring us into large-scale brick and mortar operations." It's also about catering to the online shoppers that now expect multiple payment options where they shop, Sykes said. Currently, 40% of the merchants who use Klarna allow customers to use the buy now, pay later service to pay for in-store purchases.
Sweden-based Klarna, which launched in the U.S. in 2015, first focused on growing via fashion and footwear brands in North America, Sykes said. However, the startup's other markets already cover everyday purchases, which the company plans to grow in the U.S. For example, Klarna's European app services fast-food chains like McDonald's and music streaming service Spotify. 
"Now, we're cascading into categories like travel and ticketing," said Sykes. Klarna currently has 20 million active users in the U.S, 4 million of which use the Klarna app to pay. While Klarna is known for its BNPL capabilities, Sykes said it's also increasingly being used as a "pay now" digital checkout tool. "About 30% to 40% of our customers say they use it for security and money tracking, the way they would with PayPal," he said. Others are enticed by Klarna's rewards, which allows members to earn one point for every dollar earned, and can be used on future payment balances. Klarna currently has 2 million loyalty customers in the U.S.
An increased focus on physical retail has been in the works among BNPL players. After seeing a major boost during the e-commerce boom in 2020, providers are now courting brick-and-mortar retailers for continued growth. At the end of last year, Afterpay began to offer its installment payments service at several retailers, including Forever 21, Fabletics and Crocs. Klarna's recent move is also similar to Afterpay's partnership with Simon Malls, which rolled out during the 2020 holiday season.
For mall owners like Macerich, these fintech partnerships aim to drive more traffic while giving brick and mortar tenants a sales boost. For instance, Sephora's North America stores saw a 65% lift in customers' average order value when paying with Klarna, according to data released by the two companies.
According to a recent TD Bank survey, nearly half (46%) of consumers say they're more likely to purchase from retailers who offer a variety of financing options. These include installment loans, BNPL solutions and store-branded credit cards.
Hemal Nagarsheth, an analyst at Kearney who focuses on tech and financial services, said that retailers are opting for one — or sometimes multiple — BNPL partners to attract shoppers. Nagarsheth said that unlike store-branded private label credit cards, the digital checkout checkout services create less friction at the register. "It enables the customer to focus on and enjoy the shopping experience," he said, noting that with BNPL, there is a reduced hassle that comes with filling forms and credit checks. Lastly, these apps also "help avoid the embarrassment of being declined in store, which is more visible than when applying online," Nagarsheth said.
For Klarna, the brick-and-mortar ventures are about raising awareness of its services. "Physical stores are another place to introduce consumers to these new payment options," said Sykes.