Q&A
// November 5, 2021 ■ 5 min read
Compartés chocolate's CEO on reinventing a 72-year-old brand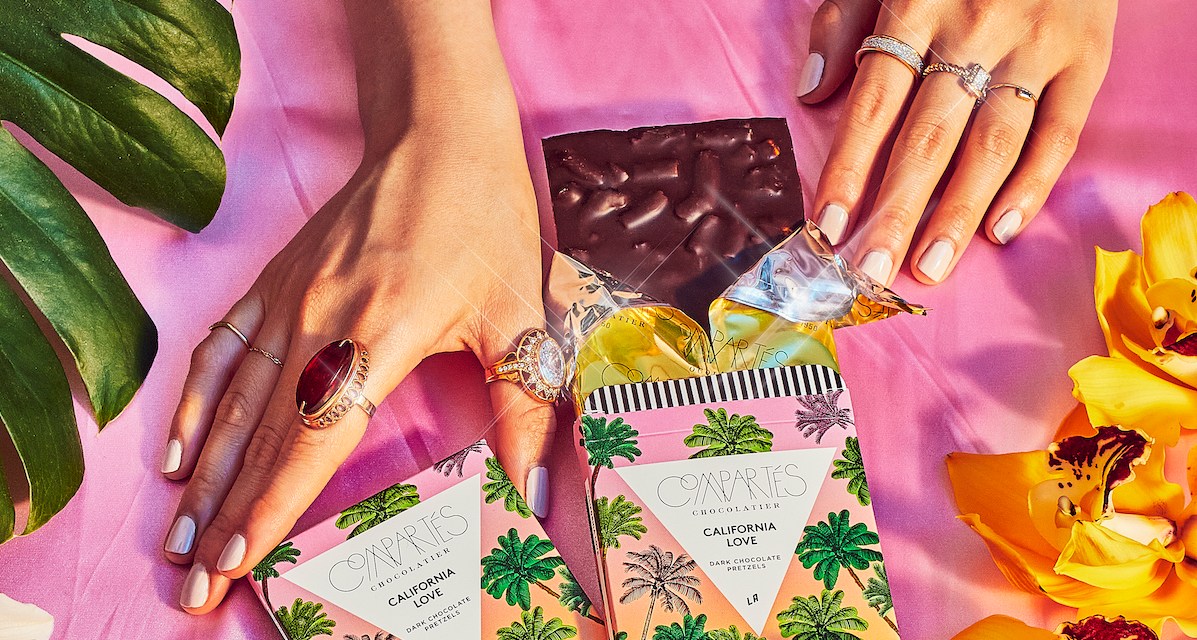 Compartés
Since taking over Los-Angeles based Compartés more than a decade ago, CEO Jonathan Grahm has led the aging brand into the digital era.
The 72-year-old company, which sells handmade chocolates online via its Shopify store and at 3,000 global retailers, has pivoted to the drop model to drum up demand for limited-edition releases. Grahm uses email and SMS marketing software plug-ins, including Klaviyo and Postscript, to notify loyal customers of upcoming launches. He claims that its previous drops — including collaborations with Billie Eillish and Kacey Musgraves — have sold out within days. The company's online sales are up over 200% from last year.
Grahm also became an early user of Facebook's Shop feature, signing up when it was still in beta. "We're creating food porn," Grahm, a master chocolatier who purchased the company at the ripe age of 24, said of his social media strategy. With over 250,000 Instagram followers, the platform has become a central part of the company's marketing mix. Along the way, it has built up an enviable celeb fan base. Kim Kardashian, Hailee Steinfeld and Chrissy Teigen have been pictured with its chocs in their Instagram posts. "It's all organic," Grahm said, "we don't pay them. They post about us because they love us."
Running a small operation during the pandemic, the CEO found himself mixing chocolates by hand at Compartés lone Los Angeles factory, shopping for products locally during a supply chain squeeze and falling in love with TikTok. As the company gets ready to release its latest zeigeist-y collab — chocolate bars based on a Netflix show adaptation of video game League of Legends — Grahm spoke about courting gamers, his approach to social media and reserving the most sought after treats for its online customers. This interview has been lightly edited for clarity at length.
Why did you choose to embrace social commerce?
We were among the first companies that Facebook came to and asked to use the Shop feature when it was still in beta. Now, we're seeing sales every day through our Facebook and Instagram channels. Our product lends itself to the visual nature of those platforms.
In-store you can only view the packaging, but on Instagram I can unwrap that chocolate bar and show you how it gets made, with all the ingredients that go into it. Our goal with our social content is to make people excited and hungrier to eat our chocolates. In our Instagram stories we show our chocolatiers making our bars from scratch. You can see the chunks of donut going into our donuts and coffee chocolate.
Social has worked to our advantage. We don't have a big marketing department; I just do what I think works.
How did the collab with video game company Riot Games come about?
They approached us. They knew we weren't a mass-market retailer and that our products are exclusive and handmade in small batches. It was clearly a purposeful decision on their part to work with a specialty gourmet brand like ours.
I didn't know much about [multiplayer video game] League of Legends or the new Netflix show, Arcane, they were developing. Due to Covid restrictions, I had to learn about the world Riot has created over Zoom calls. They showed me graphics and imagery of the characters within the game and Netflix show. It's been amazing getting to grips with gaming and how massive it has become.
Through our conversations we decided to create two chocolate bars based on the worlds inhabited by two different characters; Jinx and Vi. One lives in this world of opulence which is represented by the "Flame Chompers" dark chocolate that we flecked with 24K gold. The other character is from a freestyle world that we translated through a matcha green tea and strawberry chocolate swirl called "Vault Breaker."
Why did you opt for limited edition chocolate drops?
It's about creating a sense of urgency. Our collabs are only available through us, we don't give them to our retail partners. You won't find our limited edition chocolates at the 100 pop-ups we have at Nordstrom.
Everyone wants something quickly nowadays, and we ship in under 24 hours. During the height of the pandemic when there were shortages of toilet paper and milk, we were delivering our chocolates right away. That was pivotal for us as a brand. People would say 'I can't believe I got my chocolates in a day when I can't get my groceries from the local store.'
We shut two of our three brick and mortar shops amid the pandemic and I have no intention of reopening them. We can capture a global audience online, rather than operating multiple stores and waiting for people to visit.
Have you been impacted by supply chain bottlenecks?
When there were product shortages recently, I had to go and source items myself. I had an order of boxes stuck at a port in [Los Angeles] for two weeks. But I didn't want to delay those orders, so I bought those boxes from a private seller for 10x more. Otherwise I would not have been able to package our chocolates. There was a period when I couldn't get any raspberries from my vendors, so I went around the local grocery stores and bought all the raspberries off the shelves. I want to avoid disruption for my customers.
What's next for Compartés?
We've had a monthly subscription program for three years, which I now want to expand to bi-weekly or annual special occasions, like birthdays. We have several thousand members signed up, but I want to grow that.
I also want to find new ways to increase our online audience. Whether that's through more collabs with gaming companies that can cross-promote our chocolates on their own social channels, like Twitch. Recently, I've been getting into TikTok and I'm really curious what the results will be as we build that up.