As 7-Eleven enters the fray, cashierless stores stay stuck in the test phase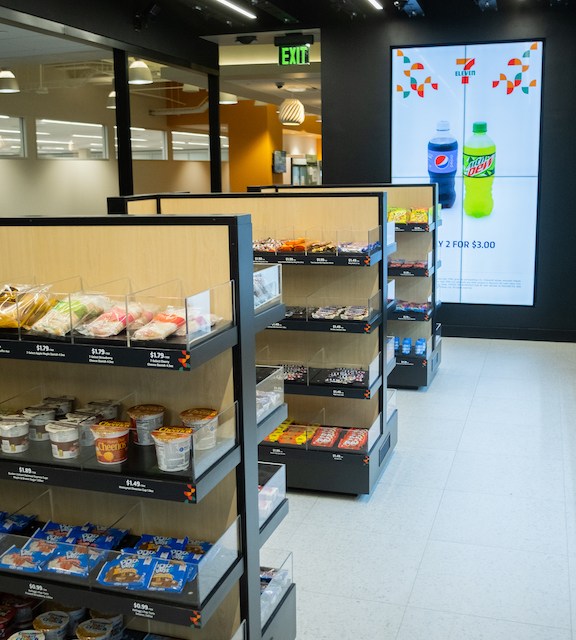 The race to go cashierless has another entrant.
This month 7-Eleven became the latest chain to test cashierless stores at its Irving, Texas headquarters as part of a pilot program. The 700-square-foot store, which opened on Feb. 5, is currently available to employees only via an app, allowing them to check in, shop and exit the store.
The 7-Eleven launch is part of a wave of existing retailers trying to offer shoppers a more frictionless checkout process, which includes foregoing long line waits. A company spokesperson did not comment on how the initial testing has gone thus far.
But while there have been plenty of tests from all types of companies, cashierless hasn't yet quite taken off widely. Trials have existed for at least a couple years: The convenience store chain originally announced the concept at the end of 2018. In the past two years, retailers like Sam's Club and Giant Eagle have launched trial programs of seamless checkout in hopes of bringing the concept to national locations. The only real rollout has been from Amazon Go, which showed retailers what the possibilities were. Amazon however, has managed to do this using a proprietary technology that it doesn't reportedly have any plans to license — which means for those just starting, they're already playing catch up. 
While human cashier-free methods have been presented as a solution to multiple brick and mortar problems, including reducing checkout wait times and annual shoplifting-related losses, they've also drawn criticism. When Amazon first announced its cashier-free shops in 2016, which use a combination of surveillance cameras and sensors to monitor purchases, the company faced public backlash for potential privacy violations.
The cashierless concept has also been deemed as an eliminator of cashier job, prompting Amazon to address the concern by explaining that stores' staff will simply be reorganized. Last May, the company confirmed its New York Amazon Go locations will start accepting cash, a move that came amid local laws being proposed to eliminate discrimination against cash-using shoppers. On the logistics side, difficulty implementing the grab-and-go flow of Amazon Go in larger locations already has the company investing heavily to improve the technology.
All that said, those issues aren't stopping retailers from jumping on the bandwagon.
According to CB Insights' 2020 State of Retail Tech report, use of AI technology at brick and mortar is expected to continue surging in 2020, further helping grow the cashierless checkouts trend. Evidently, retailers' spending on in-store tech reached $3.7 billion annually in 2019, including deals and financing by in-store retail tech companies. The spike on this spending is up from $1.2 billion annually in 2015.
The startups that are building checkout free technology for existing retailers are also themselves growing, with AiFi, Zippin and Grabango all having raised millions in funding in 2019 to help them scale. 
Grabango chief business officer Andrew Radlow said the company has seen an increase in retail client demand since launching in 2016. Grabango helped build supermarket chain Giant Eagle's checkout-free technology, currently in machine learning mode, and is expected to officially launch sometime in 2020.
"The demand is becoming stronger and stronger," Radlow said, who said feedback from customers at Giant Eagle stores outfitted with Grabango technology has been mostly positive. 
"We're seeing that some shoppers look forward to zooming past the long lines using the checkout-free app," who stressed that Grabango's technology isn't fully automated, which he called "cashier inclusive." "Store employees are still responsible for checking ID for alcohol purchases, along with other tasks like collecting cash and generally interacting with shoppers."
Radlow also said inquiries for the startup's technology have been surging in recent months, with ongoing deals currently being negotiated, indicating more retailers are looking to implement AI-powered checkout in the near future.
Seamless checkout has generally been on the rise for some time, as the gradual rise of Starbucks' order pick-up program has shown. While the company declined to break out the individual performance of its latest pickup-only location, which launched in New York last year, according to a company spokesperson, the overall Mobile Order & Pay program the coffee shop chain in 2015 has seen an increase in customer adoption. As Starbucks' recently released 2020 Q1 earnings, mobile orders now account for approximately 17% of transactions in the U.S., with about 5,400 stores seeing over 20% of transactions come in via mobile order during peak hours.
"We're really encouraged about what we're seeing and hearing," the company said in a statement. "Customer engagement is high and we've received positive partner (employee) and customer feedback about the experience."