'Brands need to offer a non-credit option:' Startup Accrue is pitching a save now, pay later option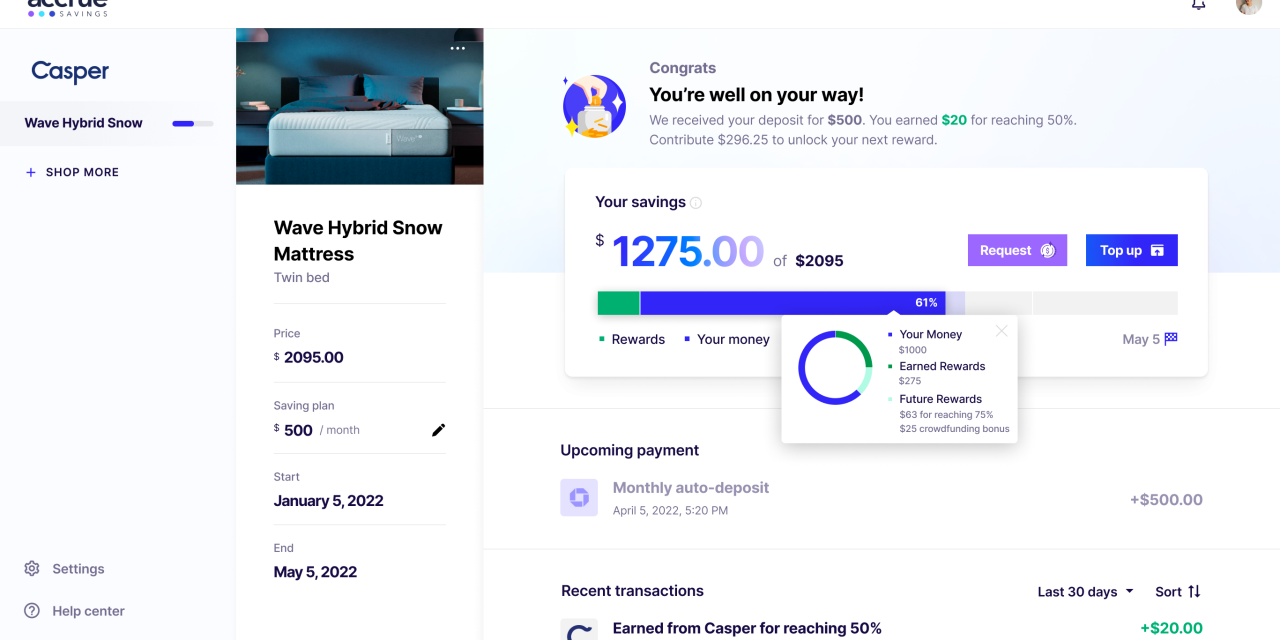 Accrue Savings
As buy now, pay later providers grow in popularity, fintech firm Accrue is vying for a side of the economic system that has been relatively overlooked: saving.
Accrue Savings, a save now, pay later firm that allows users to earn cash rewards as they save up for purchases, has been growing its roster of brand partners. Since launching in November, the company has inked partnerships with brands such as Allbirds, Casper, Smile Direct Club, among others. The company's appeal has helped it snag a total of $30 million in funding to date.
The company launched its services amid growing regulatory concerns about BNPL's practices, which Accrue said makes it more urgent for businesses to offer more diverse payment options. With fresh Series A funding of about $25 million led by venture capital giant Tiger Global, the company is looking to team up with more retailers in various categories this year. 
"Americans are saving and so when you think about our strategic plan, Americans are saving for items to purchase," Michael Hershfield, Accrue CEO and founder said. "We wanted to make sure that there is a savings offering on every retailer website in the United States."
Hershfield said the company is looking to partner with businesses within categories that consumers typically take time to save for, including furniture, jewelry, travel and automobile. However, he did not name specific companies. 
Customers can link their bank accounts with Accrue and choose a saving plan that works for their budgets. For instance, a user can choose to contribute $30 a month or create a custom plan to save for an Allbirds hoodie. When they hit a certain milestone, brands also make contributions to the purchase. By simply creating a savings account, for instance, shoppers can receive $10. Shoppers can also track their progress and crowdfund from their friends or relatives.
Users don't have to pay any fees. The company earns money through card interchange fees and performance fees from merchants. By partnering with Accrue, the pitch for retailers is that they are able to engage with shoppers during their early consideration phase as well as give consumers a responsible purchasing option, Hershfield said.
"Brands need to offer a non-credit option payment diversity, giving consumers an alternative outside of credit is very important and also deeply sensitive and aware of where Americans are," Hershfield said. "There's nothing like this out there in the market where you try to engage the user earlier on in the consideration phase and ask them to start saving on their own terms." 
Flexible payment options like buy now, pay later have ballooned in popularity in recent years. For instance, Klarna announced in June that it raised $639 million in a funding round, while traditional financial firms like Visa and Mastercard have also recently entered the BNPL space in response to growing demand.   
Insider Intelligence estimates that the industry will have $680 billion in transaction volume across the globe by 2025. The market research company predicts the industry to have a compound annual growth rate of 13.23%.
Despite its growth, the flexible payments space has remained largely unregulated, said David Morris, principal analyst at Insider Intelligence. While many BNPL providers don't charge late fees, a September survey from Credit Karma indicates that 72% of users who've missed one payment think their credit scores declined as a result.
Financial regulators worry that some users are borrowing more than what they're capable of paying back. BNPL providers often don't have consumers' full financial picture when issuing these loans, Morris added. The Consumer Financial Protection Bureau, in December, opened an inquiry to five BNPL companies due to its concerns about debt accumulation, regulatory arbitrage, and data harvesting.
"Regulation comes with compliance costs. So I think that is going to be something that some of these product providers are going to have to shoulder," he said. "I think overall there are going to be some compliance issues that could impact revenue."
Consumers' and businesses' over-reliance on credit is exactly what led Hershfield to build Accrue. BNPL providers also began their companies with the idea of making small loans accessible to consumers without credit histories, as is the case with Affirm when it first launched. As the first mover in the save now, pay later space, Hershfield said that Accrue has a responsibility to educate the market. 
"Our vision is around making contributions to savings more attuned to how consumers actually behave, rather than the monopolization of credit in the American capitalist system," he said. Like many BNPL firms, Hershfield said Accrue also gives retailers the opportunity to acquire more customers and ultimately get them to the checkout page. 
As the BNPL gets more competitive, some fintech startups have also opted to focus on targeting the business-to-business space instead of consumers. For instance, Vartana, which aims to be the "Affirm for B2B," focuses on making BNPL services available strictly for business-to-business transactions. Affirm's spinout Resolve, which offers similar capabilities, announced in December raised $25 million in equity funding.
Though more players are entering the flexible payments space, there isn't much differentiation among them, said Joel Rampoldt, a managing director at AlixPartners. "They all look quite similar," he said. "It really comes down to the economics of what sort of deal are they offering to the retailer and is the retailer going to be able to get the increasing conversion, increasing basket size that they expect."
In addition to growing its retail partners, Accrue also plans to staff up "pretty aggressively," Hershfield said. That includes adding more team members in the marketing, engineering and product department. "We're going to enhance the team to sort of live up to the ideals and the mission and the goals for the next couple years for the business," he said.