As Kroger Wine expands, more retailers are looking toward alcohol e-commerce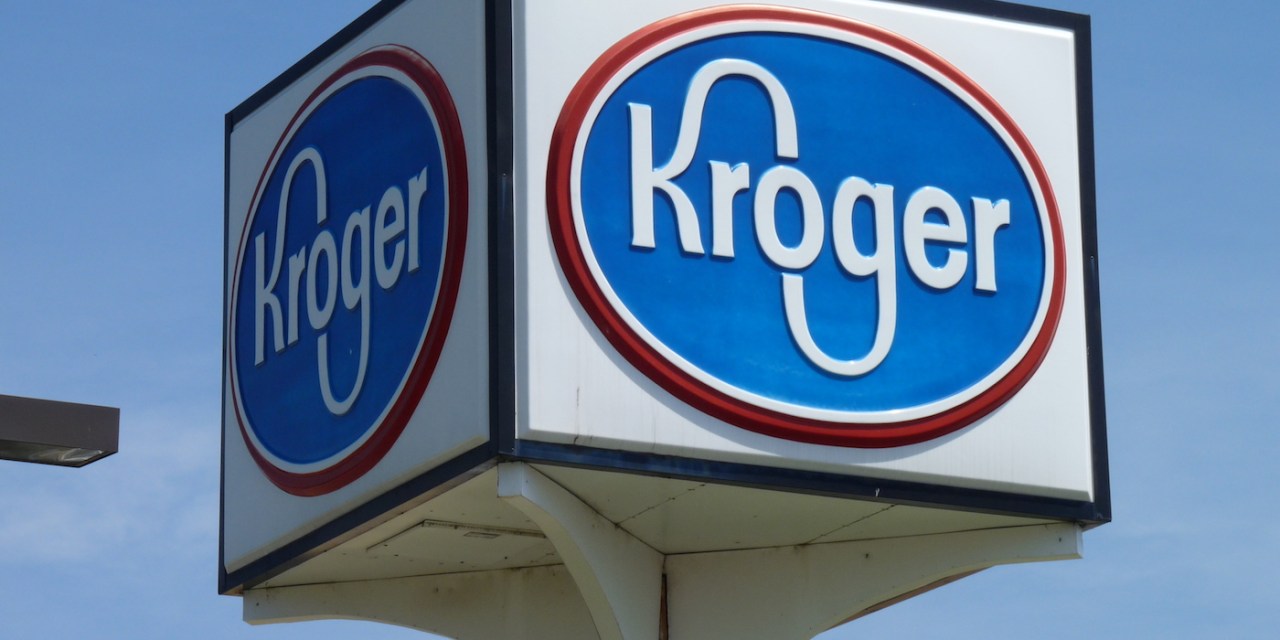 Kroger is continuing to expand its alcohol program online.
Today, the grocer announced some new capabilities with its Kroger Wine program — including the ability for customers to build their own selection of wines to be delivered — as well as more participating locations, including the state of Arizona. The service is now available in 19 states as well as Washington DC and has a coverage area of more than 16,000 zip codes and 58 million households.
Over the last few years, Kroger has been quietly expanding its adult beverage delivery program. It has partnered with software platform Drinks, which specializes in back-end infrastructure for wine delivery services specifically, and has worked to make alcohol a bigger part of its future programming. For Kroger, its program for wine — and alcohol more generally — has been an important strategic differentiator. Like nearly every other retailer in the country, the grocer has been feeling the heat from big players like Walmart, Target and Amazon.
"We are continuously broadening how customers can engage with us no matter what their needs are, and expanding into wine was the natural evolution of bringing our in-store experience online," a Kroger spokesperson said to Modern Retail in an emailed statement. "We're working to actively expand our footprint as quickly as possible in the coming year."
In recent years, Kroger has focused on boosting online sales and delivery capabilities. In 2017, it announced its Restock Kroger program, where it would invest hundreds of millions of dollars in its innovation efforts. The strategic revamp focused on increasing online sales and discovering new digital revenue streams — it included a completely revamped shopper marketing program. Its focus on online adult beverage sales was certainly a part of this big shift. And recent results indicate that some things may be working. The company told investors last month that it expects same-store sales to increase more than 2.25% in 2020, which is an acceleration from years past.
Meanwhile, the alcohol e-commerce space as a whole is heating up — Walmart's chief merchandising officer Steve Bratspies earlier this year admitted that adult beverage is "one of the big ones that we're leaning into." Similarly, Amazon has been making incremental inroads — last month it unveiled a private label gin it was making in the U.K. "Less than 2% of alcohol is sold online," Drizly CEO Cory Rellas said to Modern Retail last August. "In many ways, there is a massive opportunity — not just for Amazon but for others."
Put together, online alcohol sales is one of the next big frontiers for retailers. "The need for retailers like Kroger," said Drinks co-founder and CEO Zac Brandenberg, "is to be as omni as possible," meaning they need to offer more than just a physical location. The ultimate goal, he said, is to "enhance convenience for customers." Big names like Walmart and Target have improved their online programs by leaps and bounds, but alcohol has remained behind the curve, likely because of legal setbacks. Now, the big players are slowly trying to figure out what services they can offer — be it e-commerce sales or buy online and pickup in-store — and how nationally they can scale them.
"Adult beverage is finally getting the attention it deserves from retail when it comes to convenience," said Brandenberg. "It wasn't the low hanging fruit." But as services like Instacart look to form smaller partnerships with mom and pop liquor stores, as a way to facilitate home alcohol delivery, bigger players are figuring out what they can do to innovate their alcohol sales.
This is following consumer trends. The alcohol industry is worth over $250 billion today; off-premises wine sales alone exceed $70 billion. Brian Lee, a senior principal researcher at Gartner L2, told Modern Retail earlier this year that the largest US potential area for growth in grocery "is in the online alcohol delivery space." Numbers from Gartner says that online spirits sales grew ten times faster than the entire industry.
For the big retail players, it's a slow trudge. Because of different state laws, they simply can't roll out a nationwide online alcohol program. There has yet to have a clear winner in alcohol e-Commerce, but small steps like this from Kroger show that the battle is on. "Selling alcohol online presents many logistical and regulatory challenges," Kroger said, adding that Drinks's platform "has allowed us to roll out a scalable wine e-commerce program, while ensuring that the branding remains true to Kroger."
For now, the big retailers are waiting to see what the others do. While Amazon has looked into adult beverage e-commerce over the years, it's yet to unveil a total online alcohol strategy. According to Brandenberg, that probably won't be for long. "You know [Amazon is] going to want that category," he said. "It's high margin and relatively untouched."
Correction: An earlier version of this story misattributed a quote from Kroger. We regret the error.