Amid a continued home goods boom, Havenly launches its first pop-up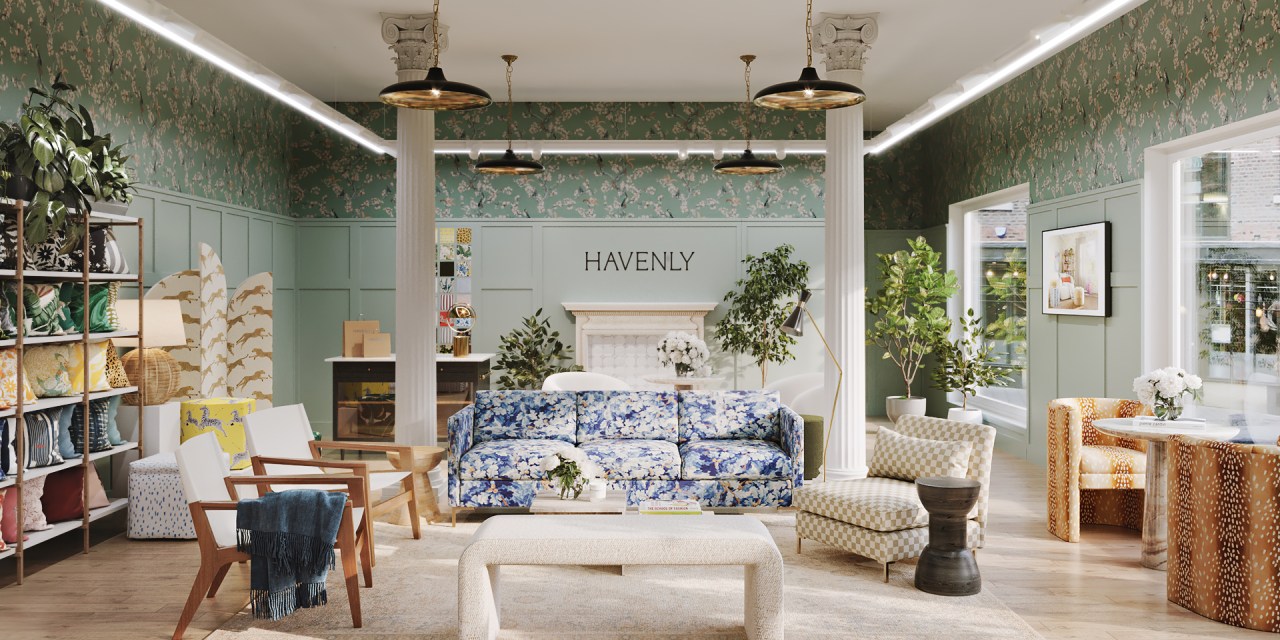 Havenly
Interior design business Havenly is making a move into brick and mortar with a brand new pop-up showroom in New York City. Its brand-new furniture lines are on display, as well as a "design bar" where customers can inquire about services, making the most of the recent boom in the home goods and furnishings sector.
"Having this geographic focus in person really allows us to focus and build that out over time, so we're really excited to be able to figure out how this model works for us, and potentially expand it to the next market," Havenly's chief revenue officer Veronica Collins told Modern Retail.
The Havenly pop-up is the latest sign of continued business growth for the home furnishings sector, an area that boomed during the pandemic and is still seeing steady activity. Overall, the month of June saw nearly $12.4 billion in furniture sales, a 30-year high up from $12.2 billion in May, according to U.S. census data.
In turn, retailers are doubling down on the space: Home Depot is launching a decor line, custom sofa marker Interior Define continues its plan to expand to 30+ stores while Wayfair launched its first brick-and-mortar AllModern store in late spring. And last week, Texas grocer H-E-B recently launched its own home and decor lines in select stores.
For Havenly's part, getting into retail culminates a string of recent moves. Back in October 2019, it raised $32 million in Series C funding ahead of the launch of its in-house brand Cove Goods. Then in February of this year, it further bolstered its in-house furniture offerings when acquired The Inside, a custom furniture brand that had been a frequent partner.
In April, it launched a multi-year collaboration with Reese's Book Club, which focuses on cozy and cushy items meant for reading nooks. Then in May, Havenly launched in-person design services in select markets.
"It was really this combination of having our own products, and our own point of view on product, that came together at the same time," Collins said.
Havenly's evolution as a business showcases the continued growth of the home goods space. It first began as a service that aimed to democratize interior design, a service that traditionally can be a high-priced luxury. It did this by making services more affordable: small room design rates start at $99 while a full-sized room is $179, according to its website. Along with the final designs, customers get a shopping list of items they can buy from Havenly via its marketplace that includes hundreds of vendors at various price points. Havenly, whose designers can earn commission, handles ordering and tracking.
In addition to working to ensure affordability, Collins said the brand also aims to use language and framing that is approachable. The Inside, for example, claims to provide "custom furniture at a cookie cutter price" with chic designs available in more than 100 fabric options.
And, now, with its pop-up, Havenly is trying to push even further into being a full-service home furnishings retailer.
"One of the things that excites me about Havenly in general — and this [pop-up] strategy builds along that core value — is we want to bring traditional design to millennials in a really accessible way," Collins said.
A continued home goods boom
Young shoppers are in part fueling the furniture sales because of back-to-school shopping, said Katherine Cullen, the senior director of industry and consumer insights with the National Retail Federation. This crowd is buying furniture to personalize dorms and off-campus apartments now that they are back to college with in-person classes.
NRF reports that June furniture stores alone saw sales were up 1.4% month over month seasonally adjusted, and up 4.8% unadjusted year over year. Cullen said that while activity may slow down as consumers meet their needs, there's still a bevy of activity.
"We know since the start of the pandemic, actual spending on dorm and apartment furnishings on a per person basis is up 42% compared to 2019," she said. "We've seen a lot of interest in having your personality in your dorm and apartment space."
In Texas, H-E-B last week announced it will roll out Home by H-E-B departments in 25 stores this year. It marks a new avenue of business for the brand which has more than 300 stores in the state and is among the largest private companies in the United States. H-E-B has previously expanded beyond grocery with H-E-B kitchen and table, jewelry and accessories line Mia's Mirror, and KODI coolers.
The move into the home space comes with the launch of two lines: Haven + Key, which has a chic and clean vibe, and Texas Proud, which leans into country style with leather goods, cowhide benches, Texas flag prints and antler art.
"At H-E-B, we're always looking for ways to offer an unique, quality shopping experience, and Home by H-E-B is another way we're able to better meet the needs of Texans," said Sabina Israelian-Garcia, H-E-B Group Vice President of General Merchandise, Drug Store and Beauty, in a news release.