After coronavirus boom, grocers race to find fulfillment solutions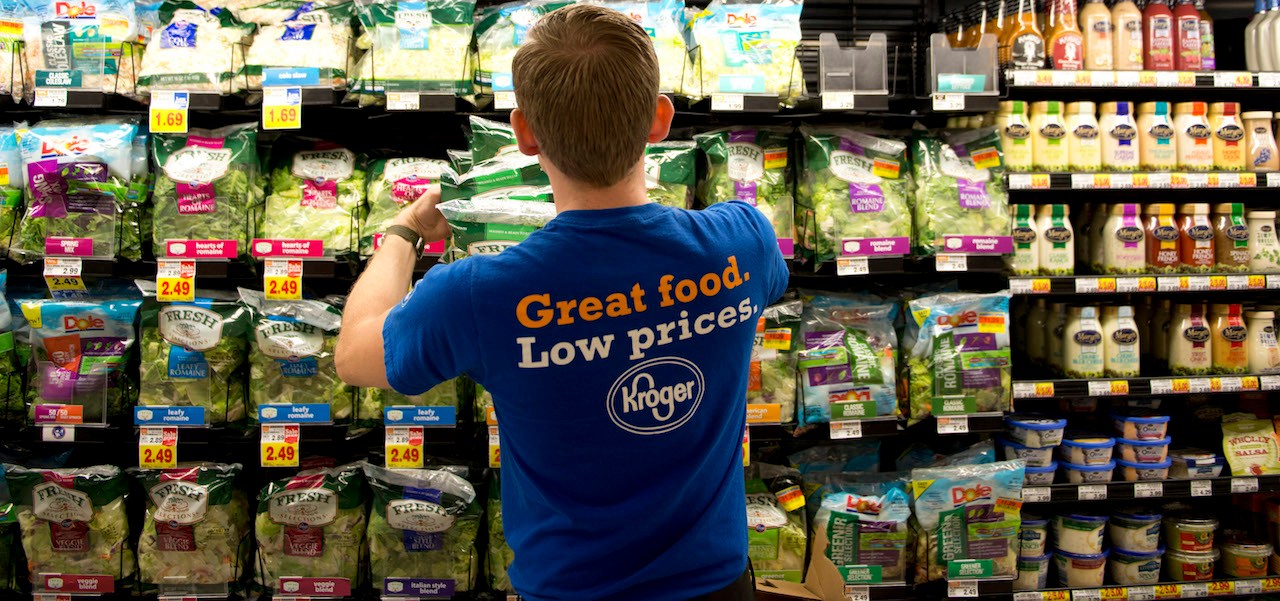 Grocery delivery growth may be slowing, but grocers are still betting on it being lucrative in the longterm.
Within the past month, grocers like H-E-B, Albertsons, Walmart and Whole Foods have announced a slew of new deals to build micro-fulfillment centers and/or test out new delivery methods. Online grocery sales reached a record $7.2 billion in June, according to consulting firm Brick Meets Click, spurred in part by consumers who were too afraid to visit stores during stay-at-home orders. Then, in August, sales dropped to $5.7 billion. Still, Brick Meets Click estimated that 37.5 million U.S. households used an online grocery service in August, up 133% year-over-year.
It's a sign that at least some people who tried grocery delivery during the pandemic are sticking with it — and will in in the future. If the pandemic taught grocers anything, it's that they don't want to be caught flat-footed when there is a huge surge in demand for grocery delivery. So, many mid-to-large-sized grocers are making investments now to ensure that they're able to keep up with future demand. The challenge, however, is that the grocery industry is notorious for having thin margins, and those margins will only get further strained by spending millions of dollars to build out warehouses or new delivery services. It remains to be seen how profitable delivery can be for grocers in the long-run, and which delivery and fulfillment solutions are most cost-effective.
"It's a testing process for everybody still," said Pamela Goodfellow, director of retail insights at Kantar Consulting.
Recent headlines showcase how quickly the grocery fulfillment space is accelerating. This week, warehouse automation company Swisslog announced that it was working to build a number of automated micro-fulfillment centers with Texas grocery chain H-E-B. Albertsons announced plans to expand a pilot with Takeoff Technologies, and open a series of new micro-fulfillment centers this year and next. Albertsons previously opened two other micro-fulfillment centers in partnership with Takeoff Technologies at the end of 2019. Whole Foods opened up its first "dark store" — a store that only supports grocery delivery — in Brooklyn. Meanwhile, Walmart, for whom grocery delivery is the cornerstone of its e-commerce strategy, announced that it was testing out grocery delivery by drone in North Carolina.
In particular, demand for automated warehouses, as well as micro-fulfillment centers, have picked up in recent years. Mohamed Vaid, the vp of commercial acceleration at the micro-fulfillment service provider Dematic, previously told Modern Retail that the company did see a surge in interest from potential new clients at the start of the coronavirus pandemic. And, that "they wanted to roll this out as quickly as possible."
Micro-fulfillment centers — which may be built as standalone facilities or attached to an existing grocery store — are constructed to be as efficient as possible for packing orders. Additionally, many of the micro-fulfillment centers utilize automation to cut down on the number of employees a company needs to pay to pack orders.
Eating into margins
It remains to be seen just how helpful these fulfillment centers are in helping grocers improve their margins on delivery. It's taking many grocers months, if not years, to build them out. For example, Kroger, which was one of the early movers in building out fulfillment centers for grocery delivery by announcing a partnership in 2018 with British company Ocado, has yet to open one of its nine planned fulfillment centers. The first will open in 2021. "Our customer fulfillment centers will accelerate our ability to serve customers seamlessly and in a more cost effective way," Kroger CEO Rodney McMullen said during the company's first quarter earnings call in June.
Few grocers are breaking out specifically how profitable their online grocery business is (or not). Kroger has only said during its second quarter earnings last week that its "digital sales growth was profitable on an incremental basis."
But, looking at grocers' earnings as a whole, it is clear that while many are reporting that their revenue and profits are growing, their margins are shrinking. They are spending millions of dollars on warehouses and other fulfillment initiatives, while waiting for their online businesses to gain greater traction. For Kroger, its margins have benefitted due to pandemic-related sales boosts, with sales being up 8.2% in its most recent quarter, and gross margins as a percent of sales were up 5 basis points. But last year, Kroger's profit margins contracted during a couple of quarterly reports, due in part to increased investments in fulfillment and supply chain.
The other challenge that grocers are still trying to solve is how to make the last-mile — the delivery between a store and a person's house — as cost-effective as possible, while also keeping all the perishable items fresh. Making the last-mile cost-effective will rely on a combination of both reducing labor costs, while relying more on technology to automate whenever possible. In addition to grocery delivery by drone, Walmart has also tested out grocery delivery with Nuro's self-driving vehicles, as well as in-home grocery delivery.
"Everybody really needs to be thinking outside the box right now," said Goodfellow.