Podcasts
// December 24, 2020 ■ 4 min read
A legal challenge for Amazon, and boom times for TikTok: Modern Retail's top trends for 2021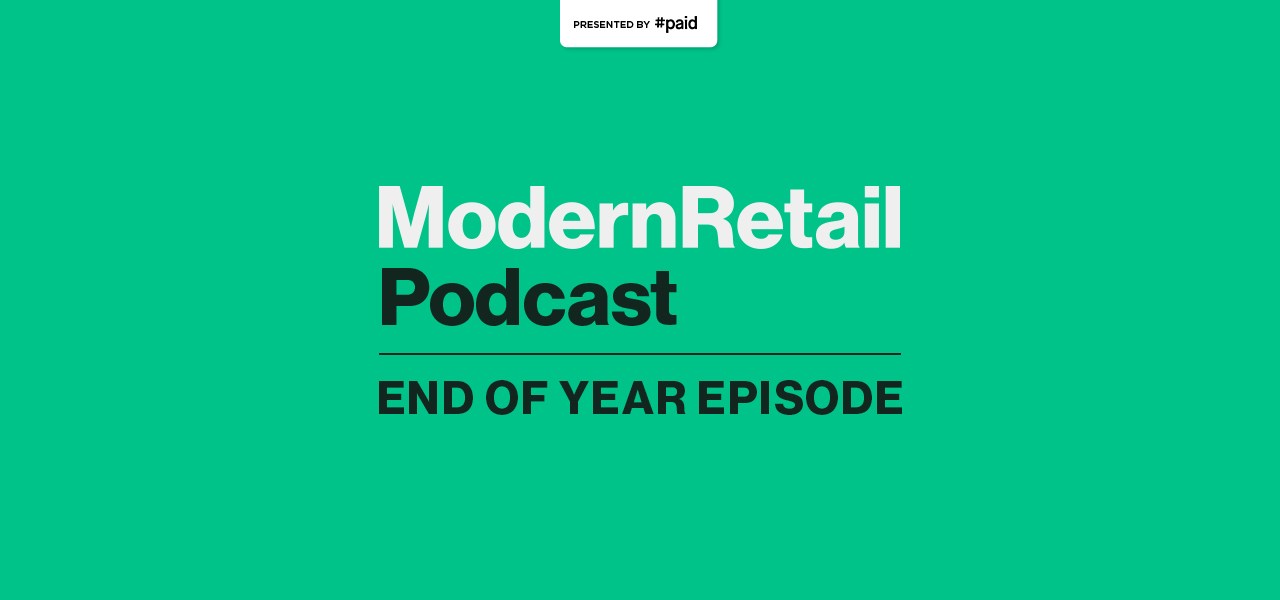 Subscribe: Apple Podcasts | Stitcher | Google Play | Spotify | RSS
It's an understatement to say that 2020 was a strange year. A global pandemic turned everything upside down, and retail was no exception.
In this week's episode of the Modern Retail Podcast, a few members of the editorial team take a look ahead at what 2021 may have in store for the retail industry. We cover quite a bit — from a quiet time for IPOs to a bill targeting e-commerce companies. But the one tying bind is that things are very different from what they were a year ago.
Here are a few highlights from the conversation, which have been lightly edited for clarity.
A huge boost to DTC… but will it last?
Anna Hensel, startups editor: "We wrote a few stories in 2019 predicting that 2020 would be the year that a lot of these direct-to-consumer startups hit a revenue wall. The idea being that you can only generate so much revenue from your own websites. But actually, in 2020, because of the coronavirus pandemic, you had people who both either had never really bought anything online before starting to buy more of their products online because they didn't want to go to stores. And also people buying online more in general. I talked to some direct-to-consumer startups who said that their sales actually doubled or tripled this year, exceeding their initial growth projections. So it turned a lot of the conventional wisdom on its head this year, because e-commerce growth accelerated much faster than anyone was predicting. So now, the question these companies face is, okay, what is e-commerce activity going to be like next year? Are people going to continue buying online? And does that mean I should focus on my website for longer?"
A legal reckoning for e-commerce platforms
Michael Waters, retail reporter: "California has this law that was in session this year — and then was later killed, but is likely to be introduced next year as well — that essentially would take away a lot of the liability protections that all e-commerce platforms have. And that would affect not just Amazon, but eBay, Etsy, everyone else. An interesting thing that Amazon did is, after initially opposing this bill, they turned around and supported it once the bill drafters agreed that it would apply to everyone equally; so not just singling out Amazon, but it would apply to all of its competitors. What some commentators say about that is it's basically because Amazon knows it has deeper pockets to deal with liability than its competitors do. But the fact that the biggest player in the e-commerce space is behind this bill doesn't mean it's going to pass, but it definitely changes the calculus a lot."
The IPO horizon
Hensel: "I think a lot of DTC startups are going to try to stay private as long as possible. I don't have any immediate candidates as to [who] will IPO next year. Casper IPO'ed this year, and the reaction to that IPO was kind of lackluster — because they had very high customer acquisition costs, it wasn't really clear if they were doing a good job of retaining their current customers and getting them to buy more of some of their newer product lines. One direct-to-consumer startup that has done really well on the public market is Peloton. Obviously, at-home fitness was a very popular category this year, but they're also able to lock in revenue from existing customers due to their subscription model. So I think if you have a company that has more of that model, there's a chance that they might do well on the public markets. And those are the type of companies you might see go public."
For TikTok, brands' social media managers might be replaced by the cashier
Waters: "I'm just fascinated by how retailers are essentially trying to turn their employees into small time influencers. Different retailers are doing this in different ways, and certainly it's only a small number that are doing this so far. But it is this new approach to what it means to work in retail, that there are companies — and when I say companies, I think Dunkin' and Walmart are the big ones — who are essentially trying to get their employees to post content from the job and behind the scenes of a Dunkin' Donuts kitchen… and show this image of what it's like to work for these companies — with a tint of rose-colored glasses, of course. None of these programs are required — but it is a fundamental change. If there are a lot of employees who are being encouraged, in the case of Walmart, as I reported on recently, they get monetary rewards if they have a successful post [on TikTok]. I do think there is a definite PR value in this. If you are looking at a company that has been criticized for how it treats its workers, and then you see lots of videos of workers having fun on the job — I think that impacts how consumers are going to see that company."