15-minute grocery delivery services are trying to compete with Amazon and DoorDash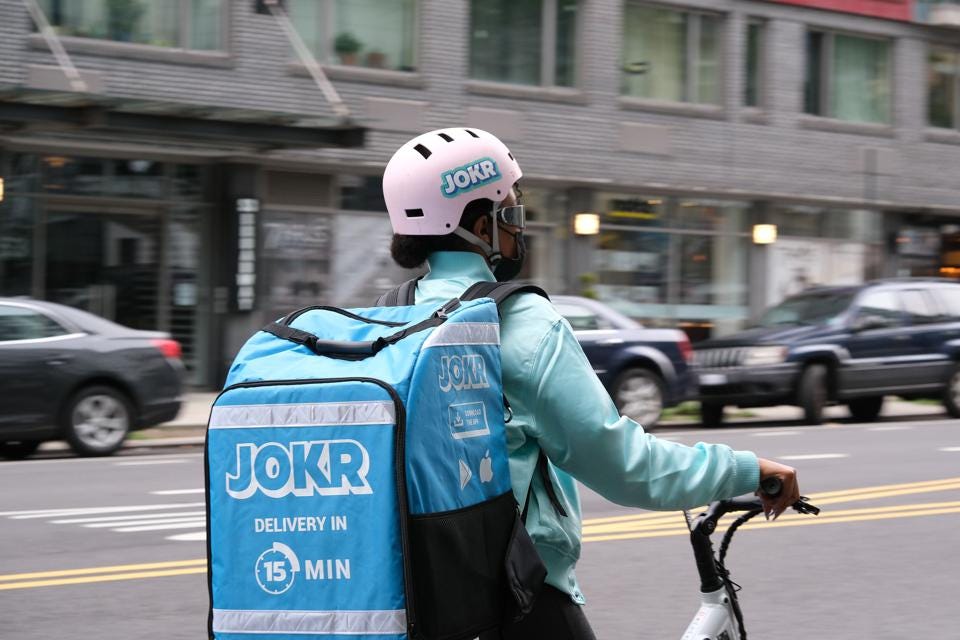 Jokr
Fifteen-minute delivery is the new 2-hour delivery.
Over the last few years, many retailers have adopted same-day doorstep drop off — including big names like Target, Walmart, Best Buy and CVS. But now, the stakes are getting higher — and grocery delivery is now getting the lightning-fast treatment. In recent months, several 15-minute or less grocery delivery services have launched in American cities. These startups include Fridge No More, Gorillas, Jokr and 1520. To execute the concept, rapid, hyper-local delivery calls for centrally located ghost shops and employing in-house warehouse and delivery employees. 
In late 2020, Brooklyn-based Fridge No More started with two stores — located in the Williamsburg and Park Slope neighborhoods. While its dark stores began as a way to service young, urban millennials at the height of the coronavirus pandemic, Fridge No More has expanded to offer over 2,000 SKUs, said head of marketing Jane Katz. The company started with a few hundred SKUs when operating in Brooklyn, and is currently focused on expanding to lower Manhattan.
Much of the ultra fast-delivery's execution relies on streamlined logistics, which is a combination of centrally-located cloud stores and software. For example, Fridge No More currently has eight fulfillment centers throughout Brooklyn and Manhattan, with goals of continued expansion throughout New York City and outwards. Part of entering a neighborhood also includes local food donation to community fridges, Katz said.
Each of the warehouses is located in the center of the one-mile zone Fridge No More serves. This allows delivery workers to reach customers via electric bike or scooters in minutes; the company employs its own delivery and warehouse workers. Fridge No More said it currently has dozens of delivery workers, who work full-time for the company.
The app's software also acts as an inventory management system, which continuously updates customers on back-in-stock and unavailable products. "Once the packers get an order via their iPad or iPhone, they can walk through the store and collect the items quickly," said Katz. She noted that the stores' aisles are laid out in a specific order, as to not leave any room for human errors. "Each packing is doable in about three to four minutes, so there isn't pressure to rush," she said. 
"Some of our top selling categories are produce and dairy, so it's not just nice-to-have items," said Katz. To offer differentiators not found on other delivery platforms, the company has been adding products by local brands and business owners, Katz said. With many New Yorkers heading back out, the startup has been running an out-of-home campaign in service areas to encourage app downloads.
Another recent player to arrive in the U.S. is Gorillas, after launching in Europe in May 2020. The Berlin-based startup is currently expanding throughout New York City, with plans to soon enter Los Angeles, San Francisco and Chicago markets. Gorillas is currently live in more than 40 cities across the world, and has over 100 warehouses set up.
Similar to Fridge No More, the company has fully-staffed warehouses in each neighborhood it serves, Ashwin Wadekar, chief of staff at Gorillas, told Modern Retail. "This ensures that the entire neighborhood's population can be reached in under 10 minutes and that we deliver on our promise," he said.  
To ensure demand is met consistently, Gorillas relies on an extensive referral network of delivery bikers. "In fact, there have been months where the majority of riders are ones who have been referred by existing employees," said Wadekar. Unlike gig-based delivery fleets, Gorillas offers its workers full-time wages and benefits, he noted.
As for inventory supply, local partnerships are "a key priority for us as well as for our customers," said Wadekar. Gorillas' sourcing includes regionally grown vegetables or partnerships with local bakeries. "So far, the response from customers on this front has been overwhelmingly positive," he said. 
Earlier this year, 1520, a New York City-based service that promises groceries in 15 to 20 minutes, launched operations in Manhattan. By April, the startup closed its first funding round by raising an undisclosed amount in venture capital cash. 
The space is becoming even more packed, with the recent arrival of Germany's Jokr this summer. The company, which raised $170 million in July, launched in New York as its first U.S. city. Aside from groceries, Joker offers customers household essentials and pharmacy items. The company reportedly has plans to open about 100 stores to service the New York area, and is expanding to Boston in the coming months.
These services arrive at the heels of the delivery boom. Online grocery sales grew 54% in 2020, according to eMarketer, and larger retailers and platforms have been leading that charge. For example, Amazon has been offering quicker fulfillment in recent years, but is yet to get local Prime deliveries down to less than an hour. Meanwhile, in the past year, delivery services like DoorDash and Uber Eats have begun selling essentials from convenience-focused chains, including 7-Eleven and Walgreens.
Overall, the delivery space is competing to get orders out in shorter and shorter window times. However, these new startups think they can win by providing convenience, competitive retail pricing and exclusive inventory.
Despite the rapid return of physical shopping, grocery delivery is still going strong. The growing demand for speedy delivery and pickup fulfillment is pushing retailers to reconfigure their physical spaces.
According to July 2021 data from Edge Retail Insight, up to one-third of physical store space could eventually be dedicated to online fulfillment, with e-commerce sales set to reach nearly a 35% share of global chain retail by 2023, up from 30% in 2021. Meanwhile, the share of in-store sales will drop to 62.4% by 2025, down from about 70% in 2021.
Deren Baker, CEO at Edge by Ascential, said that the pandemic accelerated the adoption of online retail across all key categories. "With record numbers of store closures since the outbreak of the pandemic, store-based retail is now at a tipping point," Baker said. 
With the "15-minutes or less" promise still new to many Americans, it's too early to tell whether the concept will take off outside of large cities. For one, fast delivery logistics lends itself to densely-populated and bike-friendly cities.
Still, the new services are betting on mass adoption. While there are some nuances — like population and distance — to consider, said Katz, "I think, in time, the model is scalable to other cities and suburbs."