With state regulations in flux, hemp-based brands are forced to pivot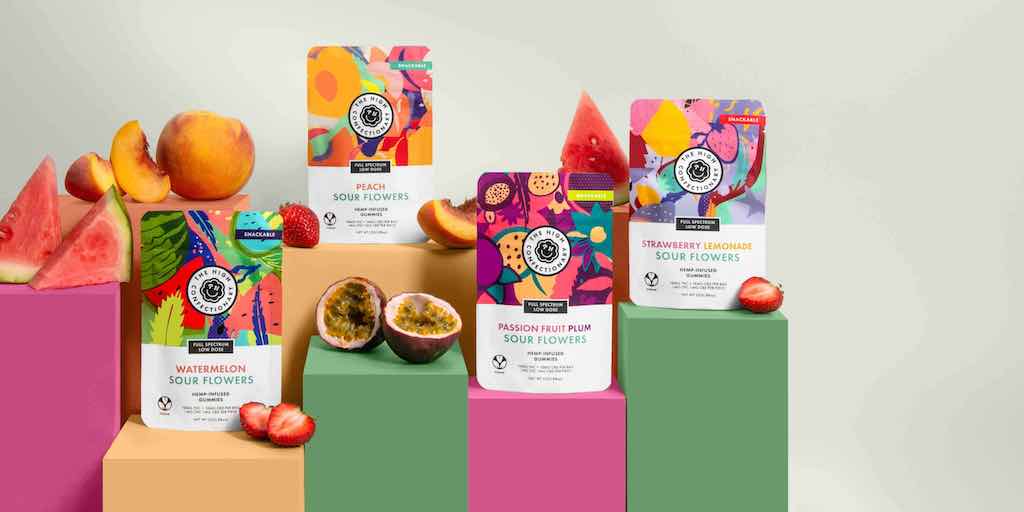 The High Confectionary
When an emergency law temporarily went into effect in New York this summer limiting the amount of THC — the psychoactive chemical in cannabis — that could be included in products to one milligram per individual product, beverage brand Cann rushed to launch a compliance SKU in about a month. 
It took a lot of time and money for Cann to change the dosage by just one milligram, as the company's original social tonics contained two milligrams of THC, according to Cann co-founder Jake Bullock. The emergency regulations also dictated that edibles products must have a 15-to-1 ration of CBD to THC. "It cost us $100,000 in combination in labeling, pulling products from stores and labeling the new ones," Bullock said. "That's a lot of money for a business like us."
Cann, along with other hemp and cannabis brands like The High Confectionary and Sativa Remedy, say they have had to tweak SKUs, or release different formulas for different states to abide by a growing patchwork of laws. These companies have had to quickly pivot by pulling THC-infused products from shelves, with some replacing the ingredient with hemp-based products infused with larger amounts of CBD.
Hemp and cannabis brands are used to having to operate under a patchy framework. Cann, for example, sells both cannabis and hemp-derived social tonics — but, its cannabis-derived beverages are only available in select states where cannabis beverages are allowed. But, it's still indicative of just how challenging it can be to do business in a burgeoning space like cannabis.
Much of the confusion has stemmed from how states should respond to The Agriculture Improvement Act of 2018 law, which opened the doors for hemp production in the U.S., and allowed hemp-based products with 0.3% THC to be sold. Part of the thinking behind opening up the door to production of hemp-based products was that it contains lower levels of THC than marijuana. This law allowed brands to sell these hemp-based THC products with this dosage direct-to-consumers and at retailers.
But according to lawmakers in states like New York, this percentage has created a loophole for brands to sell THC-infused products like edibles and beverages at non-dispensary retailers. In the last couple of months, states have started to pass their own state rules around hemp regulations. And now states like New York, Colorado, Connecticut and Virginia have put their own hemp product regulations in place to address this loophole.
New York state, for instance, is trying to pass a law — after passing the emergency, temporary regulations over the summer — in which hemp-derived cannabis products have to have a 15-to-1 ratio of CBD and THC. There is also a proposal to limit the servings to 10 milligrams per package. Other states, like Colorado, now require a 20-to-1 CBD to THC ratio, while Virginia's law dictates a 25-to-1 ratio. Part of the reason why states are pushing having a required CBD to THC ratio is because CBD does not have the same psychoactive effects as THC — and thus, some lawmakers want to see products that have more CBD than THC.
When The High Confectionary founder Jenna Goldring set out to create a cannabis company in 2021, she originally intended to sell at retail and dispensaries. But to cater to people with a low tolerance for THC and avoid the headache of cannabis compliance, Goldring pivoted to selling low-dose hemp gummies. She was also able to switch to selling direct-to-consumer, starting in September. Even with that, The High Confectionary risks losing compliance in states like New York, Connecticut and Colorado.
"Luckily for us, our products are low dose and sold in packages of 10 milligrams per package," she said. "But we have a 1-to-1 ratio currently that we're actually changing to a higher ratio because we foresee many states are going to follow suit."
The High Confectionary's packaging has also put a damper on some markets. While Connecticut doesn't have a law around the ratio of CBD, the state has a rule limiting the maximum amount of THC to five milligrams per package. "So we had to pause in Connecticut, and decide whether there is enough revenue potential in the state to make packaging changes or not sell there anymore," Goldring said.
With the rules changing rapidly, Goldring said she expects large legacy cannabis makers to jump into hemp as well due to the easier-to-navigate regulations around it. But if needed, Goldring said "we have all the relationships in place to pivot back to cannabis if needed."
For brands like Cann, all these changes come with extra hurdles, like having to make the product within the same state in which it is sold.
Cann's Bullock said customers in New York began complaining about the original product being pulled from shelves — with some moving to buy the banned SKU in nearby states like Connecticut. "It seems like [states] are intentionally targeting beverage," he said.
Now the original Cann line is only sold at cannabis dispensaries, while grocery markets and bodegas carry the new dosage. Bullock argued that these products should be sold alongside hard seltzer and beer, as opposed to being locked in cases at dispensaries. He added that regulators generally agree with the concept, but right now are busy dealing with bigger issues such as the burgeoning cannabis gray market.
But until a permanent, standardized law around hemp, THC and CBD is created, Bullock said the company will continue to modify its lines to adhere to important markets like New York. Since launching in the state in April, Bullock said New York had become one of its top five markets and the top market online. Since the new dosage rule came into effect, that has dropped by about 50%. "We can't not have a product for New Yorkers," he said.
Another tangential issue Bullock noted is that customers "expect the new lower dose drinks to cost less, and rightly so." But in reality "it's more expensive because you have to put more CBD in," along with requiring nano-emulsification to infuse the drink. Similarly, non-alcoholic spirits aren't cheaper than their alcoholic counterparts due to requiring time-consuming de-alcoholization technology. One positive outcome was that the one milligram tonic was received well. "We weren't sure if people were going to buy a one milligram THC drink, but they sold really well."
For now, companies in this space have to closely monitor laws and have contingency plans for packaging and labeling in case states continue changing their rules. "This can be rigorous and force companies to make hundreds of variations on SKUs," said Filip Luneski, vp of marketing for Lucid Green, which works with cannabis brands on ingredient labels.
"There is no precedent, where a company has been sued for not having the right of THC to CBD ratio," Goldring said. So right now, businesses in this category are operating at their own discretion. "I raised money so I have a duty to my board and investors to do everything legally," she said.
Luneski said that concerns over THC levels among brands vary depending on what states they already sell in. Federalization would help to mitigate these issues, he said, but right now it's up to states to provide regulations that are easy to understand and apply to R&D and packaging. 
Luneski said these hard-to-follow changes happen last minute, forcing brands to pull their products overnight and interrupt the retailers' inventory flow. The compliance hurdles are also slowing down the cannabis category's growth in major markets. "There are businesses right now that are scared to enter these markets because they're seeing what's happened in 2023," he said.
The ever-changing local laws make running a cannabis business tricky for food and beverage brands trying to expand nationally. "It's a little bit of starting and stopping, which isn't great for a business and customers," Bullock said. "We'll take it as it comes as these regulations get shaped in court, and react based on that."