With the market heating up, cannabis beverage brand Cann launches in New York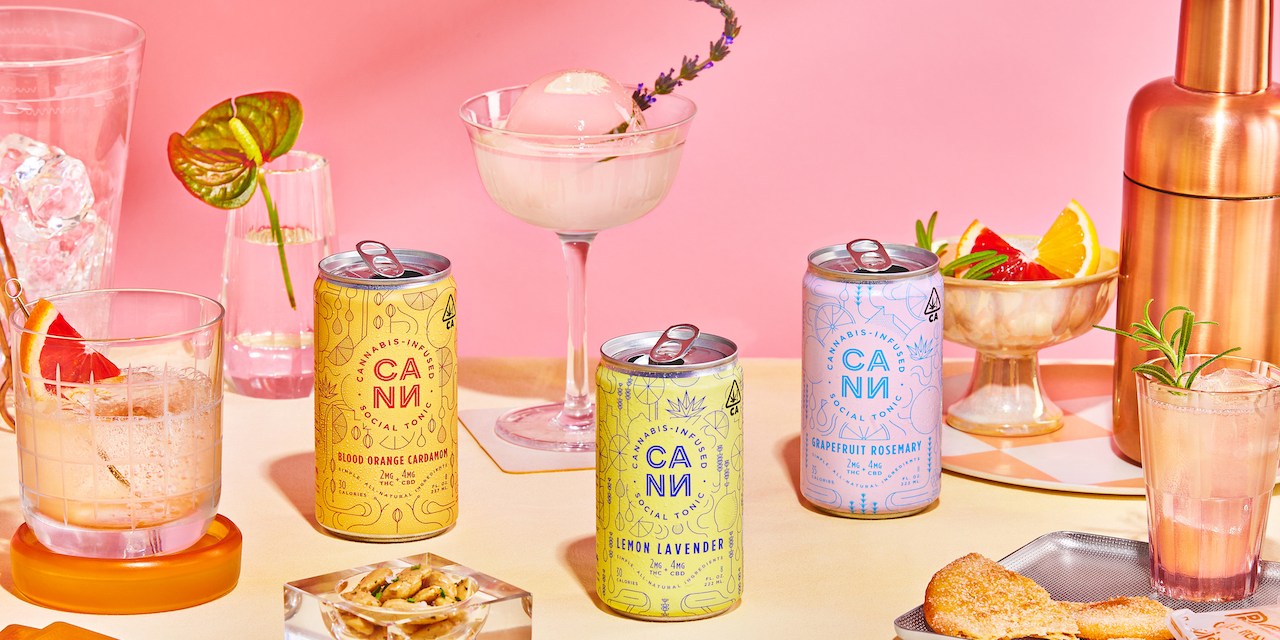 Get news and analysis covering the modernization of retail and e-commerce, delivered to your inbox daily. Sign up for the Modern Retail Daily Newsletter here.
Cannabis beverage startup Cann is hitting a big milestone this month, just in time for the 4/20 holiday.
Over the past year, Cann experienced over 200% year-over-over growth and sold its 10 millionth can. The company is now looking to build on that momentum by launching in New York; state residents can now purchase Cann via direct-to-consumer and at retailers.
New York is now the 33rd state where Cann's hemp-derived products are now available to ship via its website. Its cannabis-derived products are available for sale in six recreational states. Cann positions its products as low-calorie, hangover-free THC-infused "social tonics" that can replace typical hard seltzers and ready-to-drink cocktails. But despite high demand for its canned drinks, the company's growth trajectory has been slower than that of a typical beverage startup, due to the restrictions around THC. 
Still, it is a big moment for the company. With the state projected to become the second-largest U.S. cannabis market, behind California, the Cann preparation has been a long time coming. 
In total, Cann has secured about 50 retail partnerships in New York. The brand is now available at a few licensed New York City dispensaries, such as the newly-opened Union Square Travel Agency. The company's hemp-derived offerings will be available on the Cann website, in bodegas and at specialty shops.
Added distribution challenges 
Cann was founded in 2019, and by 2022 had raised an additional $27 million in funding to enter Canada — where recreational cannabis has been legal nationwide since 2018. 
The 2018 Farm bill legalized the regulated production of hemp, which made way for the rise of CBD-infused supplements and topical treatments. THC products, however, are still a highly-regulated area. 
In order to sell a cannabis-derived product in a select state, a company has to find a way to produce and package it there due laws against cross-state distribution. These products are also strictly meant for retail sales, and can't be sold at bars and lounges. 
"We also don't have a lot of retail doors because we've had to pick stores that are able to sell our products," Cann co-founder Jake Bullock said.
"New York has traffic almost everywhere, so we chose different shop formats to reach different types of shoppers," he explained. For example, Cann's 4-mg CBD tonics are now available at Neighborhood Goods and The Alchemist Kitchen, which targets the wellness crowd. At stores that specialize in non-alcoholic drinks, Cann can be promoted as an alternative to booze.
Bullock said that despite logistics challenges, cannabis beverages is perhaps one of the very few categories where DTC can be viable. "Even though it's a pain and expensive to ship, the higher price points and bulk orders result in healthy margins for us," he said. Cann's direct-to-consumer sales fluctuate from month to month, but on average account for about 25% to 30% of sales.
As new state policies are put in place, Bullock said different SKUs will become more-readily available. This process greatly impacts inventory planning and the supply chain, Bullock said, "due to not knowing how many new doors we can add in the coming months."
Even for cannabis companies that have been around for a while, growth comes at a slow burn rate. Kristi Palmer, co-founder of cannabis candy brand Kiva Confections, outlined the challenges her company still faces since launching in the San Francisco Bay Area back in 2010.
"Cannabis companies like ourselves need to source a partner with an existing license and trusted presence  to create new manufacturing, sales and distribution operations for a brand," said Palmer. "This is not only time consuming but can also come with a hefty cost."
More than a decade later, Kiva's line of edible chocolates and candies are sold in its home state of California, along with Arizona, Hawaii, Ohio, Oklahoma, Illinois and Massachusetts, among others. The company also launched a number of products in Canada last year, and is planning a limited-edition collaboration — a THC-Infused ketchup created with restaurant chain Fatburger — in honor of 4/20 celebrations.
These endeavors require a lot of investment. Kiva, which raised a Series B funding round last year to broaden distribution, is still in the process of securing licensing deals to debut in New York.
Creating buzz organically 
For Cann, New York has long been on its radar. "New York was where we had the most followers even before we launched there," Bullock said. 
Given the digital advertising restrictions around CBD and THC, Cann relies on a few key marketing tactics to build brand awareness. One of the company's biggest things Cann has going for it is its high profile investors, including Gwyneth Paltrow, Kate Hudson, Tove Lo, Baron Davis and actress Rosario Dawson, who's also a board member. "Luckily, we've been able to use their platforms to talk about the brand," Bullock said.
On-the-ground activations are also a big focus for Cann. Last fall, the company organized a weekend-long pop-up in Boston, which took place on the fashionable Newbury Street. Similar sampling events are being planned for the new markets this year. "We have to localize our brand-building strategy due to specific restrictions and retail partnerships," Bullock said.
While marijuana-infused beverages still only make up 1% of overall legal cannabis sales, the market has become lucrative due to the format's social drinking aspect. Companies like Cann hope that with more states loosening policies, expansion will become easier in the next few years.
Leah Heise, constellation advisor to global strategy and management consultancy Kearney, said that legal compliance is the cannabis industry's biggest growth obstacle.
"It's unique in that it's an entire industry that's reliant on state by state compliance," Heise said.  Not only do brands in this segment have to find compliant retailers willing to carry their products, but also reliant manufacturers. "These licenses aren't given out to just anyone, and getting them is a privilege not a right," Heise said.
"We have to constantly consider elections and legalization dates when planning our expansion roadmap," Bullock said. Even then, in states where recreational cannabis is technically legal, brands like Cann can face other roadblocks. For instance, even though legalization passed in New Jersey back in 2020, the sale of cannabis-infused beverages or perishable edibles is still prohibited in the state.
That, combined with the high costs of manufacturing, packaging and taxes is keeping the cannabis industry from fully competing with alcohol. But companies like Cann are still eager to expand.
"It's a hurry-up-and-wait process," Bullock said. "It's hard to get 'cans in hands' when there are all these rules and regulations to follow."