Online discount grocer Martie launches nationwide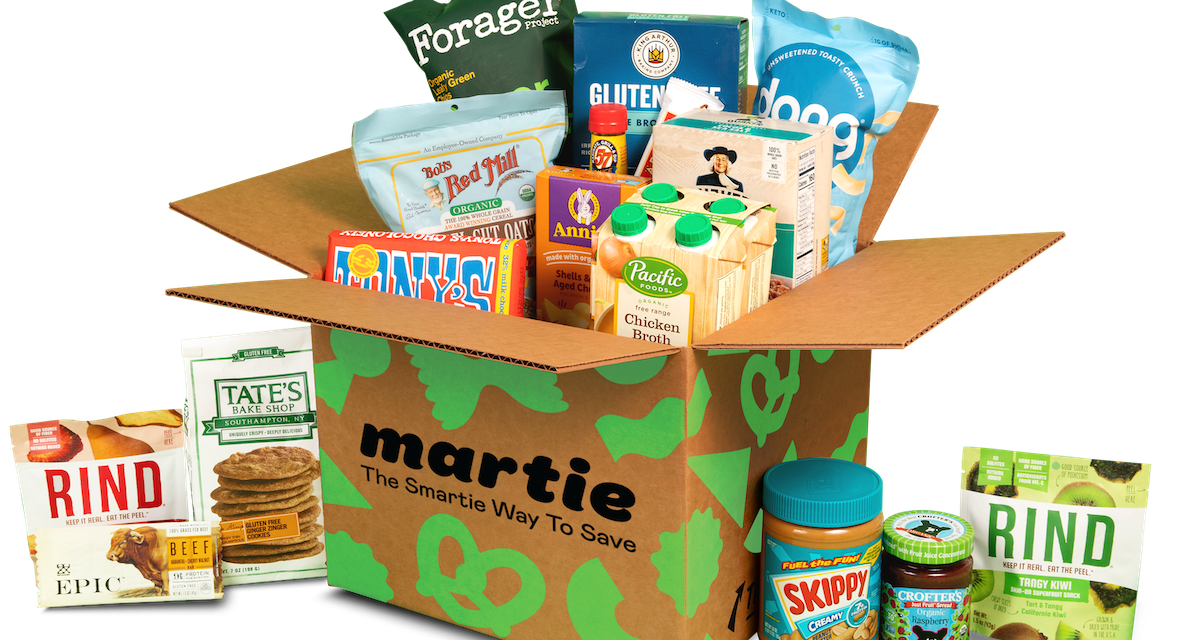 Martie
Online discount grocery startup Martie is adding more markets to its cart.
The company, which launched in November 2021 with $3 million in funding, is bringing its business to all 48 contiguous U.S. states this week. Martie began in California but moved its warehouse to Texas in April of this year to better cater to the middle of the country. This summer, Martie extended shipping to a total of 34 U.S. states, including Alabama, Mississippi, Wisconsin and Ohio. As part of this new, bigger expansion, Martie plans to open two more warehouses (one on the West Coast and one on the East Coast) by 2024.
With grocery prices continuing to rise, Martie is positioning itself as a solution for Americans looking to save money on food costs. As a surplus service, Martie works with hundreds of CPG brands like Kellogg's and Quaker to acquire shelf-stable items that they would normally throw out due to overstock, changes in packaging, nearing best-by dates or seasonality. Martie then sells those goods on its website for 50% to 70% off the normal retail price. According to Martie, its customers save an average of $54 per order or $600 per year.
Like Thrive Market and Instacart, Martie is part of a growing group of online grocery platforms trying to gain traction with shoppers. Competition is tight; since Martie's founding 23 months ago, many players, especially in the quick-grocery space, have either closed or consolidated. Martie, however, is leaning on its self-described profitable fulfillment strategy and focus on value to stand out and make sales.
Martie declined to share specific growth numbers but said that it sends out "hundreds of orders" each day, according to founder and CEO Louise Fritjofsson, with 47% of users returning month over month. All of Martie's boxes leave the warehouse "at a profit," Fritjofsson said, which she attributed to the fact that Martie does not sell frozen or fresh groceries.
"That makes our handling, our freight, our storage, our shipping to consumers a lot more efficient," she said. "It has to do with liquidation. We get really high gross margin on the items that we handle. And it also has to do with how we think of our inventory… [We have] a bit more leeway in terms of adding more health and beauty, household, kitchenware items that will drive up the average unit retail."
Online grocery exploded at the beginning of the pandemic as shoppers looked for contact-free ways to get food, beverages and household items. Companies like Instacart and Shipt hired tens of thousands of workers to keep up with demand, and instant-delivery platforms like GoPuff and Gorillas built more warehouses to store all types of items.
In fact, "in e-commerce in grocery, we got to in 2021 where most analysts were predicting we'd be at in 2025 to 2027," Ben Wynkoop, global industry strategist for grocery & convenience at Blue Yonder, told Modern Retail.
More recently, however, the online grocery space has contracted, albeit for reasons related to different business models. Jokr, a 15-minute grocer, exited the U.S. last June to focus on its core business in Latin America. Russian-backed Buyk, a New York-based startup, filed for Chapter 11 bankruptcy last March. Fridge No More, based in Brooklyn, shut down its business the same month. The bulk delivery service Boxed declared bankruptcy in April of this year, and Instacart shares are down 11% since the company went public two weeks ago.
Today, "there's still a very strong need for online," Blue Yonder's Wynkoop said, although he's seen a shift from delivery to click and collect. Martie taps into that audience, he said, at the same time that it addresses another consumer group: those who want discounts.
"There will always be a need for seeking value," Wynkoop said. "There's a lot of people out there, particularly today, that are seeking deals." Food prices rose 4.3% between August 2022 and August 2023, according to the U.S. Department of Agriculture.
At the same time, for discount surplus goods, "it has gotten tighter in the market," John Clear, director of Alvarez & Marsal's Consumer and Retail Group, told Modern Retail. "CPGs are a bit tighter on how much of a discount they're going to give for those items… and companies have gotten slightly better on their production run… The demand is definitely there, it's just whether there's enough product to support it."
Today, many online marketplaces offer customers the option to "subscribe and save" to get products delivered every few weeks or months. Thrive Market, for instance, offers customers an additional 5% to 10% off thousands of products with recurring automatic deliveries. Its shoppers can rack up even more savings like cash back and BOGO via the Thrive Rewards program.
Martie does not have a subscription program, largely because its products change so quickly, Fritjofsson said. Martie publishes 100 to 300 new items on the site every week, depending on what's available from its partners. So, while Martie may always have peanut butter or granola, it can't always guarantee what brands they will be.
Fritjofsson says that she does see an opportunity for membership in Martie's future. However, there are challenges with adopting a membership model, especially for a company that stresses low prices, Fritjofsson said. Because Martie is still young, "it's very important for us to get out, build trust and have a very low barrier of entrance," she said.
Similarly, Wynkoop says membership could be tough for Martie's business model. "At the end of the day, the core customer you're trying to get is a value seeker," he said. "And that person is unlikely to want to pay a fee in order to get that value."
Right now, Martie is just focused on catering to as many customers as possible via its expanded distribution footprint, Fritjofsson said. The company is working with the 3PL partner XPDEL to do so.
"We're really trying to figure out, how do we reach more people, and how are we accessible for more people to get the benefit of shopping Martie?" Fritjofsson said.