Amid industry pressure, Gorillas is opening a giant distribution warehouse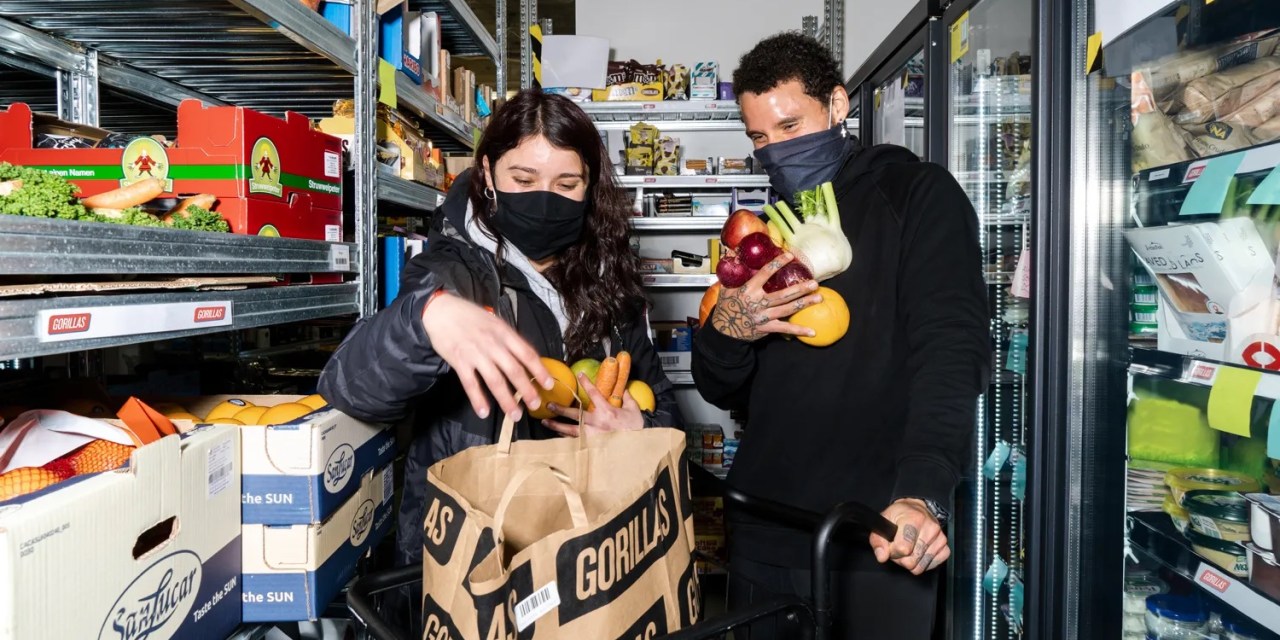 Gorillas
While several of its competitors have faded from the U.S. market, quick-delivery grocery startup Gorillas is breaking ground on its first distribution warehouse in the region.
Gorillas, which promises to deliver groceries to users in a matter of minutes, launched in Germany in May 2020. It entered the U.S. the following year, with a sole focus on New York City. Quick-delivery grocery companies gathered speed early in the pandemic, as customers looked to limit in-store shopping. Investors took notice; since 2020, they have funneled about $7.2 billion to eight of the U.S.'s instant-delivery businesses, according to PitchBook Data, Inc.
Fast-forward a couple years, and the quick-delivery grocery sector — especially in New York — is much more condensed. Jokr, a 15-minute grocer, exited the U.S. in June to focus on its core business in Latin America. Russian-backed Buyk, a New York-based startup, filed for Chapter 11 bankruptcy in March. Fridge No More, based in Brooklyn, shut down its business in March.
As one of the few companies of its type standing in the city, Gorillas hopes that its new warehouse — a 17,000-square-foot space in Queens — will help it become more efficient and streamlined. With this new space, all vendors will send their products to one location rather than individual store locations. When Gorillas began using the space in August, all items had to be manually scanned. Now, Gorillas is working with a partner, DaVinci, on its warehouse management system (WMS) to track metrics like first in, first out. In addition, with all items sent to one place, Gorillas can have a better idea of what's in stock at any given time.
"When customers want to purchase product from us, it's available to purchase," Jenn Fabbri, head of commercial and supply chain for Gorillas, told Modern Retail. "It really is unlocking the ability for us to grow and for us to support our customers."
Gorillas currently operates 18 stores in neighborhoods across New York. With the new warehouse, Gorillas will have a centralized location where it can better monitor the amount and quality of items, before sending them out to those individual stores.
According to Gorillas, this new large warehouse help the business on two fronts — it will help the service better supply its stores and it will make operations more efficient and sustainable. "Going to three different stores when you're small, it's relatively easy, right?" Adam Wacenske, Gorillas' U.S. head of operations, told Modern Retail. "But as you start to grow your footprint, it becomes a bit more logistically challenging." Because Gorillas is asking vendors to send all their items to one hub, Gorillas can reduce its vendor freight mileage by nearly 7,000 miles per week, according to Alex Gabriel, head of the company's external and public affairs in the U.S. "We're estimating to be reducing our vendor emissions by 15 tons of carbon dioxide each week, or 780 tons a year," he said.
While this new fulfillment center marks a strategic shift, Gorillas' focus on its new warehouse doesn't take any attention off its stores, Wacenske said. "The distribution center certainly doesn't limit the amount of stores we can have around the city. In fact, it might make it even easier to have more." Gorillas already has 4 central warehouses in Europe — 1 in France and 3 in Germany. While other warehouses are staffed by partners, its New York location is the first one entirely run by Gorillas employees. Gorillas' chosen borough, Queens, "has become a hub for a lot of last mile industrial" because it has a high volume of zone flex industrial buildings, Jason Richter, CEO of commercial real estate firm Capricorn Asset Management, told Modern Retail.
Gorillas reached unicorn status in March of 2021. Within instant commerce companies operating in the U.S., its funding ($1.3 billion) currently ranks third, behind GoPuff ($4.9 billion) and Getir ($1.8 billion), according to PitchBook Data, Inc.
Layoffs have hit all three companies. Gopuff, in July, said it would axe 10% of its global workforce, just a few months after cutting 3% of its staff. Getir, in May, told its workers it would cut its global workforce by 14%. That same month, Gorillas announced it would lay off nearly 300 employees, mostly in its Berlin headquarters, and exit four markets — Italy, Spain, Denmark and Belgium — as it looked to embark on "a clear path to profitability." 
That emphasis on profitability is indicative of a larger industry trend, John Mercer, head of global research at Coresight Research, Inc., told Modern Retail. "The cost of capital is rising as interest rates have gone up. There seems to be pressure for companies like these to reach profitability sooner, or at least have a more clearly defined path to profitability."
The warehouse can help with that goal by cutting down on excess product, Fabbri said. "It allows us to consolidate the products that we're bringing into one location, sending out only the items in quantities that we need at our stores at the time."
Speaking to Modern Retail in March, Gorillas said it was making progress on profitability. When asked about Gorillas' status currently, Wacenske said, "I can't say a lot about it, but we're certainly very, very close to becoming profitable as a company, and many of our stores are."
Online grocery growth has slowed down over the past year or so, as more consumers return to brick-and-mortar stores, according to data from Coresight Research, Inc. When surveyed in March, 43.4% of U.S. customers using these services said they opted for scheduled delivery in the last 12 months. Meanwhile, 30% said they used postal/mail delivery, 26.3% said they used same-day delivery and 21.9% said they used two-hour or less rapid delivery. 
Still, Mercer said there is a desire for quick-delivery services. But, "I don't think it's going to displace anything," he explained. "I think what we're seeing among consumers is, they pick and choose channels as they need them… Sometimes, online is more convenient… Sometimes, instant commerce is more convenient. But I think the point is, consumers will mix and match channels."
Wacenske said he's "very bullish" when it comes to grocery delivery and quick delivery. "I think that there's an overall desire to have convenience and to make sure that you're using your time most valuably," he said. "I think that will always exist, at least in New York."
"We want to be the top quick commerce and grocery delivery platform in New York. And it's a tall task, because there's a lot of big players in that industry. But we think we have the capability to do that."
Correction: An earlier version of this article described Gorillas locations as dark stores. While they are used primarily for online order fulfillment, customers are permitted to walk in and shop. The story has since been updated.