Inside Glamnetic's 'fast-fashion' approach to press-on nails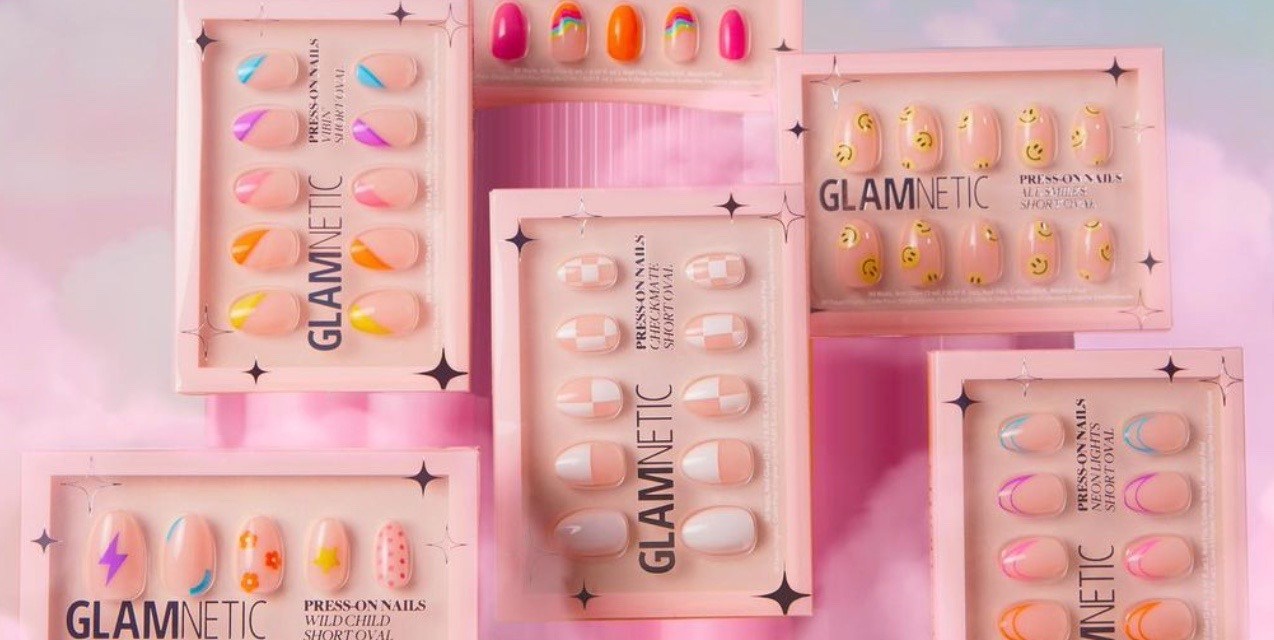 Glamnetic
When Glamnetic, a beauty brand initially known for its magnetic eyelashes, expanded into the press-on nails category by the end of 2020, the company looked to fast fashion for inspiration.
Glamnetic wanted to consistently come out with trendy designs to keep up with the changing consumer demand. To do so, Glamnetic launches a new collection almost every month, which features new designs and themes. The company has released 11 different collections and has 95 nail designs in total. 
While many brands try to stay on top of trends, only a few have the bandwidth to keep up. For Glamnetic, launching new lines in quick succession has proven to be fruitful. The strategy has effectively led Glamnetic to sell over 1.5 million press-on nails to date. Glamnetic said that some of its best-selling designs — such as Goal Digger, Hailey and Caviar — constantly sell out. 
"There was no brand that was consistently coming out with super trendy designs and we wanted to be that brand," said Ann McFerran, CEO and founder of Glamnetic. She described Glamnetic's approach as "fast fashion of nails but in a trendy, higher-end and better-quality way."
The brand launched its collection of press-on nails back in 2020 due to the increase in demand for contactless ways to get nails done. The concept behind the constant collection drops stems from how people tend to show trendy nail designs for their nail techs to follow. The company declined to share specific revenue figures but said its nail category grew 380% from 2021-2022. In 2023, Glamnetic expects to double that growth. The company began consistently launching new collections in January of last year.
The company expects to see a surge in demand for its products this year as consumers look for alternative ways to maintain their nails at a cheaper price. Its press-on nails are currently available in 2,000 doors, including Sephora and Ulta. Glamnetic's press-on nail collections can also be purchased on the company's website. Glamnetic's collections are available online and a few of the styles are chosen by the retailer to be available in their stores or websites. 
"Once people try it, we notice that they stick with it forever," McFerran said. "Nails are the thing that you always have on 24/7, unlike lashes, so it's an even stickier product." 
Each collection dropped every month follows a different theme. Just recently, the company released the Velvet Crush nail collection, which features seven styles that have a glimmering finish. The month before that, the company released the Chasing Rainbows collection, which has six playful nail designs. 
Glamnetic has an in-house design team of 14 people that can turn over collections as quickly as five months. The company also utilizes top search terms on Google and Amazon as well as customer feedback when deciding what styles to release next.
When it comes to getting the word out about its new collection, Glamnetic pushes its products hard on social media. The brand has over 500,000 followers on Instagram and it also runs ads on various social platforms such as TikTok, Snapchat and Facebook. The company not only promotes products on social media but also posts educational content like how to remove press-ons properly. 
In order to succeed in beauty categories like nails, brands need to stay current with the latest aesthetics and styles people want, said Melissa Minkow, director of retail strategy at digital consultancy firm CI&T. Minkow said that apart from other brands that sell press-on nails, Glamnetic is also competing with nail salons so its crucial to give people more options.
"They have to really get the quality right because this is such a loyalty opportunistic space," Minkow said. "There's a real opportunity for consumers to be loyal and to repeat buy from them."
Additionally, while having plenty of options has benefits, Minkow said the inventory can be hard to maintain. 
Glamnetic's McFerran said that the company does plan to sunset some of its low-performing SKUs as part of its next phase of growth. The company wants to offer well-differentiated products to avoid any duplication. While Glamnetic plans to continue offering new press-on nail designs, it also is looking into launching new nail accessories and nail care products, which could help increase shoppers' average order value.
"At first, the initial focus was [to] expand, expand, expand," McFerran said. "Now we're honing in on what's working and what's not working."