How Nudie Jeans is getting customers to repair their clothing, instead of tossing it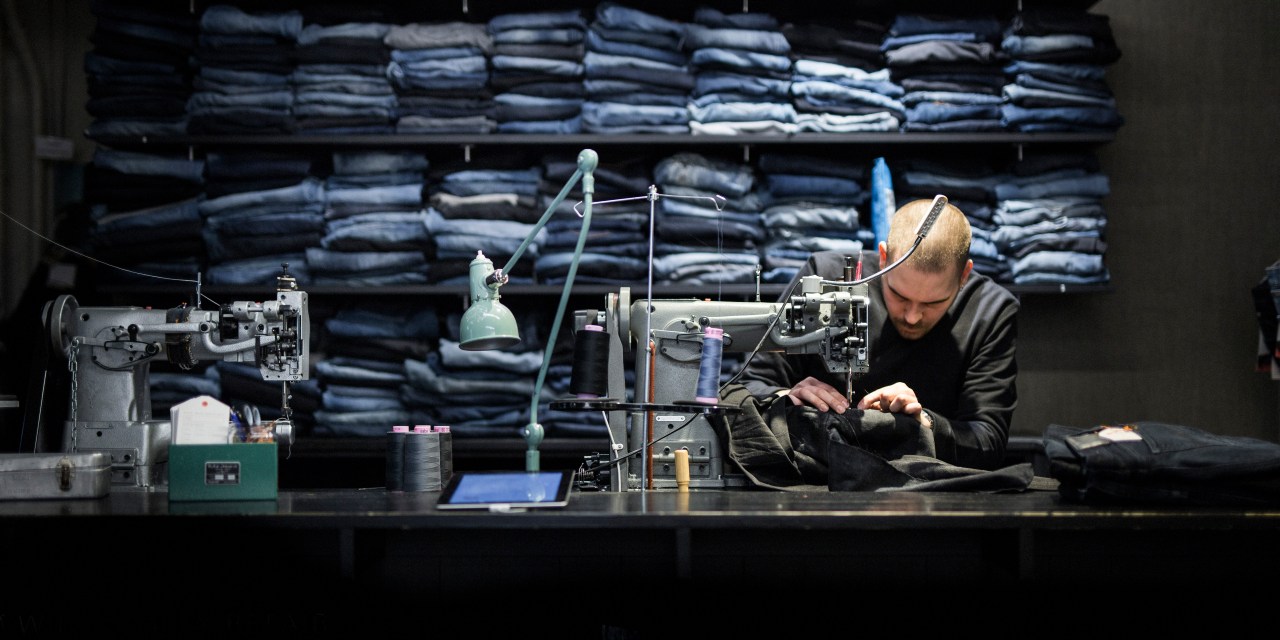 Nudie Jeans
Since 2012, every Nudie Jeans retail store has doubled as a repair shop where customers can drop off damaged denim for free fixes. Whether it's a broken zipper, button or tear, the in-shop team can mend the denim and return it to customers, sparing it from the thrift pile or a landfill.
The Sweden-based brand's service has yielded hundreds of thousands of repairs across 35 stores, hitting an annual peak of 63,281 repairs in 2019. Service slowed during the lockdowns of coronavirus lockdowns in 2020 and 2021, but repairs ticked back up to about 65,000 in 2022. 
Then this month, Nudie Jeans — which first launched in 2001 — increased its efforts via a partnership with Advanced Clothing Solutions (ACS). The U.K.-based circular fashion company operates resale and rental services, and the Nudie partnership is its first foray into making repairs. For Nudie's part, the hope is that it will allow more U.K.-based customers to take advantage of the free repair offer. 
Kevin Gelsi, Nudie's sustainability coordinator, said offering free repairs is part and parcel to the Nudie brand — and it's a main selling point in reaching new customers who want to shop in a sustainable way.
With denim products priced in the $200 range, the brand's marketing amplifies the resources, work and time that go into creating long-lasting and quality products. Gelsi said the free repair service gives customers an additional benefit to their purchase beyond the product itself — and that it also gives the customers another reason to visit the store.
"All indicators point that this has become such a huge, huge part of who we are in our profiling as a brand," he said. "It opens up a completely different conversation [with customers], just having these services, and the incentive of the service being free."
Sustainability conversions in the apparel industry are dominated by resale programs and recycling efforts. Efforts abound to get customers to turn in used clothing, such as ThredUp's resale-as-a-service business that facilitates brands re-selling of worn goods, or H&M and Madewell's incentive programs that give out coupons for bringing in clothes to be recycled.
But repairs services have yet to reach the same breadth. While outdoor brands like Patagonia and REI are known for offering repairs, widespread adoption may require a change in thinking around how customers purchase, consume and care for clothing. 
And while Nudie's success with its repair program serves as proof of concept, Gelsi said there is still a long way to go toward shifting business models to a place where consumers are more comfortable repairing clothing than tossing it aside.
"That knowledge and perspective of what we're doing is a developing process. And no one knows the correct answer," Gelsi said.
A viable alternative
Nudie's free repair service is a main selling point in their denim marketing. "Free repairs forever" is a tagline that dominates their social media presence, while  #repairingiscaring hashtag accompanies behind-the-scenes footage of their repair shops. It's advertised in-store, as well as in the brand's newsletters to customers.
Gelsi said the program helps drive loyalty among customers who may end up making a new purchase when they're in store to drop off a repair; Nudie has recently expanded more of its product line beyond denim into shirts and textiles. He said that customers are "very keen" on the service, based on customer survey data.
"It's very valuable, one of the main reasons they actually interact with Nudie as a brand," he said.
Long before the days of fast fashion, tailors and cobblers were routinely employed to repair clothing, said Claire Tassin, a retail analyst with Morning Consult who studies resale and sustainability. But that's fallen out of fashion with younger generations who have become more accustomed to buying lower-priced items that might not be worth repairing. 
In the current climate, Tassin said, repairs are one of the most sustainable and circular services that a brand can offer.
"If a brand is willing to take your things back and repair them, that signals that the product is high-quality enough that it's able to be repaired, and that it's worthy of the additional cost and effort," she said.
Overall, though, such services are more likely to be found among brands at a higher price point that expect people to get long-time usage out of its products — meaning such services are only available to a higher-spending clientele. 
"You certainly have to be invested at a certain level for it to make sense for you to continue to invest and reinvest and use professional services to maintain your apparel," Tassin said.
A push to promote
Repair and refurbishment programs are still not yet widespread among apparel companies. The brands that have embraced them often sell clothing that customers expect to hold onto for a long time — for example, denim or outdoor gear.
Patagonia is among the most visible of brands that offers repairs for its clothing. It markets the service online as well as in-store, with customers able to drop off their items to get fixed.
The program services around 100,000 pieces globally in 70 different locations, with a roughly 12-week turnaround time. About half of repairs take place at its Patagonia Repair Center in Reno, Nevada, which is staffed by about 90 full-time repair specialists. 
Most are free, though technical items like wetsuits might require an additional fee. The most common repairs are zippers and fabric holes. And though about 85% of items sent in for repair are returned back to the customer, not everything fits the bill. Some limitations are worn-out threads and elastic can't be fixed, or pilling on a sweater. The brand also limits zippers repairs to three. 
"Customers can choose whether they want their garment back or have it recycled for merchandise credit if we can't fix it," a spokesperson said in an email. 
For Nudie's part, Gelsi said keeping the service free is a major incentive to customers in deciding to purchase the jeans in the first place. Internal surveys and net promoter scores show that the repair service is a main reason they interact with Nudie as a brand.
Gelsi said Nudie doesn't calculate figures on how its repair services translate to sales. But he noted that it can yield additional transactions by bringing customers in store while encouraging more mindful consumption.
"Of course, it's an extra expense," he said. "But we're pretty confident in the added revenue over time, and the long term perspective here."