GNC unveils new Pittsburgh flagship store as it seeks to establish a new retail identity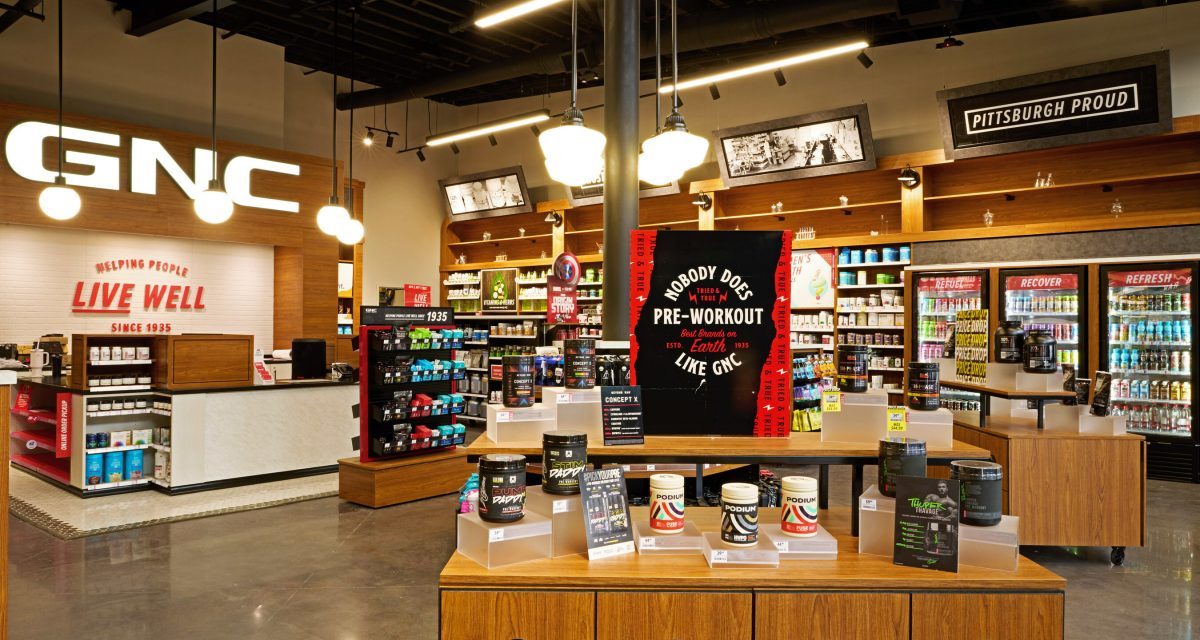 Supplement and wellness company GNC opened up a new flagship store in its hometown of Pittsburgh, Pennsylvania this week, unveiling a new retail identity as part of its ongoing post-bankruptcy transformation.
Mimicking the idea of an "apothecary," store associates — called coaches — can walk customers through the store more easily and introduce them to products that they might need.An open floorplan trades in ceiling-high shelves and white walls for center islands, an exposed brick entryway and original concrete flooring. Movable shelves can accommodate changing inventory needs. In addition to the design changes, the store features the latest mobile point-of-sale technology that GNC has been developing over the last few years that is meant to allow people to more easily place orders, sign up for subscriptions or use a recently revamped loyalty program.
GNC, which will celebrate its 90-year-anniversary next year, opens its flagship at a moment when the brand is ready to modernize its brick and mortar footprint after major operational changes and technological upgrades amid the upheaval of the Covid-19 pandemic. With more than 2,300 stores across the U.S., having a flagship with its latest upgrades in place allows the brand to position itself for future growth. The company's COO, Nate Frazier, said stores in major metros like New York, Los Angeles and Atlanta, could be the next to see similar upgrades inspired by the flagship.
Frazier said the store aims to have a localized flavor that can be replicated in other major markets down the road.
"I didn't want to put anything in the store I couldn't scale across the rest of the fleet," Frazier said. "Then you take a step back and say, 'How do we make this feel like the neighborhood?'"
GNC is based in Pittsburch, and the new flagship will be located near the company's headquarters. To pay tribute to the company's history in the city, photos of the original GNC Pittsburgh store from 1935 are blown up and spotlit.
GNC's fortunes have been mixed over the past few years. The company filed for bankruptcy in mid-2020 and closed 1,200 stores. At the same time, its sales swelled online, with about a 50-50 split between in-store and e-commerce sales. That combination, Frazier said, provided an opportunity, "to turn an anchor around our neck into a superpower."
That meant putting significant upgrades into the brand's tech stack. A major part of that was updating point-of-sale systems to allow for more in-store ordering, plus functions like loyalty programs. The newest version of the system also allows store associates to be able to sell outside of the store – such as going to a marathon, community event or parking lot tailgate, by utilizing mobile point-of-sale systems.
"It's given us a great opportunity to get to the place where the store has transformed from this old-school brick and mortar to now a micofullfillment hub," Frazier said.
Other updates the brand has recently made include becoming part of the Amazon Today same-day delivery program. Then last month, it launched a virtual health service, GNC Health, that provides 24/7 telehealth operations.
With the back-end modernized, re-imagining the store fronts was a natural next step. Frazier said that as a company that sells relatively small products, it didn't need "30,000 square feet in Times Square," Frazier. GNC moved its headquarters from a too-big office tower downtown Pittsburgh to the more trendy and commercial Strip District in 2021, and then found a spot for it flagship a few blocks away, in a neighborhood that has recently been revitalized with multi-use development, including gyms, wellness shops and cafes.
"One of the things that really resonated with me was building a flagship where it feels similarly to the environment its in," Frazier said. "We wanted to make it minimally disruptive, but help support the things happening in these neighborhoods."
Suzanne Schwartz, senior director analyst with Garnter, said it makes sense for brands to put flagships near headquarters as an opportunity to experiment with new ideas.
"You can create an environment where you can test things and iterate quickly," she said. "If it works then keep it, if it doesn't, remove it."
Having a flagship store also provides an opportunity to rebrand post-pandemic, and presenting a fresh image to customers who are shopping from the brand for the first time or haven't been to a GNC store in awhile.
"The best brands can be 100 years old or a couple old," Schwartz said. "Age isn't a factor, it's those who are willing to try new things and capture the customer and be willing to make some of the changes that are beginning to happen. It has to do with an open mind and finding out what customers are interested in."