DTC Briefing: Q3 proved to be a period of "diagnosing and fixing" for publicly-traded startups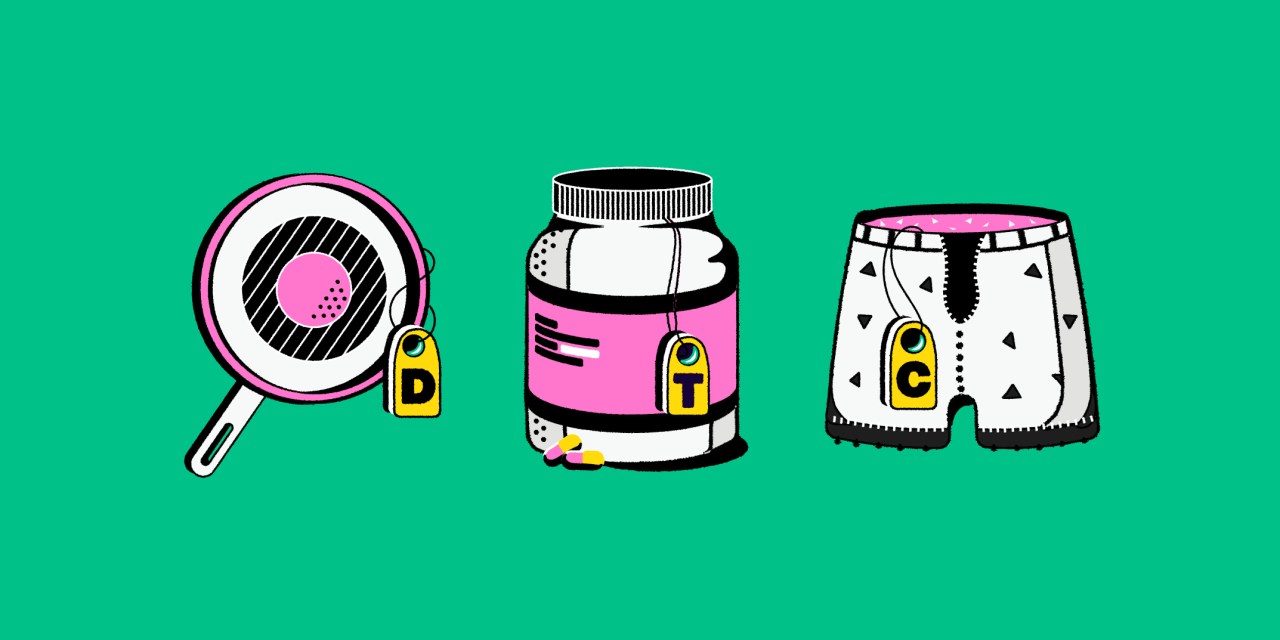 Illustration by Ivy Liu
This is the latest installment of the DTC Briefing, a weekly Modern Retail+ column about the biggest challenges and trends facing the volatile direct-to-consumer startup world. More from the series →
It's been a year of change for digitally-native startups.
That was evident in the third-quarter earnings reports for publicly-traded DTC startups like Allbirds, Warby Parker, Bark, Figs and more. Overall, results were mixed. Some brands, like Warby Parker and Figs, reported a double-digit percent increase in sales. Others, like Bark and Allbirds, saw sales decline — and it's not immediately clear when these brands will return to growth.
But one of the themes echoed throughout earnings call remarks made by DTC executives is that it has been a year of adjusting to a new sales reality. Many of the large publicly-traded DTC startups have seen e-commerce sales growth slow, or even decline, compared to last year, as inflation has called people to pull back on discretionary spending. And, amid a tougher sales environment, they are under increased pressure to show a path to profitability.
DTC startups have responded in a number of ways. Some are using this time to invest in new product lines or expanded distribution channels, as well as in brand marketing campaigns that they believe will pay dividends in future quarters. But for the brands that have seen steeper sales declines, they've had to take a hard look at who their core customer is, and how well their current product offering speaks to them.
As Joey Zwillinger, the CEO of Allbirds put it during his company's earnings call, "2023 has been a year of diagnosing and fixing." Though, some companies have more issues to address than others.
"With a few exceptions, many of the digitally-native brands are not profitable," said Neil Saunders, managing director at GlobalData Retail. "With the cost of capital much higher than it was, they need to at least show they have a pathway to profitability to sustain investor confidence."
Below are the biggest takeaways from this quarter's crop of DTC earnings.
Shifting focus to newer, non-discretionary product lines
There was a lot of talk during earnings calls about how consumers are continuing to be cautious around spending.
This caution is hurting some companies more than others. Bark, which is known for its subscription toy boxes, reported that revenue declined 14.4% year-over-year to $123 million during its fiscal second quarter. The company's CEO Matt Meeker, said that Bark is being hurt not only by the decline in discretionary spend, but also by the fact that the number of households with dogs declined by three million in the past year.
Bark has sought to diversify its offerings in recent years, making its toys available through retail partners like Target, Costco and Petco without a subscription, and expanding into pet food like treats and toppers. Now, Meeker said that Bark is betting on those consumables to drive more growth, especially while pet owners have less discretionary money to spend on toys.
"We received our first commitment from a leading retailer in the U.S. to begin selling our treats across over 1,000 doors in the spring of 2024," Meeker said. "Introducing consumables in our retail channel is a huge opportunity, and we've made tangible progress over the past several months."
Figs is another brand that has been impacted by more cautious consumer spending. During the earnings call, Figs executives said, for example, that the brand's core customer would likely be impacted by the return of student loan payments, in addition to inflation. 
Still, the company has been able to offset that in a number of ways, and Figs' net revenue was up 10.7% year-over-year during the third quarter. The company said that AOV was up, due to more people buying some of Figs' newer product lines, which include outerwear, as well as footwear designed in collaboration with New Balance. 
On the other hand, Warby Parker, which reported that net revenue increased 14.2% year-over-year to $169.8 million, said it benefitted this quarter from introducing higher price point lines. In turn, Warby Parker's average revenue per customer increased 10% year-over-year.
"We're encouraged that as we've introduced more complex constructions at higher price points, we've seen little price resistance," the company's CEO Neil Blumenthal said.
"In an environment where consumers are more challenged, in theory, eyewear is resilient," Janine Stitchter, managing director at BTIG said.
Another big focus for Warby Parker this quarter has been ramping up marketing spend once again. In particular, the company has been investing more in brand marketing that advertises the fact that Warby Parker sells not only glasses, but also contact lenses. And, promoting the fact that its stores also offer in-person eye exams. According to Stitcher, this can help Warby Parker drive up average order value, by promoting more of the stuff the company sells, as well as the services it offers.
"It is exactly what they need to be talking about," she said.
Betting on new distribution channels for growth
While consumer spending remains in flux, many DTC startups are betting on new distribution channels for growth.
Figs, for example, opened its first permanent retail store this month after having largely only sold its products online and through its own website since 2013. The company also focused on building out business-to-business and international sales during the third quarter. Figs said its international business experienced "record" growth this quarter, growing 81% year-over-year.
Meanwhile, in its quest to return to growth, Bark has been experimenting with some non-traditional wholesale partnerships. The company recently partnered with the Girl Scouts to experiment with selling co-branded toys and dog greats through the organization's website,
"Longer term, we have an opportunity to significantly expand this partnership," Meeker said.
But amid a tough economic backdrop, there's also a focus among brands on making sure they invest in the right distribution channels longterm. Allbirds — which has struggled with declining sales for the past few quarters — once again reported that net revenue decreased by 21.2% year-over-year, to $57.2 million.
In turn, Allbirds is looking for more cost effective ways to scale. Internationally, rather than opening up its own stores, Allbirds plans to work with distributors. CEO Zwillinger said during the earnings call that Allbirds finalized agreements with third-party distributors in Canada and South Korea during the quarter, and recently signed letters of intent with distributors in both Japan as well as in Australia/New Zealand.
"This is the most complex activity within our transformation plan and we believe has the potential to move the needle on profitability quickly," Zwillinger said.
But according to Saunders, the bigger challenge Allbirds still faces is that it doesn't know who its core customer is. "Allbirds see their core customer as a younger professional," but Saunders argued these customers have now flocked to Hoka and On running.
"There is arguably a space for Allbirds to serve an older demographic where comfortable footwear is a priority, but that's not a leap the company currently wants to make," he said.
Focusing on profitability — with mixed results
With Wall Street prioritizing profitability over growth this year, much of the talk on earnings calls has centered on how much progress brands were making on EBITDA gains. Some fared better than others.
Figs is one DTC brand that has consistently reported profits over the past few quarters, and it once again reported better-than-expected results. Net income for the quarter was $6.1 million, while adjusted EBITDA margin was 17.2%, compared to 16.4% in the same period last year. Executives said the company has been able to improve EBITDA by lowering inventory levels over the past couple of quarters, while also lowering fulfillment costs.
But other brands are in the position of trying to convince Wall Street that some of their investments will start to pay off in a few quarters. Allbirds, for example, said it won't hit positive full-year adjusted EBITDA until 2025. Its net loss for the third quarter was $31.6 million.
Amid declining sales, Allbirds is focused now on trying to figure out what the right product mix is that will help it return to sales growth; it recently relaunched its original shoe, for example with some design tweaks.
Bark is similarly trying to position itself as being on the path to profitability. The company's net loss for the quarter was $10.3 million, and the company has never had a profitable quarter since going public. But, the company touted the fact that it achieved its first-ever positive adjusted EBITDA quarter. 
"One EBITDA positive quarter is the first step to one EBITDA positive year," Meeker said.
Bark's CFO, Zahir Ibrahim, said that he expects "continued improvement in some of the measures like gross margins," as the company signs more retail contracts in consumables, which has a better margin.
Overall, many of the tweaks brands are making right now to prioritize profitability still won't pay dividends for another few quarters. It's not just one line item that brands need to cut — rather, they are still getting used to operating in an entirely different economic environment. Since many of these brands first went public in 2021, e-commerce growth is harder to come by, and analysts are looking for brands to lay out a much more clear path to profitability.
Put together, "we are in a much more difficult environment for growth than we were in before these companies went public," Stitcher said.
What I'm reading
Business of Fashion has a deep dive into the events that up to the fire sale of Parade to a licensing firm earlier this year; according to sources, board members and founder Cami Téllez couldn't come to an agreement about whether to prioritize growth or profitability.
Stitch Fix has hired Tony Bacos, who previously spent seven years at Amazon Fashion, as its new chief product and technology officer.
CNBC looks at how Nuuly beat Rent the Runway at the rental game. Nuuly is set to reach profitability in the third or fourth fiscal quarter of 2023, while Rent the Runway is still struggling to stem losses.
What we've covered
Sneaker brand Atoms unveiled a new sneaker this week co-created with YouTuber and tech reviewer Marques Brownlee. More here on how Atoms uses collaborations to grow its reach.
After it was bought out of bankruptcy by one of its vendors, Buybuy Baby plans to open more than 100 stores over the next three years.
Vesta, a luxury design studio, has acquired furniture rental startups Fernish and Feather. The companies will operate under the newly formed umbrella company Showroom, which aims to serve the same customer in multiple ways, from furnishing an apartment with rented items to designing a starter home.