From YouTubers to artists, sneaker startup Atoms is ramping up its partnerships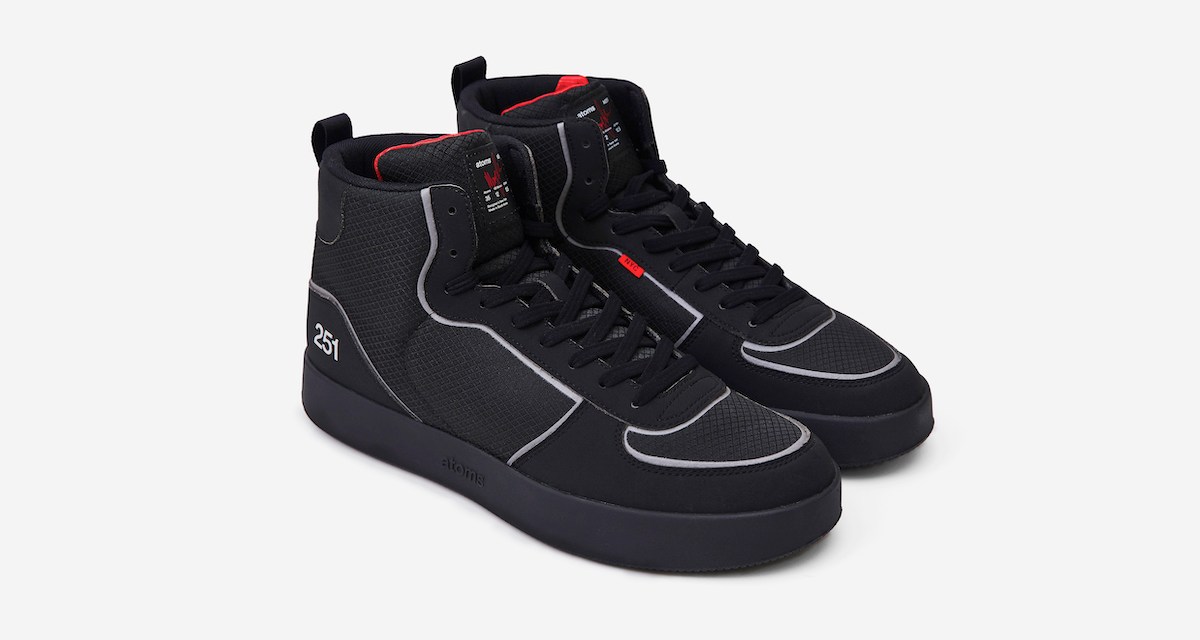 Atoms
Sneaker startup Atoms continues to collaborate with partners outside the shoe world for new products.
The company, which launched its first kids' shoes earlier this year, is rolling out a new sneaker on Thursday with YouTuber and tech reviewer Marques Brownlee. Called the M251.1, the model is the second iteration of one Atoms and Brownlee developed together in April. Customers can order the M251.1 on Atoms' website for $189.
Atoms, which launched in 2019, is the brainchild of husband-and-wife pair Sidra Qasim and Waqas Ali, who wanted to create high-quality, comfortable sneakers in limited batches. Despite early supply chain challenges, Atoms managed to become profitable in the fourth quarter of 2022 and now has the capital necessary to develop products that expand its reach beyond the sneakerhead community. In addition to its work with Brownlee, Atoms has rolled out shoes with "Queer Eye" star Tan France and the Human Rights Foundation. It's also commissioned work from cartoonist Liza Donnelly, documentarian New York Nico and visual artist Aerosyn-Lex Meštrović and sent masks to Colin Kaepernick's Know Your Rights Camp for Black Lives Matter protesters.
Atoms' partnership with Brownlee (also known professionally as MKBHD) is its longest-lasting to date. The brand first reached out to the YouTuber in 2020 after Brownlee complimented some face masks he had ordered from Atoms. The two set out to create a pair of sneakers together, making sure that Brownlee had an equal say in the design and materials of the shoe. The final model, the M251, is Atoms' first-ever high-top and took more than two years to develop. The name comes from the length of Brownlee's first tech video, which lasts 2 minutes and 51 seconds.
The M251 shoe was meant to be limited-edition, and all pairs sold out within 48 hours of landing on Atoms' website in April. Because of the demand, Atoms produced a second batch that was made to order. All in all, it produced about 8,500 of the M251 shoes. Atoms' new model, the M251.1, will not be limited-edition, largely because of the initial customer response. It does have some changes this time around based on user feedback. For example, the new shoe is waterproof and weatherproof. Brownlee and Atoms will produce two more models of shoes next year under a partnership that lasts until early 2025.
Some of Atoms' partnerships involve public figures already using Atoms products — Tan France, for instance, was photographed wearing Atoms shoes — but what's most important to Atoms is the individual's "value alignment," Qasim told Modern Retail. Atoms sees its small-batch products as "not just about style, but about how they add value," she said, and in a similar way, it wants to work with partners who see their contributions — whether in tech, culture, advocacy or beyond — as "adding something in society." For this reason, Atoms has passed over some requests for partnerships.
Even for its partnerships that don't involve physical products — like its work with documentarian and social media personality New York Nico, who produced a video for Atoms' "about" page — Atoms is eager to work with people outside the fashion space. "How people express themselves through their art and creativity, we are so hungry to share that from the Atoms brand," Qasim said. "I think the challenge is how you do it through shoes as a lifestyle brand. So by partnering with these people, we are trying to express ourselves from that perspective."
Like Atoms, many brands today are turning to cross-industry partnerships or collaborations to gain access to new audiences, especially as customer acquisition costs go up. Pacsun and Puma, for example, have rolled out apparel collections with Formula One, while Uniqlo, Vans and Swatch have released collections with museums around the world. The NFL, taking a page out of fashion brands' playbooks, has released limited-edition streetwear drops with OVO and Kith.
When done well, unexpected collaborations can be an "attention grabber," Beth Goldstein, fashion and accessories analyst at Circana, told Modern Retail. Especially for brands in different industries, collaborations can "help to connect with consumers by tapping into more than one facet of their lives," she added.
There are a few things for brands to consider when thinking about ideal partners, though, Goldstein said, including whether that partnership will bring new eyes to the brand or something new to current customers. While collaborations can generate sales, "most collabs are not about volume," she said. "They are part of a brand's marketing strategy to generate buzz and brand awareness, which [are] also important."
Atoms, which wants to de-emphasize volume and overproduction, is keeping that awareness in mind. Atoms is still a fairly new and small brand, so the company does not want to go "all in" on partnerships in one specific category, Qasim explained. Instead, she said, "for us, personalities, people, what they stand for — if those alignments are there, then we'll go into partnerships with them."