DTC Briefing: Q2 earnings reveal pitfalls in startups' expansion plans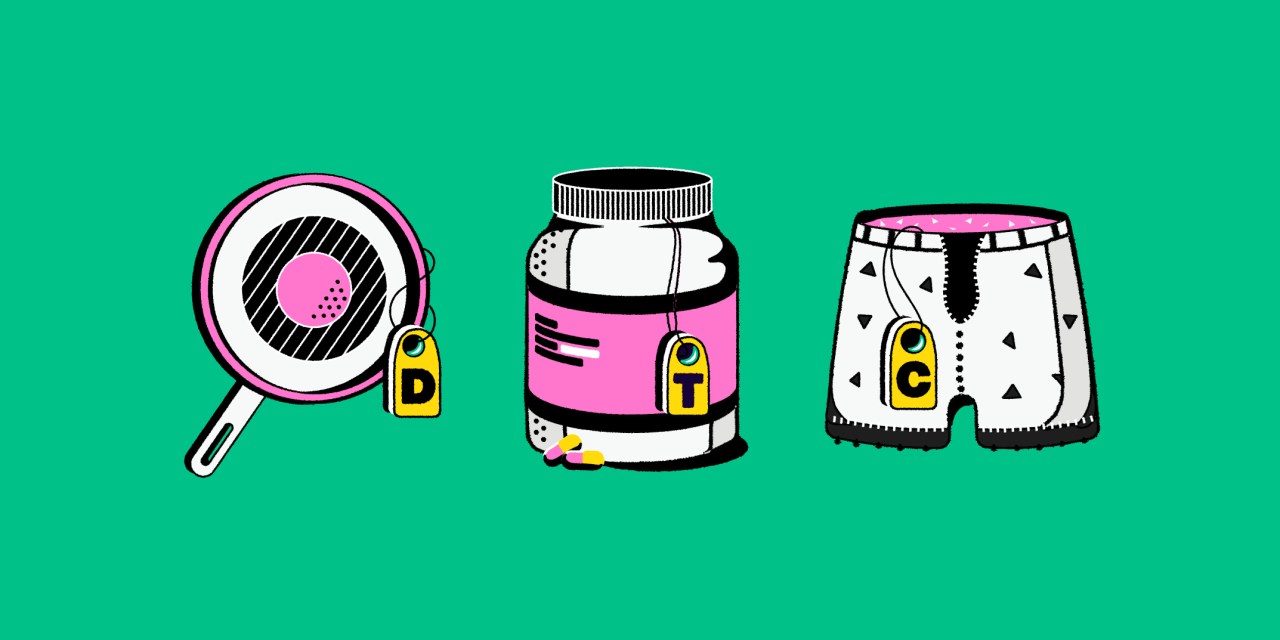 Illustration by Ivy Liu
This is the latest installment of the DTC Briefing, a weekly Modern Retail+ column about the biggest challenges and trends facing the volatile direct-to-consumer startup world. More from the series →
Direct-to-consumer startups that went public over the past couple of years are still trying to figure out how to adapt to the post-Covid retail environment.
That was the biggest takeaway from the last two weeks of earnings season, in which Warby Parker, Allbirds, Figs, Brilliant Earth, Solo Brands, Purple, Hims and others all reported their quarterly earnings.
This earnings season was a mixed bag for DTC startups. Some, like Warby Parker and Figs, still reported a solid double-digit percentage increase in revenue for the quarter. But, there were a few areas in which they still saw declines in their business, like the number of customers per store or revenue per active customer. Meanwhile, some of the worst performances came from Allbirds and Purple, which both reported a decline in sales as they are struggling to figure out what the right product mix is for them to appeal to both existing and new customers.
The consensus from analysts was that these startups — and other retailers — are still adjusting to operating in more of a "normal" retail environment, after experiencing years of hyper growth. During the pandemic, some brands — particularly those who sold their products online, and operated in categories that were in high demand, like home goods or athleisure — doubled or tripled their sales. In turn, as inflation has eaten into shoppers wallets, brands that were riding high a few years ago are now reporting a sales dip.
But the issue is most acute for startups, who had already been trained for years to prioritize growth over profits during a favorable venture capital environment.
Simeon Siegel, managing director and senior analyst at BMO capital markets, said that retailers generally are trying to "distance themselves from the ups and downs of Covid, and resume a normal cadence of trying to anticipate their demand." He added that "not by definition, but somewhat by probability, startups will have a harder time with full-scale demand planning, because they haven't had to do it."
In turn, many publicly-traded DTC startups are having to rethink everything from what categories to expand into to what their marketing mix will look like. And, they provide a window into what challenges privately-held startups are also likely grappling with as well right now. Below are the biggest takeaways from this DTC earnings season.
Startups are still struggling to figure out the right inventory mix
While some retailers are still struggling with excess inventory left over from the onset of the pandemic, DTC startups face a few other unique inventory challenges. In recent years, many of them have bet on new category expansion to acquire new customers, and to expand market share. But some of those expansions have proven ill-advised.
Allbirds has been plagued by a few quarters of declining sales and losses due to its category expansions. It tried to expand into athleisure, but found some categories like women's leggings already dominated too heavily by incumbents like Lululemon. It released a running shoe, but found that hardcore runners didn't want to turn to Allbirds for their next marathon shoe.
During its second-quarter earnings, Allbirds did say it ended the period with 24% less inventory compared to a year ago — a sign that it is making progress on its product imbalance. But, Allbirds reported that net revenue decreased 9.8% year-over-year to $70.5 million — another sign that the company is still in search of the right product mix.
In turn, Allbirds is having to rethink new product launches. During the quarter, it released a new version of its running shoe, the Tree Flyer.
"While a very high-quality technical running shoe, the past couple of years have taught us that our consumers look to us most for versatility in their active lives rather than for support during marathons," Allbirds CEO Joey Zwillinger said during the company's second-quarter earnings call. "In addition to buying this update tightly from an inventory perspective, we have introduced important aesthetic changes that elevate the product for lifestyle occasions that have matched the marketing message and approach to meet our consumers' needs better."
Other startups reported facing different inventory challenges during the quarter. DTC mattress brand Purple reported a sales decline of 16.1% year-over-year. The startup has reported a few straight quarters of sales declines after over-investing in inventory during Covid.
In turn, Purple invested in the "largest product and brand refresh in the company's history," according to CEO Rob DeMartini, hoping that new products will help return the brand to growth; in total, Purple introduced 11 products under a new premium line. But gross margin also decreased to 31.8% as Purple had to resort to more discounts to get clear all discontinued products.
Meanwhile, DTC scrubs brand Figs reported that net revenues per active customer were down 5.3% year-over-year, which the brand attributed to inflation.
"Our customers are taking a bit more time between purchases on average," Figs co-CEO Trina Spear said. "[Customers are] saying, 'we still love Figs, we still love the brand, but we're going to be stretching our dollar a bit more in this macro environment.'"
Tiffany Hogan, director of retail insights at Kantar said that retailers are "trying to get a gauge [on] how to flow inventory in a kind of softer demand environment."
"We are seeing shoppers start shopping for things like apparel, home goods, etc. closer to a needs date versus just kind of stocking up or replenishing consistently," she said.
No one knows what the right marketing mix looks like in a post iOS-14 world
Following the Apple iOS 14 update a few years ago, and the continued struggles many startups have run into trying to acquire startups cost-effectively through Facebook and Google ads, Wall Street now expects digitally-native startups to invest in more than just digital marketing. Investors want to hear about how brands are making smart, profitable marketing investments, and in turn, many of the earnings call language from DTC CFOs was centered around that this earnings season.
"We have been gaining market share and as a growth company, we intend to be opportunistic in making marketing investments to continue building awareness of our brand, and capturing share gains while keeping a keen eye on profitability," Brilliant Earth CFO Jeff Kuo said. The company's net sales for the quarter were $110.2 million, up 1.3% compared to the prior year. During the earnings call, Brilliant Earth CEO Beth Gerstein cited the company's investments in influencer partnerships to be particularly promising, which helped "deliver another quarter of sequential increase in media impressions."
Warby Parker, meanwhile has been on a quest for the past couple of quarters to decrease its marketing spend and improve profitability.
"Over the last 12 months, our marketing spend has been down 30% year-over-year when compared to that prior 12-month period," Warby Parker co-CEO Dave GIlboa said, adding that Warby Parker concentrated more of its spend in channels like linear TV. But in the second half of the year, Warby Parker will start ramping up its marketing spend once again. Essentially, Warby Parker believes that now that it has come up with a more healthier marketing mix, now is the time to start increasing spend.
Janine Stichter, managing director at BTIG, said that the focus now for more digitally-native startups has shifted to: "where is our spend actually earning a return?"
"I don't know if anyone has the solution — companies are trying a lot of different things," Stichter said, citing startups' investment in TV, influencer marketing and billboards. "They are good for the brands and do build brand awareness, but it is not the same immediate return you would get on a performance marketing ad."
More startups are betting on wholesale, not owned stores, to drive profitable growth
Another big focus for startups this quarter was adding more wholesale channels — and in some cases, pausing new store openings at the same time. Allbirds, for example has effectively paused new store openings altogether, and is turning to third-party distributors to help it expand internationally in countries like Canada and South Korea. The company did open a store in Hamburg, Germany during the second quarter, but executives said that that was the last planned store opening for 2023 as it instead shifts focus to making its own stores more profitable.
Meanwhile, Solo Brands — owner of Chubbies, Solo Stove and more — reported that wholesale revenue was up 57% year-over-year during the second quarter to $31.3 million, thanks to increased expansion of that channel. That wasn't, however, enough to offset a decline in DTC sales, as net sales were still down 3.7% year-over-year.
Still, Solo Brands is betting on wholesale to drive more growth in the coming quarters. "Our omnichannel approach to our business enabled us to lean into the strong momentum we were seeing through our wholesale channel as our brand awareness continues to grow," CEO John Merris said.
There are some outliers. Warby Parker is still investing in new store growth, opening 13 new stores during the quarter. In particular, Warby Parker said that stores were helpful in getting customers to spend more, with average revenue per customer up 9.2% year-over-year.
BTIG's Stichter said investing in stores makes sense for a brand like Warby Parker; she said the majority of prescription eyeglasses are still purchased in the location wherever the customer receives the prescription. So, in order for Warby Parker to receive a share of those purchases, it needs to open more stores where it can offer eye exams. 
But overall, brands are finding that they are not able to acquire as many customers from new store openings as they used to. And, stores are more capital intensive to open than they used to be. So, Stichter said, more brands are going back to the drawing board, trying to figure out whether they should instead invest more in wholesale or even pop-ups.
"In some instances, the stores make sense," Stichter said. But in general, "the stores haven't been the builder of brand awareness they would have expected them to be."
What I'm reading
DTC underwear brand Parade has been sold to Ariela & Associates International, which owns the Fruit of the Loom bra license. Terms of the deal were not disclosed.
Insider has a deep dive into the challenges facing Shopify's developer ecosystem, as some players are on the verge of an IPO, while younger startups face an existential threat from Shopify developing more of its own tools for merchants.
The Business of Fashion argues that building bigger brand awareness is the next big challenge for publicly-traded DTC startups like Warby Parker, Allbirds and Olaplex.
What we've covered
How companies like Yellowbird and Silver Spring Foods are taking away market share from Huy Fong thanks to the sriracha shortage.
Some brands are scrambling to adjust their brick-and-mortar plans as short-term Covid deals are running out, and landlords are looking for tenants willing to pay a premium.
How startups like P.F. Candle Co and The Whistling Kettle are planning for the holidays; they are betting that this holiday season will look more like 2019 than 2020 or 2021.