Knockoff sriracha brands are grabbing Huy Fong's market share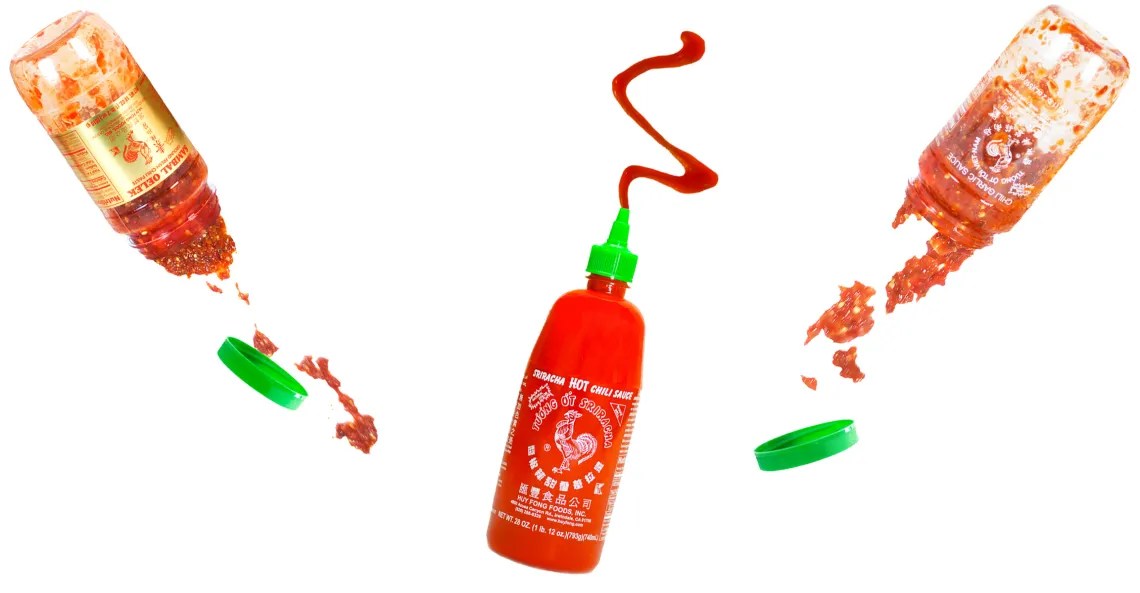 Huy Fong Foods Inc.
When people think of sriracha, Huy Fong's signature green cap and rooster logo might be the first thing that comes to mind. But as the brand's production issue persists, causing bottles to disappear from shelves, competitors are swooping in to satisfy shoppers' spicy cravings.
Silver Spring Foods, which makes eight different types of sriracha sauces, said that it has seen a sales increase of up to 70% over the last 52 weeks in response to its competitor's shortage. Yellowbird told the New York Times that its sales have also climbed since Huy Fong's issues started grabbing headlines. Food distributor Baldor Specialty Foods, whose clients include restaurants and grocery stores, said that the company has started creating new partnerships with other sriracha brands to fill the demand.
Up until recently, Huy Fong's hot chili sriracha sauces have dominated the U.S., selling over $60 million worth of sauce back in 2012 without any advertising, the Los Angeles Times reported. But because of its raw material shortage, competitors have been quick to increase production and marketing spending to claim the demand for sriracha sauces. Huy Fong told various publications that it has "no estimations of when supply will increase."
According to Google Trends, searches for Huy Fong sriracha have been climbing over the last 90 days as well as queries like "What happened to Huy Fong sriracha" and "When will the sriracha shortage end."
At Silver Spring Foods, its sriracha products have historically only taken up a small percentage of its revenue, said Silver Spring Foods President Eric Rygg. But as a result of the demand, the company's sriracha sauces have begun to take up more production space.
"Anytime we have requests from customers for a product or more product, we do everything we can to try to meet that demand with supply," Rygg said. "In this case, it's going to be continuing to create the production line time to make these sauces that are in demand."
Thanks to its diversified sourcing strategy, Rygg said Silver Spring Foods avoided supply chain disruption. While the company didn't make any changes to its marketing, he said Silver Spring Foods did change its sriracha sauce packaging from a glass jar to a plastic squeeze jar, which allows its retail partners to display the product in more areas in the store.
Much like Silver Spring Foods, a recent report from Jungle Scout indicates that Amazon shoppers have been flocking to a range of alternative sriracha brands to pack heat into their meals. Sky Valley Sriracha's unit sales climbed 193% year-over-year, Weak Knees Sriracha's was up 112% and Yellowbird Sriracha's was up 374%. In the last 30 days, Jungle Scout said that searches for 'sriracha hot' increased 789%.
Mike Scheschuk, president of small and medium business at Jungle Scout, said that the sales increase that these alternative brands are seeing indicates how big Huy Fong's ownership of the sriracha market was. "Based on the data, what we can see is that Huy Fong has gone down about 49% year on year and also their prices increased about 11%," Scheschuk said. "As a result of that, people are going to other brands."
Scheschuk said that other brands like Sky Valley have started taking up a larger share of advertising space on Amazon. Third-party sellers that still have inventory of Huy Fong's sriracha hiked up prices, some as high as $120, causing people to leave negative reviews and possibly alter their perception of the brand.
Suzy Kang, grocery category manager at Baldor Specialty Foods, said that the company's grocery and restaurant clients haven't stopped buying sriracha just because Huy Fong's signature sauce isn't available. She said many are instead filling their shelves with alternative brands.
"What we're seeing in the space is other brands coming out with their version of sriracha sauce, and I can certainly tell you there is demand for just sriracha sauce in general," Kang said. "You can then predict that some of that usage will stick to certain brands." Kang added that inventory for these alternative sriracha brands have been depleting faster than forecasted because of the large demand for sriracha sauces in general.
Indeed, every time a large competitor has issues with sourcing, other brands are quick to create a response plan to take share and drive new trials, said Barry Thomas, senior thought leader at Kantar. He said restaurants who've previously used or offered Huy Fong's sriracha could start finding other brands with a more reliable supply chain system.
For Huy Fong, its identity as a staple condiment for many households means that its loyalists might still come back to buy its classic sriracha bottles once they are back in stock, Thomas said.
"When [people] eat food and they ask for that sauce, they won't ask for Huy Fong, they just ask for sriracha sauce and they expect to see that green cap because that's just synonymous with their brand," Thomas said. "But there will be some consumers who tried something different and stay with it."