Daily Harvest launches in retail with Kroger partnership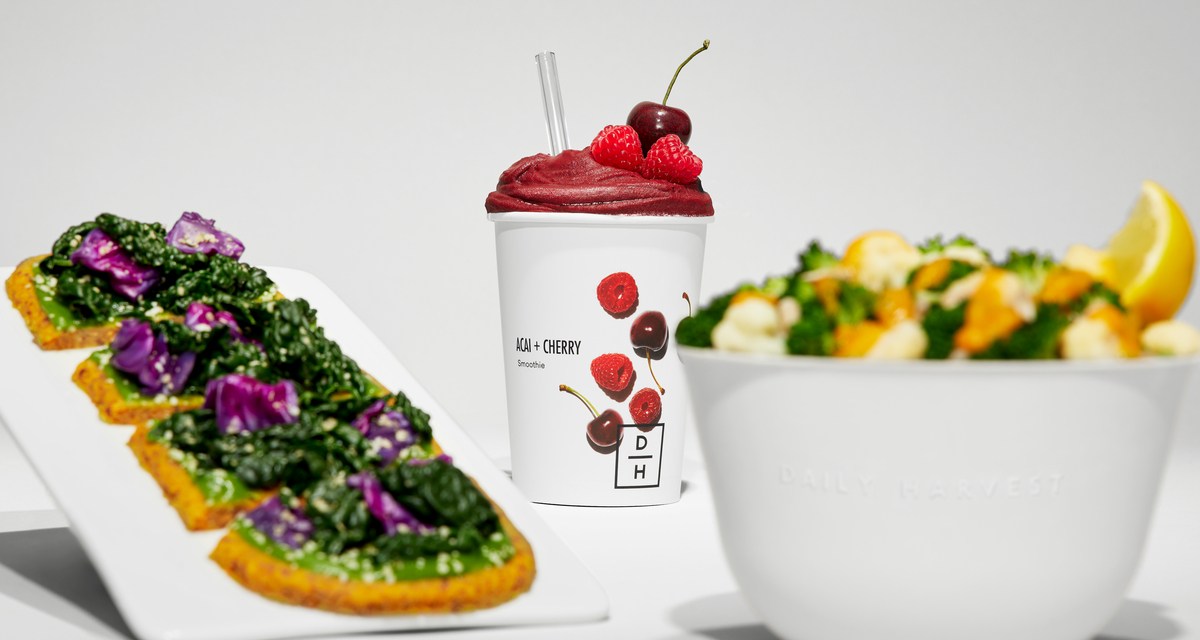 Daily Harvest
After years of operating as a direct-to-consumer meal delivery service, Daily Harvest is expanding to grocery stores for the first time since its 2016 debut.
Over the next few weeks select Daily Harvest products will hit the freezer shelves of various Kroger-owned locations, including, Dillons, Ralphs and Harris Teeter, among others; By August 13, the company's products will be available in over 1,100 locations.
The launch follows a series of headwinds for the company over the past year, which includes layoffs and a recall of its French Lentil and Leek Crumbles, which reportedly caused 133 customer hospitalizations. According to Daily Harvest, the Kroger entry marks a new chapter for the company as it sets out to compete in the freezer aisle that's historically been dominated by legacy food brands. With new packaging and a splashy marketing campaign featuring Taylor Swift tickets giveaways, the company says it's "entering a new era." 
In June the company's founder and CEO, Rachel Drori, unveiled its new retail plans after spending the past year responding to customers' recall issues. Prior to that, Daily Harvest was tracking as one of the fastest-growing food startups — generating $250 million in revenue in 2020. Over the years, the company raised about $120 million in venture capital; Its $77 million Series D round in 2021 brought its valuation to $1 billion.
With the Kroger launch underway, this week Drori told Modern Retail that the grocery chain was a natural fit for the brand's products, and will help Daily Harvest quickly gain wide brick-and-mortar distribution across many states, following exclusive availability through its website.
"Ultimately, we thought it was time to be where customers need us to be and where they're already shopping," Drori said. 
The in-store availability is also a way to reach customers already familiar with Daily Harvest, said Drori, "but weren't willing to purchase us in our DTC format." The company had plans to transition to an omnipresence in 2020, but those plans were disrupted by the onset of the pandemic. DTC will remain important for Daily Harvest, especially when it comes to targeting convenience-minded customers. "We plan to have more variety of items in DTC than in grocery stores," Drori said. The selected SKUs going into Kroger, which include bestsellers like the artichoke & spinach flatbread and mint & cacao smoothie, were based on customer data. 
Drori said that with this launch, the company has a forward outlook on growth following last year's recall headlines. "[The recall] is not something we're focused on as we head into this new era of the business," she said. 
Drori reiterated that customers' safety "is always our top priority," with the company having ceased sourcing from the responsible supplier last year. She also confirmed the company has since resumed its growth trajectory, adding "we're acquiring customers back at the rate we were." 
With this new direction, Daily Harvest also underwent packaging design changes in time for the Kroger launch. "We knew it was a different type of channel and there is a lot more we have to explain quickly," Drori said.
This prompted the company to tweak its labels, to help better explain what the products are to customers opening the freezer doors. "We made subtle changes, things like calling out the collections in large letters," Drori said, with large letters like "C" and "S" signaling Daily Harvest's cups and smoothies products. The Daily Harvest products will be featured together in a brand block in Kroger freezer aisles.
"We also added important information to differentiate us from some of the clutter in the freezer aisle," she said. The new packaging will also feature the company's mission to support farmers through partnerships with the American Farmland Trust (AFT) and California Certified Organic Farmers (CCOF), Drori explained. Kroger shoppers can scan a QR code that prompts a $5 donation by Daily Harvest to those organizations on behalf of the shopper. 
Drori said the company is in talks with other retail buyers, but is currently intent on "making the Kroger launch a success." 
To promote the company's first official retail launch, the company is investing in multiple paid and organic marketing initiatives – headlined by Taylor Swift tickets contest. 
The company purchased a VIP suite on the final stop of Swift's Eras tour in Los Angeles, and is giving away 10 sets of two tickets to customers who purchase or engage in the Kroger launch. Winners will also receive $1,000 for their travel expenses. "We're asking people how they're stepping into their 'fruit and vegetable era' on TikTok and Instagram," Drori said — with hopes the user-generated content will feature posts from Kroger's freezer aisles. People who don't live near a Kroger store can enter by tagging their favorite retailer "to tell us where we should show up next," Drori said.
Kantar managing director James May said the Kroger launch has multiple benefits for Daily Harvest, which until now has shipped its frozen orders over dry ice. May added that Kroger's massive coverage helps Daily Harvest grow beyond its roots as a DTC brand catering to young, urban customers. "At the same time, emerging brands have grown 55% to 58% over the past few years," May said, noting that retailers are stocking products by young startups to refresh their assortments. 
As for Daily Harvest's 2.0 chapter, May said that 15% to 20% of people don't repurchase from a brand following a recall. Still, brand reinvention following recalls are nothing new — with the latest example being detergent brand Laundress. In 2016, at the height of its popularity, startup Soylent also faced backlash following a recall of its bars. However, he said the Kroger presence could be an advantage in introducing the brand to a new set of customers "who may not know the brand has been recalled."  
Adding grocery presence has become a popular step for meal delivery services, with startups like Purple Carrot launching frozen meals in stores in 2020. Earlier this year, Nestlé-owned Freshly also announced it will pivot from delivery to offering its prepared meals in retail stores.
Drori said the company is indeed focused on putting the past year's events behind them. "This launch is about showing customers that frozen food can be different," she said of the company's convenience-driven meals and snacks.