Cider bets on physical retail with its first pop-up store in the U.S.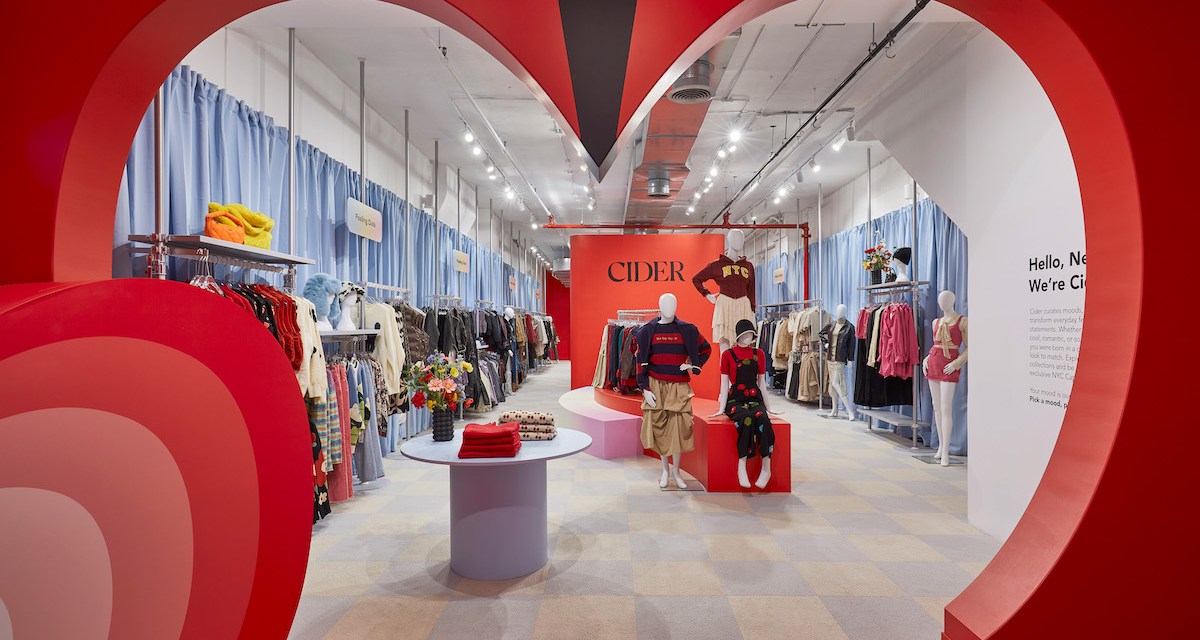 Cider
TikTok-popular fashion startup Cider is taking a bite out of the Big Apple retail market.
The brand, which caters toward Gen Z, opened its first pop-up in New York City and the United States as a whole earlier this month. This is one of a few activations Cider has experimented with in recent months, as it seeks to figure out what it wants its physical footprint to look like going forward.
Cider, which carries everything from $11 T-shirts to $60 jackets, launched online in September 2020. Considered a competitor of Shein, Cider sells affordable, trendy pieces largely manufactured in Asia, though the brand itself is headquartered in Los Angeles. Although it's only three years old, Cider has amassed a large following online, thanks to its work with influencers, as well as a $130 million Series B that the company raised in 2021. Its CEO, Michael Wang, has said the company sells a couple of million garments per month. Cider, like many digitally-native fashion brands, is now looking to physical retail to reach loyal customers in real life and to establish its credibility among new audiences.
Located in the neighborhood of Soho, the pop-up features several of Cider's staple mood-inspired collections ("Feeling Cute," "Feeling Romantic" and "Feeling Elegant," for example), as well as a special New York City capsule collection. Shoppers can visit the space — which spans more than 2,400 square feet — until January 2024.
This isn't the first time Cider has tested out physical activations. In July, it launched a styling suite in London and an activation in Seoul for fans of the brand to test out and feel its clothes and accessories. However, those experiences were more to showcase product, not sell it on location, and they lasted a couple weeks, as opposed to a few months, said Yu Oppel, Cider's co-founder and chief marketing officer. The new pop-up is "more substantial," she explained.
Cider takes a lot of its inspiration from New York City fashions, its founders told Modern Retail, and the brand wanted to make sure its pop-up in the area allowed customers to try on, interact with and buy merchandise. Based on the feedback it's gotten from shoppers, Cider plans to make stores a larger part of its business going forward, Fenco Lin, co-founder and chief fashion officer, told Modern Retail. Cider aims to establish some sort of location (either pop-up or permanent) in the coming years in markets such as London, Paris and Dubai, she said. "It's a great way to meet with our communities and build that personal relationship."
Cider's New York City pop-up is vibrant and colorful, with walls painted in the brand's signature red-apple hue. Customers walk through an apple-shaped cutout to enter the store, then walk around the perimeter of the space to see racks of clothes in curated collections based on moods. Some of the store's walls are fuzzy, bringing in a texture that corresponds with some of the clothes.
Cider is, at its core, a Gen Z brand. Some 60% to 70% of Cider's customers belong to the generation, and the brand has garnered 5 million followers on Instagram. Therefore, it was important to make Cider's New York pop-up fit for social media, said Madelynn Ringo, founder and creative director of Ringo Studio, which worked with Cider to design the space. To that end, the pop-up has large mirrors where customers and their friends can try on outfits and take pictures together. In addition, some changing rooms are individual, but others can be opened up for larger groups to share, she said. The capsule collection that Cider designed specifically for the New York City pop-up sits in the middle of the store, serving as the focal point.
Today, the potential for expansion is literally built into elements of Cider's pop-up, Ringo explained. "We were certainly thinking about flexibility within the store itself… but also being able to reuse certain elements [in other stores]," she said. "So, designing them in a way that they can be packed down and shipped to the next location or reused in another activation." The pop-up's millwork fixtures, for instance, can be broken down into smaller pieces for easier transport to the next space, and the modular systems that display the clothing can be packed flat.
Pop-ups are becoming an increasingly-popular way for fashion companies to test out new markets and connect with customers in person. Aldo held its first consumer-led pop-up in New York City earlier this year to promote its "Pillow Walk" technology, which uses a dual-density foam to absorb impact. Shein hosted more than 40 pop-ups globally last year, including about a dozen in the U.S. Saks recently opened a pop-up that offered fashion advice from store stylists.
One of the biggest learnings Cider has taken away from its pop-ups is just how diverse its audience is, Lin explained. Today, its shoppers come from countries including Korea, Switzerland, France, Germany and Canada. "We look at user surveys, but just meeting them in person and recognizing how powerful fashion is in connecting diverse communities around the globe is valuable," she said.
Right now, competition for shoppers' dollars is tight, especially in the United States and Europe. And so, as brands launch more pop-ups or experiential retail experiences around the world, it's important to cultivate close relationships with attendees, Sonal Gandhi, chief content officer at The Lead, said.
"You have to have systems and mechanisms in place to go back to that customer that interacted with you and the brand," she told Modern Retail. "Understand who they are, what interests them and then re-engage them with a right product, a right offer, a right message…think about what's next."