Experiential retail takes center stage in latest round of pop-ups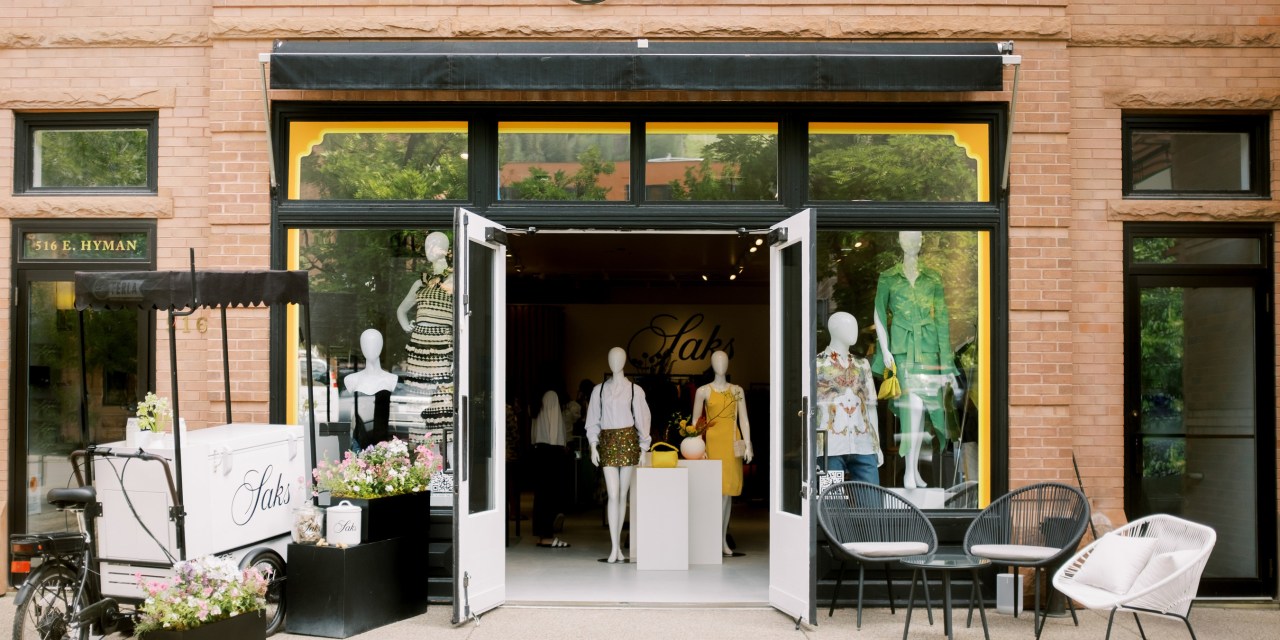 Saks
After about two years of social distancing and shopping predominantly online, the newest wave of pop-ups launched is focused on giving people more reasons to shop in person. 
Saks opened a pop-up store in Aspen, Colorado just last month that offers shoppers on-demand styling and fashion advice from store stylists as well as "digital touchpoints" such as a touchscreen monitor through which people can navigate the company website. Ulta Beauty, on the other hand, launched an interactive pop-up space at the Allure Store in New York City that same month where shoppers can access the store's AR virtual try-on tech, as well as QR codes linking to product content and smart mirrors. 
The idea of running temporary store locations is nothing new. But following the pandemic-driven e-commerce boom, the purpose of a pop-up has moved beyond just testing out a new place to sell products, to creating a more immersive brand experience that aims to make people excited about shopping in person again. For many brands and retailers, it has become a space to learn more about their shoppers and a testing ground for new experiential features.
"Pop-ups are a chance to test markets and pop-ups are a chance to be in places they don't want to be all year round," said Ethan Chernofsky, vice president of marketing at Placer.ai. "It's about leveraging flexibility, hitting certain markets at certain times."
Experts said that many retailers have come to the conclusion that the mass closure of stores in recent years has partially been due to companies failing to keep up with what consumers want. As a result, retailers have been more keen to experiment with new store concepts and design elements. 
Companies have come up with various ways to connect and introduce their brand to customers through these temporary stores. Within the next year, 32% of brands plan to establish or expand their pop-up strategy and in-person experiences, according to a recent Forrester report commissioned by Shopify.
In this latest round of pop-ups, retailers have been adding features that customers typically can't get online such as in-person styling advice, expert consultations and Instagram-able decor. Others are now incorporating trendy technology that could make the shopping experience more immersive and entertaining for shoppers, including AR try-ons, QR codes and VR experiences.
For example, The Bay, Hudson's Bay's e-commerce arm opened a tech-enabled pop-up in December that allows customers to purchase items just by scanning QR codes, checking out with their phones and choosing a location to deliver purchases so that they no longer have to carry items. Meanwhile, cosmetics manufacturing company Cosmetica Laboratories recently launched an immersive pop-up experience that aimed at showcasing its beauty innovations. Cosmetica Laboratories' pop-up event featured formula texture projections, a virtual reality tour of its manufacturing facility in Toronto, a photo booth and a custom face mask experience.  
"You need to give customers a reason why they should walk into their store. If you don't give them a good reason, they'll just shop on Amazon," Jim Kucera, a director in the retail practice at AlixPartners said. "So this experiential retail — the technology, the new items, the new designs — are all about finding ways to get the customer back into your more traditional location."
For others, like beauty brand Glossier, pop-ups have somewhat become a way to learn about what shoppers love about the brand, where to open new stores and what elements to keep in their permanent stores. Glossier has recently opened permanent stores in both Miami and Seattle, cities where it had opened pop-ups in the past. "We've obviously tested a lot of different retail models and we've seen the way the community engages," Marie Suter, senior vice president and executive creative director of Glossier, said in a previous interview with Modern Retail.
Interior design firm Havenly also sees its newly opened pop-up showroom in New York City as a means to learn more about the physical retail model and use its learnings to expand to other markets. At the store, shoppers are able to see its exclusive collections and tap its experts for its in-person design services.
"What we're seeing now in pop-up stores is more technology, things that take large capital investments," Kucera said. "It's a good way to test out and prove [return on investment] in specific markets to see if it's worthwhile for the retailer to make large-scale investments in the large store fleet." 
While pop-ups can be a way to try out new elements, Kucera said that some retailers can risk being overly ambitious without considering what they can afford.
"The one potential downside is not being realistic about what you can take from your pop-up store in terms of learnings and incorporate into the rest of your chain," he said. "What we typically see with pop-ups and store of the future designs is that retailers are unrealistic with what is scalable to several hundred locations mostly in terms of cost."
Still, experts say the amount of retail pop-ups opening doesn't seem to be slowing anytime soon. Even retailers that already have a large physical footprint have been building out pop-ups. Nordstrom, for instance, opened a concept pop-up shop in Southampton, New York called Nordstrom Local, which operates as a service hub to make shopping more convenient.   
"I think we're gonna see a pretty strong wave of it," said Placer.ai's Chernofsky. "There's a lot of win-win-win for the consumers, the landlords and the retailers in having a more steady and ongoing pop-up format.