Fresh off its first pop-up, Aldo is planning more experiential events for 2024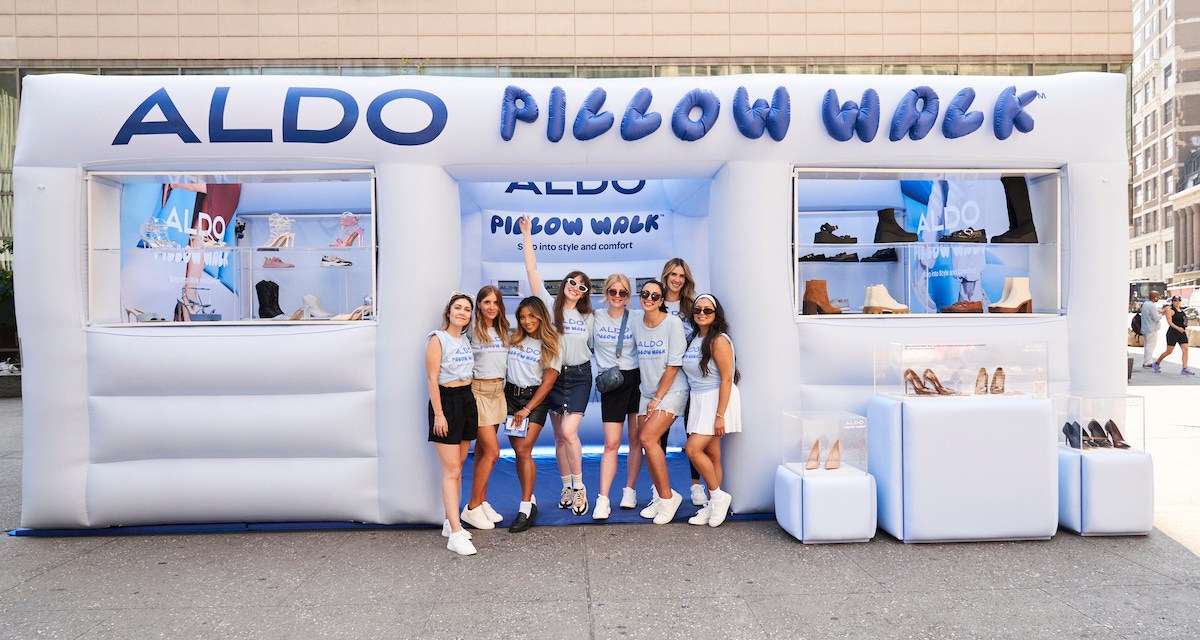 Aldo
After holding its first consumer pop-up, Aldo is ready to ramp up its presence in experiential retail.
Last month, Aldo took over New York's Astor Place with a large, squishy structure to celebrate the expansion of its Pillow Walk technology, which uses a dual-density foam to absorb impact, to 75% of its men's and women's shoes. Visitors could walk through the structure — whose plush flooring mirrored the feel of Pillow Walk — as well as check out Pillow Walk product displays and eat Aldo-branded cotton candy. More than 550 people attended the event, Amanda Amar, Aldo's global senior director of public relations and social media, told Modern Retail.
Aldo has experimented with events before, most notably through its #AldoNights events it's held in major cities since 2016. But, while #AldoNights are more popular with influencers and celebrities, the Pillow Walk pop-up was meant purely for fans of the brand. Aldo wanted to hold the event to allow visitors to "feel the actual technology themselves, get a chance to play with the product and have a socially-immersive experience with the brand," Amar said.
Aldo did not sell any product at the pop-up, although it did give out $15 gift cards to attendees who posted an in-feed post or story, tagged the Aldo Instagram account and used the designated pop-up hashtags. Aldo gained 10,000 new followers on Instagram as a result. Attendees created 250 social media posts across TikTok and Instagram about the event. This resulted in close to 20 million impressions for the brand that day on social media.
The social media metrics were "really exciting," Amar said. With the event, though, "our main goal or KPI was to really get it off the ground, test it and learn, because there's so much in this space [of experiential retail], and consumers are really craving that," she said.
Experiential retail experiences halted during the pandemic, but now, more brands are resuming these sorts of activities to appeal to customers' interest in in-person activities. Vuori, for instance, is holding events like meditation and movement classes, aura readings and store opening parties. Last year, Saks opened a pop-up that offered fashion advice from store stylists, and earlier this year, Francesca's held a "Bag Bar" giveaway for loyalty members in Miami.
Right now, "brand awareness is a big consideration for everyone," Sonal Gandhi, chief content officer at The Lead, told Modern Retail. "You really have to constantly be filling the upper funnel to convert more customers… There's a lot of brands in the market. And so the experiential piece of it helps you stand out."
If done right, these experiential events can create a "halo effect" that drives people to other parts of your business, Gandhi added. "People are talking about it on Instagram, and then you have content that you can then put out on your own channel as well."
Going forward, Aldo "100%" plans to hold more activations and pop-ups in 2024, according to Amar. "Experiential is something that we've splayed out in multiple moments throughout the year," she said. However, these events may not necessarily look like the Pillow Walk event. One option Aldo is considering, for example, is holding pop-ups in mall locations. Another is having a presence at a local event like a concert or a sports game that has an audience overlap with Aldo.
"Our target market, really the majority of their spend is going to entertainment," Amar said. "Fashion and footwear is linked to those entertainment experiences, like what are they going to wear to those events?" Having a presence at these events, and offering merchandise via a pop-up, could allow Aldo to reach even more people who want a physical shopping experience.
While based in Canada, Aldo is a global brand with stores in more than 100 countries. It has 236 locations in the United States. For those reasons, "a big thing for us is being able to expand this [experiential strategy] globally," Amar explained.
After the success of its New York pop-up, Aldo hopes to hold experiential events in major U.S. cities like Los Angeles and Chicago. Aldo also has a "huge following" in the Middle East, especially the United Arab Emirates, and is considering events in line with the large mall culture there, Amar said.
No matter what form it takes, Amar said she sees tremendous value in experiential retail, especially when it comes to shopper interactions.
"It's almost like a consumer insights data collection on its own, to be able to have these moments face to face and and really start to understand what the customer wants from you," she said. "So, I don't think that this is going anywhere anytime soon."
This story has been updated to clarify which attendees received gift cards at the Pillow Walk pop-up.