After two years of record sales, Brooks Running is expanding into resale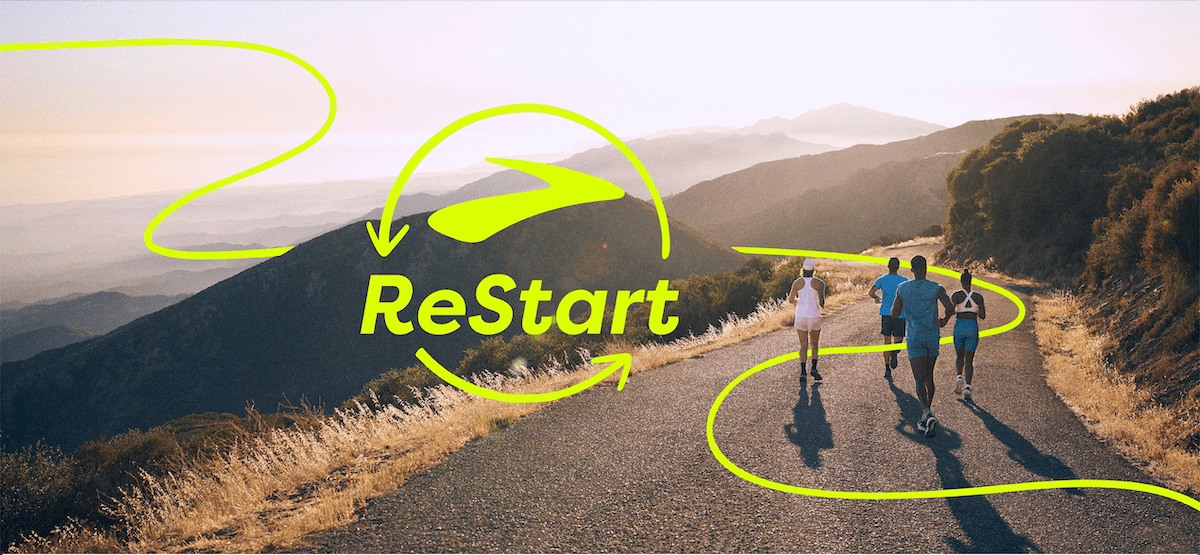 Brooks Running
Brooks Running is launching a secondhand running shoe program as it works to curb its carbon footprint.
On July 6, the company debuted a section on its website called "ReStart" where customers can buy gently-used running shoes in men's and women's styles, including the Ghost 15. Brooks Running worked with Trove to launch the program.
The goal of ReStart, says Dave Kemp, Brooks Running's director of corporate responsibility, is to "keep our product on the run for as long as possible." "We think that's one of the most sustainable things we can do," he told Modern Retail. As of July 18, Brooks Running had more than 600 items for sale on the site, many of which were discounted 40% or 50% from what they would sell for if new.
Brooks Running views its new resale program in the context of its wider sustainability commitments. About three years ago, the company mapped out its greenhouse gas footprint and then used the findings to plot ways to reduce emissions by 2030, Kemp explained. More widely, Brooks Running is working to become net-zero by 2040 and use more recycled materials in its products. It's investing more in circular design, with the goal of selling a fully-circular running shoe by the end of the decade. On Wednesday, Brooks Running also announced a new partnership with TrusTrace, which works with companies to investigate whether each step of their supply chain follows certain environmental regulations.
Brooks Running began working with Trove on ReStart about 12 months ago, Kemp said, although he acknowledged that the company has thought about ways to prolong its products' life cycles for several years now. Brooks Running is still collecting data about "ReStart," especially since it launched just two weeks ago, but Kemp said he's seeing an "appetite for this from the consumer." "Tracking that, I think it's going to be important to help us think about how we evolve the program in the future," he explained.
One of the main questions Kemp is looking to answer: "What's the quality of products that consumers are most interested in buying?" He says this is especially important for a company that sells shoes. Running shoes can get dirty, smelly or scuffed quickly, and if torn or falling apart, aren't good for resale. "There's some sort of threshold there that it doesn't make sense for some quality of products," Kemp said.
Many of the used shoes that Brooks has received from customers have been "good quality," Kemp said. But, he wants to roll out a shoe takeback program to collect shoes that are at their "end of life," or have been used for 400 miles to 500 miles. That program is still in its early stages, and Kemp hopes to launch a pilot by the end of 2024. Other footwear companies, including Rothy's and Timberland, have launched takeback programs in the past couple years.
Brooks Running's foray into resale follows a period of strong growth for the company. Like Hoka and Asics, Brooks Running benefitted from a renewed interest in running over the course of the pandemic. By the end of 2020, Brooks said it had added an estimated 1.6 million runners over the course of the year. The company's revenue reached a record high in both 2021 and 2022, and its direct-to-consumer sales rose 16% last year. Resale is yet another channel that Brooks Running can tap into to grow its reach.
While resale is not new, it's becoming increasingly popular for fashion retailers to launch resale channels in partnership with a third party like Trove, Archive or ThredUp. These resale programs can be a valuable data play and help retailers to re-route sales away from Poshmark or other sites. Dozens of apparel and footwear companies, including Toms and Allbirds, have launched resale programs over the last two years. However, for many brands, resale is not very lucrative. Secondhand clothing accounts for less than 5% of overall revenue for brands that have heavily invested in resale, according to Bloomberg.
Many retailers are still figuring out how they want to use the channel, Sucharita Kodali, vp and principal analyst at Forrester, told Modern Retail. "It's sort of an idea that is a little bit ahead of its time still," she said. "It's like Uber, before people trusted getting into a stranger's car… It's not out of the realm of possibility, but there needs to be a better approach."
Kodali said the brand-led resale model can be "inefficient," because it involves so many steps in the supply chain for a segment that's not high in volume. "The right way to do it is like with Goodwill," she said. "They'll take anything. They have a process of vetting whether something [can be sold] or not. And then they put it out on the shelf, and it sells to whoever comes in and wants to take it, essentially."
In an ideal scenario, Kodali said, retailers would work with larger marketplaces to re-list products. EBay, for example, could hypothetically match up a retailer with a power seller who would handle the resale process and take a cut. Another thing that could be a "game changer," she added, is if Google showcased secondhand items as a preferred option in its shopping tab.
Amazon, too, could make a big difference by highlighting resale products in search results, Kodali said. "They already have a marketplace, and they have… much, much more reach," she said. "They could say, 'The carbon footprint is lower if you purchase this item and this is a substitute and this is how much it costs…' I envision a future where that can happen."
Brooks Running is still building out its resale infrastructure, and Kemp expects the company to learn "a lot more in the coming weeks and months" about how resale fits into the business. In the meantime, Brooks Running will use its new partnership with TrusTrace to collect more information from its supply chain partners, including those who oversee raw material collection and processing, to see how and if Brooks Running is meeting its emissions goals, as well as external regulations in Europe.
"That's become necessary for us, not just because we want to be able to manage and reduce the impact," Kemp said. "But also, just from an external stakeholder perspective, there's a growing expectation on brands, especially in the apparel and footwear industry, to really manage those risks all the way down your supply chain."