Rothy's expands sustainability efforts with shoe recycling program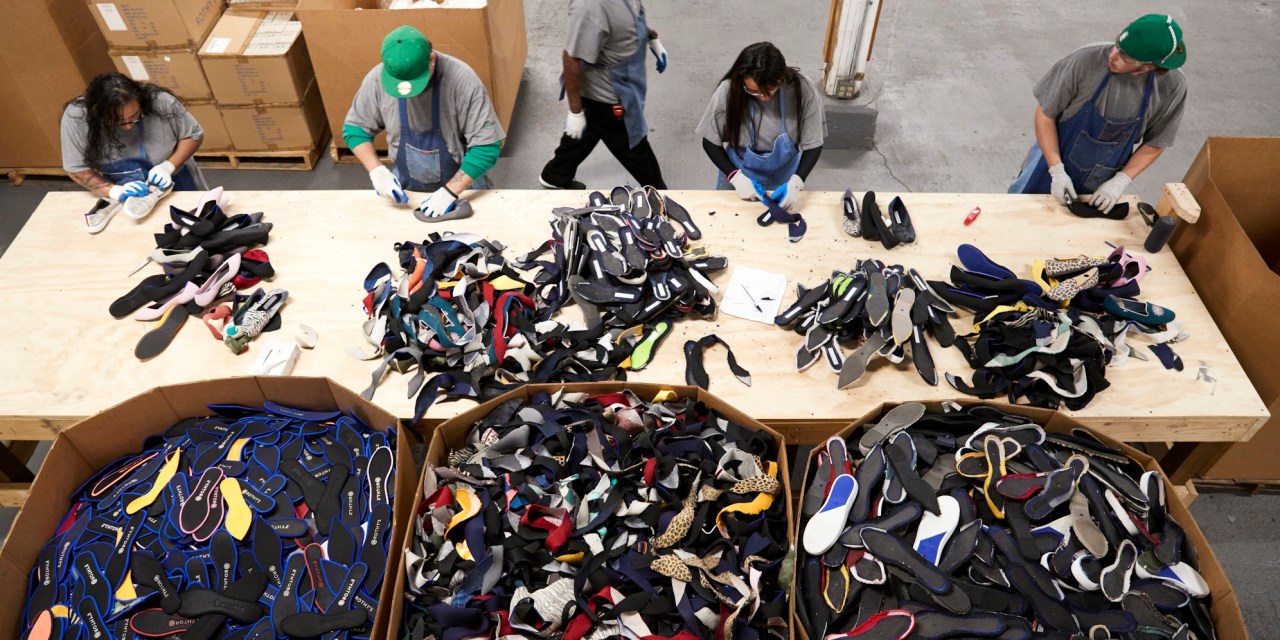 In the decade since its founding, Rothy's has converted millions of single-use plastic water bottles into fashionable footwear. Now, it's taking sustainability a step further by debuting a national shoe take-back program to help keep its products out of landfills.
Starting this week, customers can bring their old Rothy's into a retail store in exchange for a discount on future purchases. Rothy's currently operates 13 stores in nine cities, including New York City, San Francisco, Boston and Atlanta. The Rothy's are then sent to the company's disassembly and recycling partners, who break down the shoes and separate them by material to use in new products.
The initiative forms part of Rothy's plan to achieve circular production by 2023, head of sustainability Saskia van Gendt told Modern Retail. The company also aspires to be carbon neutral by next year — a growing mandate for apparel brands both big and small in the fight against climate change.
"Rothy's knew that we needed to close the loop by creating a recycling program and a way for customers to return worn shoes," van Gendt said. Now, the company can "recover those materials and recycle those materials back into materials that we can use in our products or partner with other industries to use."
Rothy's first began selling women's flats in 2016. Since then, it's branched out into sneakers, boots and slippers — as well as totes, crossbody bags, pouches and wallets. Rothy's embraced sustainability from the beginning; its founders created the company with the goal of reducing plastic waste, while creating a quality shoe. 
In 2021, Rothy's sold a minority stake to Brazilian footwear company Alpargatas. According to its parent company, Rothy's revenue during the second quarter of 2022 totaled $59 million, an 82% increase from the same time last year. The brand also reported a net loss of $9 million. 
Rothy's uses recycled materials, owns its own factory, designs products for washability and durability and is working towards a zero-waste certification in manufacturing.
While Rothy's recycling program primarily mentions shoes, customers can bring in accessories as well. Customers who drop off a pair of adult shoes or a bag get a discount code for $30 off a future purchase. The discount drops to $15 for kids' footwear, which are at a lower price point.
Rothy's has done a "big marketing push" involving email, social media, and the web to promote the program, van Gendt said. In the next couple weeks, Rothy's will put up QR codes in stores, linking to web pages with more information.
The company is always looking to grow its base, but "I really see this as a benefit for existing customers who have shoes that are ready to recycle," van Gendt said.
Rothy's experimented with a version of its shoe recycling program in October 2021. The pilot lasted one week and helped the company to meet its goal of recycling 20,000 pairs of shoes by the end of the year. It also allowed Rothy's to recalibrate its approach.
"We did change the customer incentive a little bit," van Gendt said. "When we did the pilot in store, we had a $20 off same-day purchase, and the incentive moving forward will be either $15 or $30 off a future purchase."
Rothy's recycling process varies depending on the part of the shoe. For instance, once separated, its foam insoles and midsoles can be used to make carpet backing or insulation. Its rubber outsoles can be used to make athletic flooring.
Crucially, Rothy's uppers — the part of the shoe that covers the foot — are already made of post-consumer recycled thread. Recycling them again will allow Rothy's to generate what it calls "twice-recycled thread," which could then go into new products.
Beth Goldstein, a fashion footwear and accessories analyst at The NPD Group, said this circular production process will help Rothy's stand out. A twice-recycled thread "would be very unique and like nothing that's out there right now," she told Modern Retail. The ultimate goal for Rothy's is to create a new item incorporating recycled shoes in 2023.
While not the first to implement a recycling program, Rothy's is "among the first," according to Goldstein. "The footwear market is very fragmented… so recycling programs are not very widespread at this point," she said.
Still, Goldstein said, "we've seen a lot of activity in this space this year so far, in 2022. You have brands like Allbirds, Timberland, Merrell — they've all launched programs that incorporate both resale and recycling."
Bigger brands and luxury players are also doubling down on sustainability. In an effort to become carbon-zero and waste-zero, Nike takes shoes it cannot donate and grounds them up for use in retail spaces and athletic facilities. Adidas offers a resale brand called "Made to be Remade" that involves recycled products. Steve Madden launched a shoe recycling program in 2020 in partnership with I:CO.
Goldstein expects the number of programs to grow, as customers grow increasingly concerned about the environment. "I definitely think that we're going to see more here. This is sort of just the beginning of it," she said.
"Sustainability in footwear, like other industries, is definitely becoming more important to consumers," she added. "They're becoming more educated about it."
Goldstein pointed to a joint survey between The NPD Group and CivicScience, conducted in January, in which 46% of respondents said it was important to buy sustainable footwear — up from 40% the year before. 
"Brands know that if they don't really move forward with sustainability initiatives, then at some point, they'll pay for that," Goldstein said.
Correction: An earlier version of this story misstated that Rothy's sold a majority stake to Alpargatas. It was a minority stake. The story has since been updated.