Yoga classes and aura readings: How Vuori is using experiential events to build its audience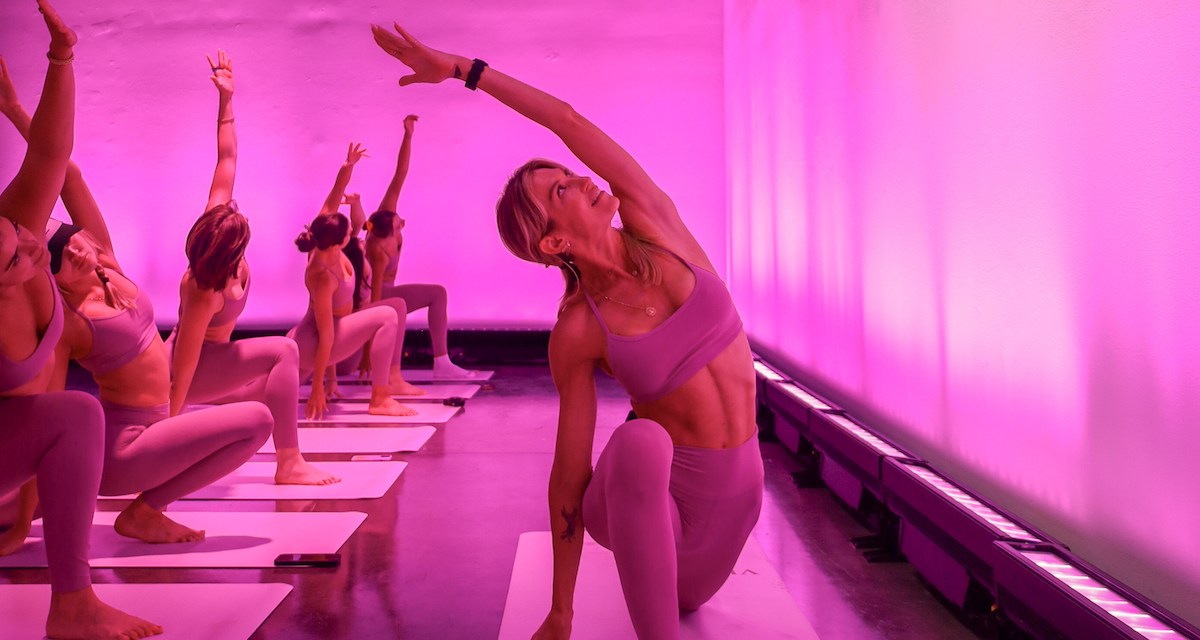 Vuori
California athleisure brand Vuori is building up its events calendar alongside its global footprint.
Before Covid, Vuori hosted a small number of workout classes at retail stores, Kelly Loreto, the brand's senior director of brand marketing, told Modern Retail. But when the pandemic hit, it took these efforts completely online, building up its portfolio of free classes under the ACTV (pronounced "active") Club banner. Today, as shoppers resume much of their pre-Covid routines, Vuori is hosting store opening parties, in-person workout classes and fitness studio takeovers in cities around the world.
"Obviously, it was a challenge doing community events for a couple of years," Loreto said. "We've really started to branch out and develop a program again, now that we're much bigger than we were before Covid."
These events help Vuori to introduce itself to the community and form relationships with potential and existing customers — a mission that has become even more important as Vuori expands into new cities, new malls and new storefronts. Vuori is on track to have 100 U.S. stores by 2026, with the goal to open 20 to 25 new stores a year. In-person activations and pop-ups help spread the word about the business and what is has to offer.
Vuori is currently in the middle of a campaign to show off its new BlissBlend fabric, which it says is "engineered for superior stretch with an airy, weightless feel." Over the past six weeks, Vuori has held two events (one in New York City and one in London) to introduce BlissBlend to its audience. For planning purposes, the question was, "How do we evoke bliss into this concept and not have it just feel like a normal workout that we've done in the past?" Loreto explained.
To that end, Vuori hosted in-store activities like meditation classes, movement classes and aura readings.
In the past, Vuori's events have catered to one of three groups: editors, influencers and consumers. With its BlissBlend events, though, Vuori is combining all three for the first time, Loreto said. "We're really trying to be holistic with it," she explained. Nearly 400 people attended the event in New York City. About 100 people attended the event in London, which was held at a smaller location. Vuori will hold its third BlissBlend event in Los Angeles on Sept. 29 at its pop-up on Sunset Boulevard.
Vuori tries to localize some aspects of its events to the community, Loreto said. For instance, the brand likes to work with local instructors for its workout classes. Sometimes events are held in stores, while in other cases, Vuori likes to partner with local studios to host workout classes and promote its products.
This weekend, for example, Vuori launches a new partnership with the physical fitness studio Pvolve. The events will be held in five cities (New York City, Los Angeles, Chicago, San Diego and Carlsbad) and involve on-site, 55-minute sculpting classes at Pvolve locations. Attendees receive a complimentary Vuori BlissBlend set, as well as post-workout smoothies. Vuori is also taking elements from its BlissBlend tours — like aura readings — and folding them into the Pvolve experiences.
Vuori plans to roll out workout classes in "at least half of the locations, hopefully all of them, at some point," Loreto said. The classes at Vuori's stores are free, and customers can sign up online to reserve a spot.
Vuori also hosts launch weekends for its new stores and invites local customers who live in the area. Last week, for example, it threw an event at Century City mall in Los Angeles. At these events, customers "get to know each other and they get to know the retail staff and just feel like they can come in and have more of a personal dialogue," Loreto explained.
Loreto describes events as a "nice add-on" to the Vuori store business. The company's focus, Loreto said, is to use events to celebrate "the store and the community. And then hopefully, long-term, they know the store is there if they want to go purchase."
"For the ACTV Clubs, we usually do see an incremental lift, with people in the store seeing all of the new product [and] wanting to purchase," she said. "However, that's not really our goal." New store openings, too, "support opening week revenue," Loreto added.
More retailers are investing in experiential retail to draw in customers interested in physical experiences, Melissa Gonzalez, principal at MG2 and founder of The Lionesque Group, told Modern Retail. For instance, Dick's House of Sport stores include batting cages, golfing simulators and rock walls. Earlier this year, Francesca's held a "Bag Bar" giveaway for loyalty members in Miami. Last year, Saks opened a pop-up that offered fashion advice from store stylists, and Ulta Beauty created an experience in which shoppers could access the store's AR try-on tech.
"We're seeing that [brands] are not so much prioritizing SKUs per square foot," Gonzalez said. "It's more, how do we make it the experience per square foot, and how are we having it so that spaces can flex for events and be more about building community and pulling forward their value proposition?"
Retailers are "recognizing that this is a touch point that can serve a different value within the customer journey with them as a brand," she added. This is especially important, Gonzalez said, as people keep online shopping.
"It's so much harder to get people to carve out that time [to shop in store]," she said. "Everybody's on the go… So, it's like, okay, well then, what do we need to work into the experience so that it's more than just about the product itself?"