Earnings
// August 22, 2023 ■ 3 min read
Dick's Sporting Goods is investing more in its House of Sport concept store to drive growth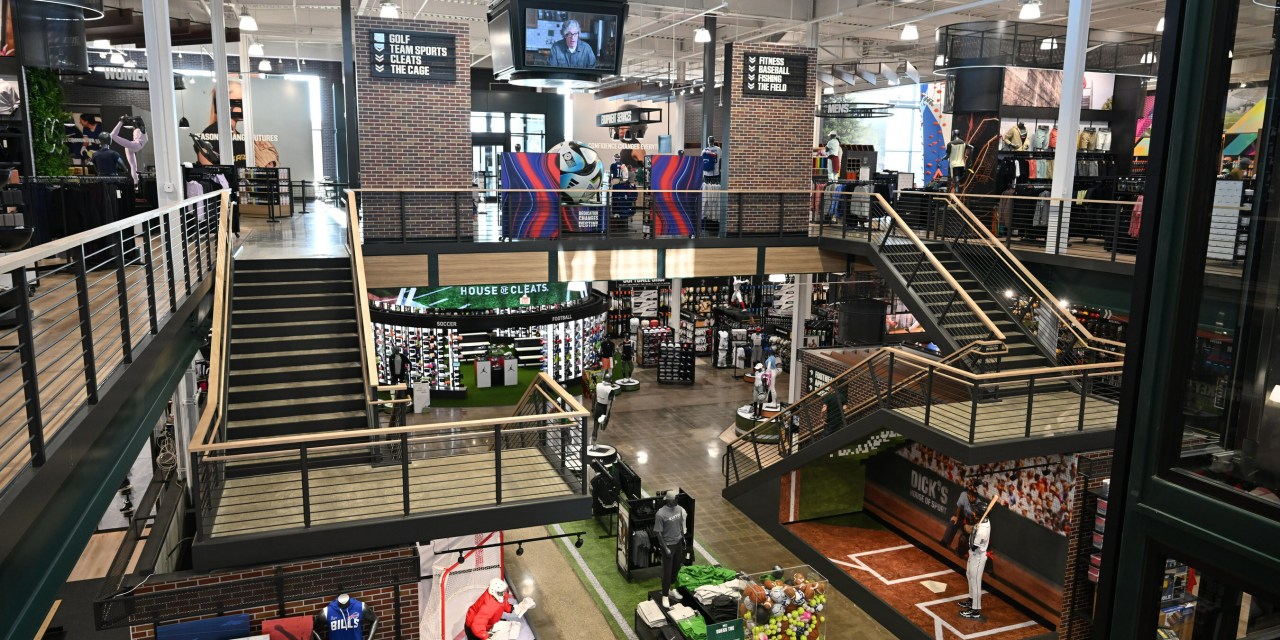 Dick's Sporting Goods
In a challenging retail environment, Dick's Sporting Goods is leaning into concept stores to lure people into its shops.
The athletic goods retailer opened seven new Dick's House of Sport locations in the second quarter with two more locations launched earlier this month. These stores reported "strong" double-digit comp growth in July compared to combo store locations that are roughly the same size. The company currently has 12 House of Sport stores and plans to roll out 10 more throughout 2024.
House of Sport has a much different look than typical Dick's Sporting Goods stores. While it might have the same assortment of merchandise found in an average athletic store, House of Sport locations have experiential components like batting cages, golfing simulators and rock walls. These stores could play a critical role in the coming months as apparel retailers continue to see a slowdown in consumer spending.
"July picked up significantly in the quarter and that was because of back-to-school starting off really strong. But also importantly, we had seven House of Sport that we opened and they are doing incredibly well," said Lauren Hobart, CEO of Dick's Sporting Goods. "There are 12 open in total. We can confidently say that they are doing incredibly well."
Sales this quarter were relatively modest for Dick's Sporting Goods overall. It saw a 3.5% net sales growth this quarter and comp sales were up 1.8%. However, elevated levels of retail theft have significantly impacted the company's bottom line. Its net income of $244 million this quarter declined from the previous year's $318.5 million figure.
"The biggest impact in terms of the surprise for [the second quarter] primarily came from shrink," said Navdeep Gupta, CFO of Dick's Sporting Goods. "We thought we had adequately reserved for it. However, the number of incidents and the organized retail crime, in fact, came in significantly higher than we anticipated."
Shrink, a term retailers often use to refer to organized retail crime and shoplifting, is expected to keep weighing down the company's results. So much so that it revised its fiscal year earnings expectation to $11.33 to $12.13 per share compared to its previous $12.90 to $13.80 earnings guidance to take shrinkage into account. Another major wholesaler, Target, said that it expects retail theft to impact profitability by $500 million this year.
Additionally, while inflation is beginning to slow, it might take a while for some people to be comfortable spending on discretionary items again. Retail sales climbed ​​0.7% for the month of July, according to the Commerce Department.
By investing in concept stores, R.J. Hottovy, head of analytical research at Placer.ai, said these locations get more visits and people tend to spend more time in the store because of its unique components.
"Our data suggests that they're doing anywhere between 15% and 30% higher visits per location," Hottovy said. "Sporting goods are really a category that people need to test and try out the products before they purchase."
By 2027, Dick's Sporting Goods plans to have around 75 to 100 House of Sport locations across the country. Additionally, Dick's also plans to roll out its next-generation 50,000-square-foot Dick's store, which is inspired by the House of Sport format with the same elevated assortment and experiences. The company recently opened two additional next-generation stores and plans to another eight locations by the end of the year.
"Our newest six concepts have proven to be tremendously successful. And are a key part of our future," Hobart said. "I've had the opportunity to visit many of these stores in recent months and I left each visit proud of our team and inspired by the athlete experience they're providing."