Why baby care founders are leaning on their parenting journeys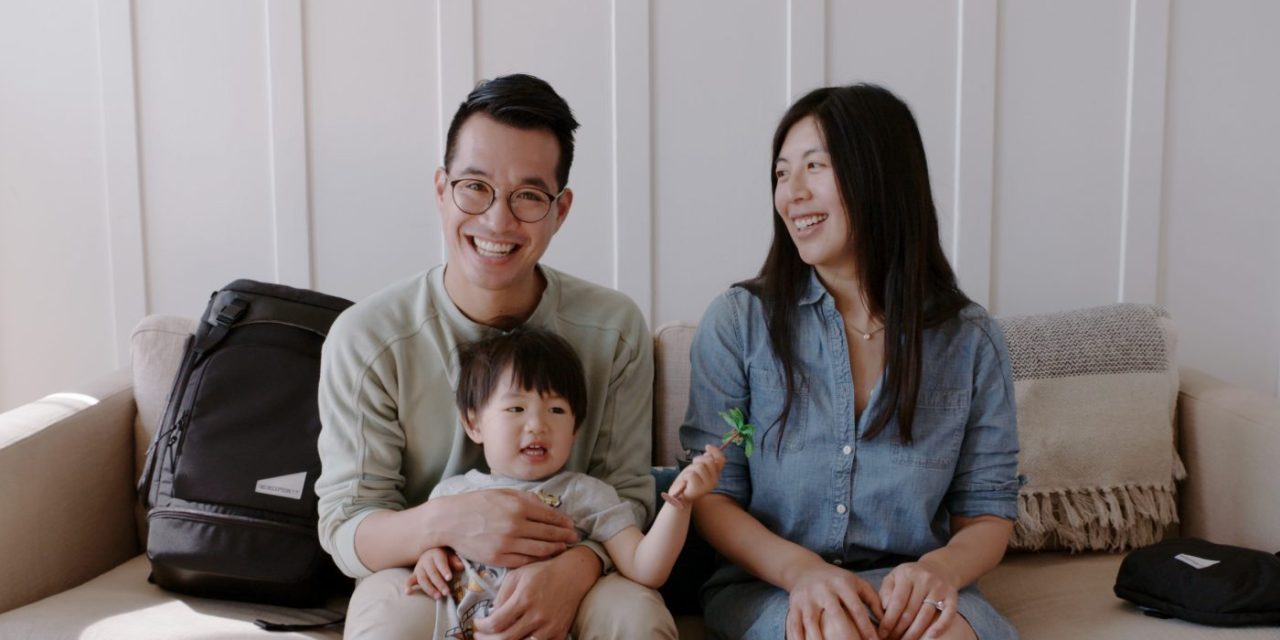 No Reception Club
Gemma and Daniel Ng were frequent travelers before their first child arrived. But they soon learned how difficult it could be to travel with a baby and their many accessories. They were on a flight from San Francisco to Hawaii, digging through a diaper bag, when they started dreaming up No Reception Club as a new travel brand for parents.
"Our conclusion was that there's a huge untapped market here that's been largely unaddressed with a ton of pain points," Daniel said. "We felt like we could really bring something to market that the industry hadn't seen before."
With backgrounds in fashion and e-commerce, they designed a multi-purpose diaper bag and raised $63,000 on Kickstarter in the summer of 2021. The genderless compartmentalized backpack bag that has multiple pockets and features, like clips to attach the bag to a stroller and a zipped hidden pocket for passports. Two years, they've sold out of The Getaway Bag four separate times, and are gearing up to expand to international markets.
The Ngs aren't alone as entrepreneurs whose parenting journey led them to found a DTC brand. Some of the buzziest baby startups are founded by those who came up with the product idea as a new parent — and they're also becoming some of the most successful at raising funds and capturing market share. And while the ethos of many startup DTC companies has looked like hustle culture and lavish lifestyles, some parent-founders in the baby space are also at the forefront of changing company culture that gives family-friendly policies like better parental benefits and more freedom to work from home.
Baby products brand Lalo was founded by two dads looking to create aesthetically-pleasing products "for the adults in the room." It raised a $10.1M Series A this summer and is preparing to launch new products in October. CEO Natalie Gordon founded baby registry service Babylist in 2011 in order to create a platform for for parents to register for multiple stores and services in the same place. She got the idea after wanting to line up someone to walk her German Shepard and get a diaper service. Since then, it's grown into a content platform and marketplace that's raised $50 million.
The most well-known parent founder might be actress-turned-entrepreneur Jessica Alba of The Honest Company, who launched the eco-minded baby care brand after concerns about chemicals causing reactions on babies' skin. Though the company has expanded into other categories like skincare products, diapers and wipes are the majority of its business and have gained significant market share; the first quarter saw revenue up 23% year over year.
A major through line of these brands is how they address the needs of parents — as much as a babies — in their marketing and brand story. The Ngs, who handle all social media content and posting for the brand, double as the face of the brand by shooting content from their home and sharing their own travel tips. They don't run any paid ads, and said word of mouth is the biggest way customers find out about their brand.
"Our little ones are one and four, we're in the thick of it," Gemma Ng said. "There's something that really brings a camaraderie and a bond when you can have that level of empathy with your customers, and them with you."
Finding white space
Sarah Hardy is the COO and co-founder at formula startup Bobbie. She knew founder Laura Modi after they worked together at a previous company and had their first kids around the same time. Becoming a parent changed how Hardy felt about work culture and what it means to formula fed a baby – while more than eight in 10 parents will formula feed a baby at some point in their first year of life, it can be difficult for parents to find reliable resources for support and information about how to introduce formula.
"In some ways, it's, 'Who are we to start a formula company?' and in other ways it's like, 'Who better than moms who have been through this experience?'"
Investors recognized the opportunity, too. Bobbie raised $142 million in venture-backed funding as of this summer, including $70 million in a Series C to acquire Nature's One. The acquisition fuels it goal of growing a domestic manufacturer for infant formula in response to the shortage of the spring of 2022.
Part of the rise of parent-founded baby companies may be due to increasing investments in women-led companies. Crunchbase tallies up at least 243 female founded baby companies that have yielded $1.8 billion in investments.
Being a parent is "inextricably linked" to the work culture at Bobbie, Hardy said. The company is about two-thirds parents, and 90% women.
"Trying to keep those two worlds — your personal and your professional separate — is exhausting. So for us, we decided to lean into embrace it," she said.
That manifests as a fully remote company that encourages flexible scheduling. It created a "take our leave" playbook for other companies that are interested in its 12-month parental leave policy, which also permits employees to return on a part-time schedule, but are paid their full salary.
At Babylist, also a remote-first company, the company includes "work/life balance" as one of its company perks, as well as fully paid health care, fertility and adoption benefits, and a 12-week parental leave for all parents.
These approaches are an aberration from historical DTC startup culture, which has been male-dominated and linked to working oneself to the bone, even giving off a "fraternalistic element." They're also groundbreaking in the private sector more broadly: And only one in four private companies offer paid parental leave, according to the Kaiser Family Foundation.
Parent-centric marketing
Hardy said at Bobbie, customer service agents are trained on how to "show up differently for parents" than legacy formula brands.
It's a similar approach to the marketing style of DTC diaper brand Coterie – focusing on how the product affects the life of their parent, not just the baby. Coterie boasts that its luxe-feel diapers help babies sleep through the night, while Bobbie offers a free "formula handbook" on its landing page to help educate parents about bottle feeding.
"Of course, the baby is the consumer. But at the end of the day, it's that parent equipped and supported to make their own decisions and to do what's right for their families," Hardy said.
No Reception Club's Daniel Ng said when launching the company and looking at competitors, they were dismayed to find overly produced photo shoots with impeccably dressed children in exotic locations.
None of that felt realistic.
"It's like, is this real life? That laughter made us realize, 'Who is this helping? You know, like, why is this actually empowering parents? No," Daniel said.
Instead, No Reception Club aims to show parents best practices for traveling with kids. The Ngs post to the Instagram account themselves and make the content on their own devices from their own home– like showing examples of packing a carry-on using their own kids' items.
It also has a Facebook group called the No Reception Clubhouse with more than 4,000 members, where fans of the brand share travel tips and ask for recommendations. The Ngs post updates about their products, including feedback for future launches, and field questions that are fueling their content.
Now as parents of two kids, they're often hearing about how to travel with kids of different ages or what essentials to pack.
"We're not just sitting there like, 'What could we share?'" she said. "It comes from parents actually wanting to know, and us being like, 'Well, here's what we do.'"