'We try to figure things out for the greater good of the industry': The rise of the DTC bro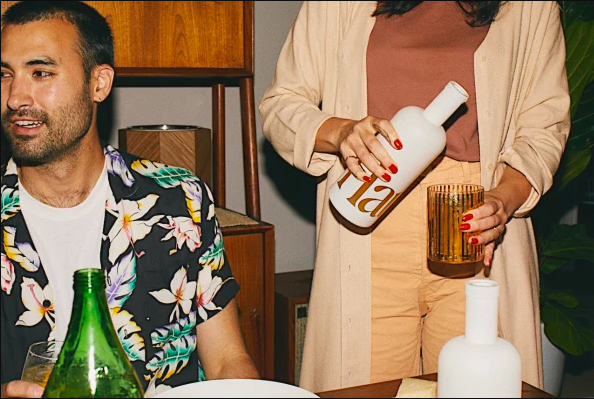 In the backstage area of a conference venue in Manhattan, they held court.
It started with Paul Munford, founder of the luxury newsletter Lean Luxe, alongside Web Smith, founder of the site 2PM, who sat beside Helena Price Hambrecht, the founder and CEO of Haus. Then came Marco Marandiz, a DTC strategist and consultant, who sat down and joined a conversation about their clients. After that, Nik Sharma, whose Twitter profile describes himself as "the DTC guy," joined the fun, flanked by an entourage of two — one who worked at BarkBox, the other Cha Cha Matcha. Popping in and out of the conversation, meanwhile, was Clayton Chambers, who focuses on e-commerce and DTC companies at Yotpo. They all know each other both online and off, and they all generally have one thing in common: direct-to-consumer brands.
The rise of the DTC industry — similar to bitcoin, online marketing, ad tech and numerous other tech-adjacent industries — has spawned a legion of evangelists and minions. At first glance, all of these networks look similar. Some members post on Medium, others Facebook and Twitter — they all share of an interest in a distinct business topic and the belief that are intellectually equipped to proselytize for an entire cottage industry. This latest DTC-centric iteration has a slightly more diverse makeup as well as a growing following.
There is a certain clique-y vibe about the DTC-ers — especially when they're attending the same event en masse. When asked, they pride themselves on their inclusivity, as well as the diversity of the overall group. Yet, as Price Hambrecht pointed out, while slightly needling the men next to her, "there is a fraternalistic element."
The hodgepodge group could best be characterized a consortium of people with a greater than average interest in digitally native vertical brands. With that, they often take to online channels to disseminate their love, admiration and advice for this growing crop of businesses. Companies like Away and Warby Parker are frequent topics of conversation — as are subjects related to customer acquisition and brand strategy. Some of them either work at or own a DTC brand, others are journalists or consultants. Some have many thousands of followers, others only a few hundred.
"We are comfortable being niche," Marandiz said, adding that most of the participants are "generally not narcissists."
In closed networks — groups DMs, private Slacks, over drinks — they chitchat about growing companies and gossip about business partnerships gone awry. When in the same city, they hang out; Last week, a large group DTC-ers attended a joint workout at a trendy boxing fitness class in Manhattan, which, of course, they posted pictures of online shortly thereafter. They're both a social network and a growing group of professional friends.
Solid "DTC Twitter" crew at an early morning training session in NYC. @hilarymilnes, @magdalenakala, and @helena were here in spirit. pic.twitter.com/p2hgnD7NMS

— Web Smith (@web) September 10, 2019
On public forums like Twitter, they pontificate. Last July, for example, Marandiz wrote a few of his thoughts down in a thread. (A few, in this case, means 18 tweets.) The topic was about brands' increasing need to scale beyond products. "I look at a bunch of DTC brands everyday, and I'm starting to realize that: 1/ The best categories are flexible 2/ The best founders are solution agnostic 3/ The best companies are ambitious beyond their vertical," he proclaimed.
Marandiz pointed to companies like Away and Quip as businesses (potentially) seeking out services rather than CPGs as a way to prove out huge valuations. Folks inside the DTC Twitter-sphere noticed and retweeted. Others did too. Lean Luxe wrote four days later, "Marco Marandiz does it (yet) again."
Thanks to this — and a few other, similar — threads, Marandiz's online profile has risen. Last March he had a little over 800 followers, today his Twitter nears 3,300. His quick ascendance seems to have happened in perfect tandem with the rise of the overall DTC online social cadre. "Marco happened overnight," said 2PM's Smith. "Recently, you've seen a lot of people put together a thoughtful analysis, and then they are featured in Lean Luxe or 2PM, and then they're invited to a panel at South By Southwest." Others, like Sharma and Chambers, are also seeing boosts in engagement thanks to their participation in DTC Twitter.
These digital streams of consciousness have become quite common in the DTC Twitter scene. "There was a week when everyone wrote threads at the same time," Marandiz said. Despite a few high profile storms, he added that he "doesn't tweet that much." In fact, the online medium is more of a way for him to organize his thoughts. Marandiz described the process as looking at his notes, organizing what he's thinking about and then copying and pasting a truncated version of whatever it is onto his Twitter account. "We are putting it out because we think it's interesting," he said, "and to help people do their jobs better."
Price Hambrecht, the founder of Haus — a DTC aperitif company — doesn't consider herself an active part of the group. All the same, she enjoys being a peripheral member; the core of the DTC bro group provided her with a "masters degree in direct-to-consumer," she explained. While she was building her company, she looked toward sites like 2PM to understand the DNVB industry. The most active participants in the community, she said "know their shit."
She added that the posse is so fixated on its sole DTC topic at hand that it has become an antidote to the usual Twitter noise. "Twitter is a very easy place to get depressed," said Price Hambrecht. "It's been nice to see this community that feels so much like early Twitter."
Magdalena Kala, a VP at Bain Capital, agreed the focus and vibrancy of the group is what makes it so appealing. "It's a really nice way of talking to people who have very similar interests but different perspectives."
Yet, there is still a distinct vibe about many of these people and the way they interact online. They all share a love of entrepreneurship, and they certainly all thrive on the hustle. A few years back, a breed of business Twitter user rose the ranks, which contained an abrasive — if not toxic — mix of thought leadership and self-promotion. At first glance, DTC twitter runs the risk of evolving into that caricature of waxing philosophic: men typing out Big Business Topics that aren't necessarily useful, yet hype their own entrepreneurial prowess.
People like Smith maintain that this DTC group is different than others. "We're all trying to figure things out for the greater good of the industry," he said. "Without sounding corny, we try to be inclusive of the talents people bring to the table."
Not only that, but it's not only about promotion but disagreement too. "They are not nice to everybody," said Price Hambrecht. "They are cranky boys — they will tell you you're wrong, they'll talk shit to you in two seconds if they don't think you're contributing something sound." So many pockets of Twitter are filled with people posturing themselves; "There are so many dudes trying to get in on the conversation and ideate themselves into fame," she went on. In her estimation, the DTC crowd does its best to cut out this sort of noise. "It's a very honest, very healthy debate," Kala said.
Any growing group of people is bound to look like a clique. "In some ways, the DTC industry has become sort of a sport," said Smith. "Whenever there's a sport, there will be people in the field and people in the stands." But, he maintained, that his following of DNVB acolytes isn't too difficult to penetrate. "All you have to do is show up," he said. "Be a sincere contributor to what we're trying to accomplish."
With that, anyone can participate — and more are. While many DTC-ers are heads down in their respective businesses — only commenting every so often online to stay relevant — others seem to be always online. Marandiz joked about noticing participants in Slack groups who post numerous links a day: "How are you reading this much? Aren't you the VP of a company?"
For Price Hambrecht, the online group provides a nice reprieve. Some people post about serious business topics and provide helpful insight, others may be getting into a Twitter fight about a niche topic. "It's kind of funny to watch," she said.
"At the end of the day, it's not that serious," she went on. "Twitter is not going to be the end all be all of how you build your business."