'We really want to be helpful': Why Babylist is getting into breast pumps and wellness services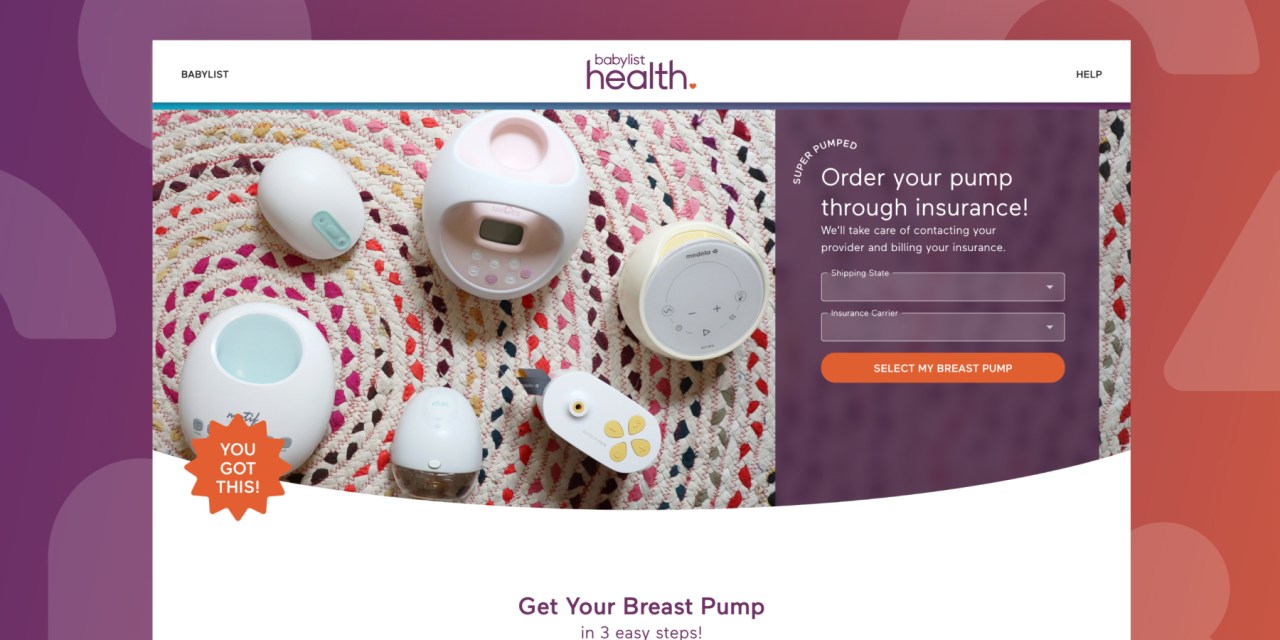 Babylist
For more than 10 years, Babylist has provided a unique service to expectant parents with the ability to build an online registry that spans products from multiple retailers. But this year, it's launching into a new area: health and wellness support.
Babylist in December acquired Source MD, a health care products company, for an undisclosed sum. This allowed the company to launch Babylist Health, a new division that is initially focused on helping moms buy breast pumps using their insurance benefits.
CEO and founder Natalie Gordon said the goal of Babylist Health is to streamline an often-stressful purchasing decision by combining the insurance piece and shopping piece in one platform. Acquiring Source MD accelerated the launch of Babylist Health by about 18 months.
"We're great at creating amazing product experiences. We're great at content helping you figure out what product to buy," Gordon told Modern Retail. "We had to build the muscle of being able to work with insurance companies, and that's really where Source MD came in."
In its first three weeks, Babylist Health has generated claims in 47 states with at least 60 different insurance companies. Customers don't have to have a registry with Babylist or pay an additional charge to use the service. It provides at least one free option covered by insurance and additional models available at an extra premium — compared to the traditional insurance model that might only have one or two options. Stock includes top brands like Spectra, Willow, and Lansinoh.
Babylist Health marks the latest development in the company's growth strategy. Babylist raised $40 million in its Series C funding round in November 2021, bringing its total fundraise to $50 million. More than 1 million baby registries are created on the service each year, with about eight million people making purchases annually.
Modern Retail spoke with Gordon about the new launch and Babylist's overall strategy in aiming to become a one-stop-shop for new parents.
This conversation has been edited for length and clarity.
What was the motivation for founding Babylist, and how has that evolved?
When I was expecting my son, that's when I saw the real opportunity for Babylist existing. I was trying to figure out "What's the stuff I need?" and I wanted to be a really good mom. At the time, you could walk into Babies R Us. But, and I heard this from so many other women, you would just feel so overwhelmed and not understand what anything was, and start crying or have an anxiety attack or like, walk right out. Or you would look online, and you would find clickbait with "27 top strollers."
I truly, at that time, did not have a vision that this would be a big company. But as it grew, I saw what we were really good at. I think we're very trusted, and we are really good at helping you figure out the stuff that you and your family needs. Not everything is a must have. We really want to be helpful, and help you make the right product decisions.
In launching Babylist Health, why did you choose to start with breast pumps?
We help families get everything they need. And it's actually a really difficult product decision. In our user research, we asked: "What prompted your choice or which pump would you choose?" And first-time moms would say, "Oh, I'll get the free one." And second-time moms were like, "I want all the bells and whistles, I will get the premium [model] and I'll pay the difference." So it's a major product decision that your insurance will pay for, and we can help find the best one for you.
How else do you plan to grow this division, and how does that fit with Babylist's overall growth strategy?
I think that there are more products and accessories we can get you through kind of the same process. But services are also a really big opportunity, like doula services or lactation consultants.
Babylist is a phenomenal baby registry. We help you figure out all these products. There's a lot of commerce that happens through that through new parents, but friends and family are actually who's driving like the most purchases from Babylist. Babylist Health, I think, is an intentional first step in really helping our users through pregnancy and after pregnancy.
In this current economic climate where people are very price-conscious, how is that affecting baby purchasing decisions?
Baby is the one category where you still want the best you can afford. And what we saw at the beginning of Covid, in that initial shock, is people wanting to support you even more in hard times. Gift giving actually went up, and people want to get you the stuff that like you actually want to need.
What we've seen, and it'll be interesting to see if this continues, is every year what people spend per baby actually goes up.
Besides Babylist Health, any other plans for 2023 you can share?
Last year, we had two pop-ups. And then we had the metaverse experience. And both of them are very different, but similar ways of looking at '"How can we innovate and help people make these product decisions?" That's definitely a track that we're continuing this year.
The focus for us is really on the experience we can offer our users. When you're using our app, or the actual experience when your mother-in-law comes to the registry, we try to make those [experiences] better and better. And that actually really fuels our future growth, because word of mouth for us is so real. If you go to a baby shower and you've used Babylist, the way you are having a great experience or a neutral experience really will change whether you yourself use Babylist.