'We always aim to get people talking': Kitschy merch continues to drive buzz for food brands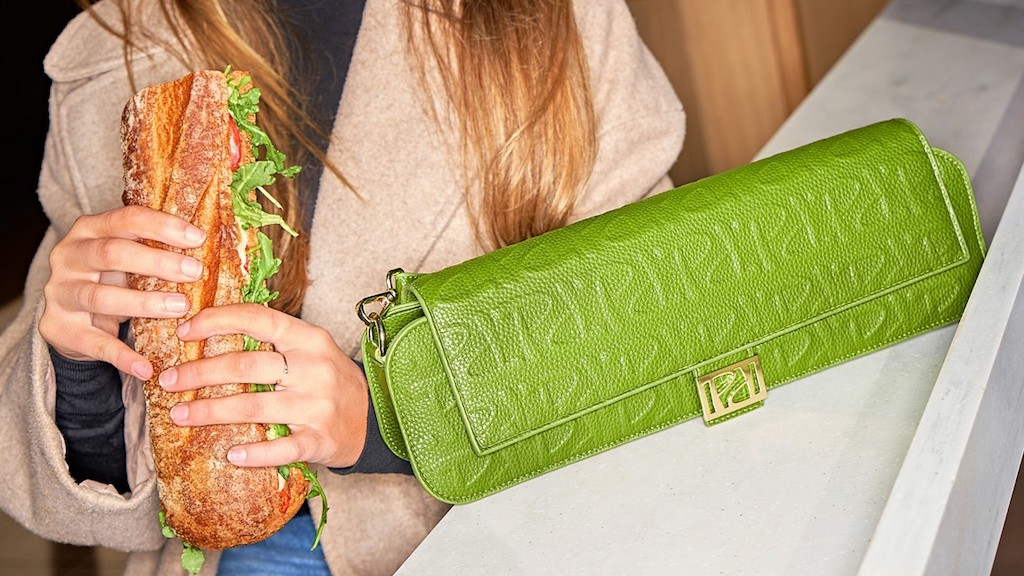 Panera Bread
Branded merchandise has become a staple of the modern marketing playbook for food brands and restaurant chains.
Case in point: When Panera wanted to promote its new toasted baguette sandwich line, it chose to launch a Fendi Baguette-inspired handbag, tied to New York Fashion Week. Called "the BAGuette," the bright green spoof bag is embossed with the letter P, a twist on the Fendi logo design.  
On Feb. 7, the day the baguette bag was teased by Panera, the $40 accessory took TikTok by storm. The launch day resulted in hundreds of likes and comments from people wanting to get their hands on the purse. The handbag also generated fashion coverage for Panera, with Glamour magazine calling it this season's sought-after "it bag." The bag has since sold out and is already being listed on the secondhand market, with eBay listings currently for over $200. 
These kitschy merch drops have been embraced by brands across the food and beverage industry for years, ranging from fast-casual restaurants like Panera, to grocery chains like H-E-B and Aldi, to up-and-coming startups like Liquid Death. But, now they are starting to happen on a more regular cadence, with companies baking in multiple collaborations a year, especially to promote new product launches.
While the goals for each particular campaign might vary, there are a few overarching reasons why more brands are pursuing these types of merch drops, according to executives. For one, merch releases often help generate social media impressions and press coverage. Secondly, having big fans wearing a brand's apparel creates a walking billboard effect on the company's behalf. And finally, on-trend merch such as Panera's bag can appeal to a different type of customers, even those who may not visit the chain often.
Panera's new wearable baguette is somewhat reminiscent of KFC's own version of the handbag design. The "Wrapuette," as it's called, debuted in April 2022 through a waitlist. KFC's Y2K-inspired bag was crafted from Italian leather and retailed for about $249, with sales proceeds going to the KFC Foundation.
In November, Fruit of the Loom unveiled a holiday-themed merch collaboration with dessert chain Milk Bar. According to the company, the limited-edition collection is part of Fruit of the Loom's long term strategy to modernize and reach younger audiences. 
The collection's items, ranging from $80 to $85, featured seasonal, dessert-inspired apparel. One popular bundle was the peppermint park pie, paired with a Fruit of the Loom tie-dye hoodie. The bundles were available to shop on Milk Bar's website and at select Milk Bar locations nationwide.
Katie Over, manager of brand communications at Fruit of the Loom, said the idea of pairing cozy loungewear with baked goods showcased both brands' ethos. The collaboration was a result of the apparel brand connecting with Milk Bar founder Christina Tosi, and have her create recipes inspired by Fruit of the Loom's fabrics and colors. Over explained that with so much crossover interest between the food and fashion worlds in recent years, "these two worlds colliding made for such a fun and unique collaboration," she said.
"We always aim to get people talking about our brand and want to show up in an unexpected way," Over told Modern Retail. This collaboration with Milk Bar helped us achieve both, with our primary objective being earned media coverage." 
And while at first glance, the collaboration seems geared toward a digitally-savvy Gen Z audience, the pink and red merch reached a wider demographic. "Our target audience with this release was adults aged 25 to 49 who are interested in both food and fashion," Over said. 
Over said that the collaboration generated over 700 million earned media impressions for Fruit of the Loom, including online coverage on Today, People, Tasting Table and Mashed, among other lifestyle outlets. "Additionally, our social media efforts resulted in another 21.5 million impressions on Fruit of the Loom and Milk Bar," she added.
Boston-based pickle company Grillo's, founded in 2008, is another brand that has increasingly embraced merch partnerships to grow brand awareness. For years, the company released branded shirts and hoodies on its official online store. But Grillo's merch strategy started to ramped up in 2020 as it started to partner with bigger brands on items. That year, the company released limited-edition Rugrats jar labels in collaboration with entertainment conglomerate Nickelodeon, a play on the Tommy Pickles character. 
In the past year alone, Grillo's has struck recipe and merch partnerships with Utz Chips, Ithaca Hummus and a pickle-themed camera with Polaroid. 
According to Eddie Andre, head of brand at Grillo's, many of these collaborations were a result of social media outreach, including Instagram messaging brand managers and influencers. 
Most recently, in 2022 the company launched an official Grillo's clothing and accessories collection with streetwear brand Carrots by Anwar Carrots. After meeting through social media, the two brands launched a nationwide apparel collaboration in Urban Outfitters in February 2022 — along with branded jars of pickled carrots for the Los Angeles launch party.
As an often-overlooked grocery product, generating online buzz over pickles is tricky. That's where standout merch comes in, which the company said helps get a brand like Grillo's on shoppers minds. 
"We got a good number of followers when we announced the collab," Andre said, including a number of influencers and celebrity accounts posting about it. "We've sold out of the merch in stores, and are thinking about bringing it back soon," he added. This summer, Grillo's has plans to bring the carrots-themed collaboration to its Lower East Side, New York pickle pop-up shop.
Even when buzzy merch doesn't sell out, it can be a relatively easy marketing tactic with a high return on investment. 
Nik Sharma, CEO of strategic initiatives firm Sharma Brands, remains bullish on branded merch being an easy lift for brands trying to build a following. "It's the same reason tech companies give branded water bottles, mouse pads, or other branded swag away," he said. 
Sharma suspects that to be the reason these collaborations continue to be popular among brands and audiences. "I think that if brands find there's an innovative way to get their brands in people's hands, they'll go for it," he said. 
Additionally, these so-called walking billboards are relatively easy to produce and give away.
"It's not going to be a huge money maker for any of them," Sharma said. (Albeit, for a brand with a cult following such as Liquid Death, merch is helping bring in million of dollars in annual revenue.) But even having a logo-covered item land on someone's desk or shelf creates another free impression for that company. "The more places they can be seen without having to work hard for it, the better off they are in the long run." 
Grillo's Andre said in the Anwar Carrots case, the company wanted to reach streetwear fanatics and young people. "Pickles are for everyone, so it's been fun to be able to work with brands that can cast such a wide net and still keep it authentic," he said.