Research Briefing: Amazon courts non-Amazon selling brands with display ads — marketers' second most-used ad channel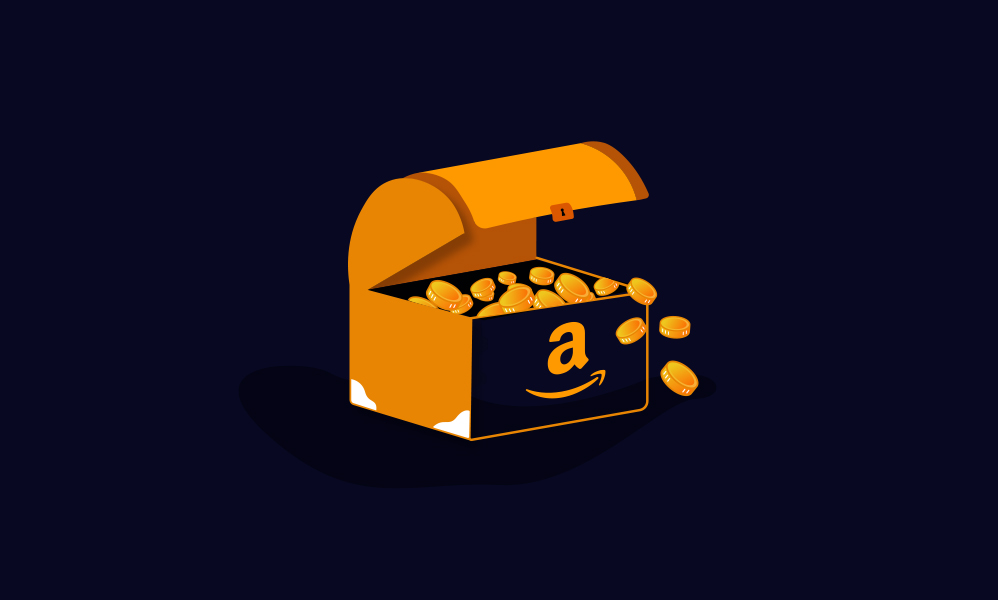 Ivy Liu
Welcome to the Modern Retail+ Research Briefing, your weekly curation of retail, technology and marketing research insights. Modern Retail+ members have full access to the research below.
In this edition, we share focal points from Modern Retail's recently released report on the display ad landscape and its role in marketers' playbooks.
Interested in sharing your perspectives on the future of retail, technology and marketing?

Apply to join the Modern Retail research panel.
61% of marketers use programmatic site display ads
Love them, hate them or simply scroll past them, display ads have been a go-to since the early days of internet advertising. And, for many marketers, they still are because of their track record as a reliable marketing tool for building brand awareness and supporting conversion goals.
Among all the marketing channels considered in Modern Retail+ Research's CMO Strategies series, display ads were marketers' second most-used ad channel, with more than half of respondents (61%) saying their company uses display ads.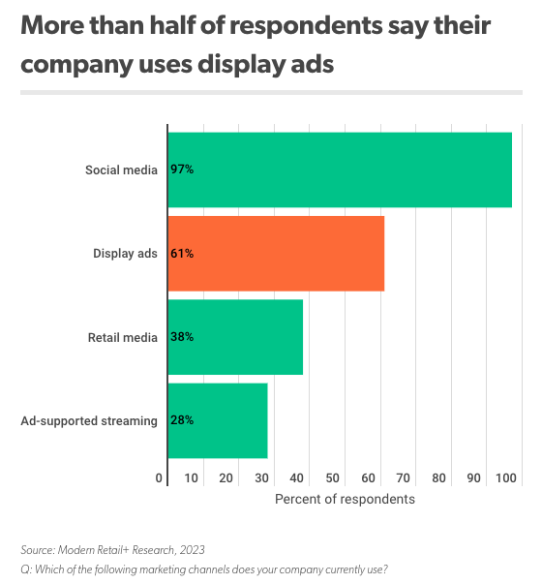 Earlier this month, agencies and brands noticed that Amazon was beginning to let non-endemic advertisers launch Sponsored Display Campaigns in Amazon — meaning they can run display advertisements on Amazon properties but not rely on reactive criteria like an active search. Instead, if a brand — even if it doesn't sell on Amazon — wants to get visibility while people are scrolling and shopping on Amazon's sites and platforms, they can buy a banner based on behavioral targeting.

Amazon officially confirmed this update to Modern Retail — adding that the Sponsored Display units aren't only for Amazon's website, but also on other third-party websites Amazon owns like IMDB. "Amazon Ads is continually working to help brands connect with their audiences in new ways and through new channels. Sponsored Display is an important part of this effort, in particular because it makes display advertising accessible for brands of all sizes," an Amazon spokesperson wrote in a written statement.
When marketers, like those who may have recently started advertising on Amazon, seek to measure how well site display ads have performed, they consider a variety of success metrics. Clickthrough rates and impressions were fairly consistent key indicators across the ad tactics Modern Retail analyzed — programmatic and direct-sold site display ads and email newsletter ads. Because display ads can be used to support both brand awareness initiatives and conversion goals, finding close survey results across success metrics within programmatic and direct-sold site ads was not unexpected.
Key findings:
Clickthrough rates were the leading KPI for programmatically bought site ads, with slightly less than one-third of respondents (32%) selecting the metric as their main indicator of success. Impressions and commerce and sales were almost evenly tied in second place behind clickthrough rates at 24% and 26% respectively.

Direct-sold site ads also saw a near tie between impressions and commerce and sales, the two far ends of the purchase funnel, as their key performance indicators. Twenty-seven percent of respondents said impressions was the top success metric their company uses, while 28% said the same of commerce and sales.
READ MORE ABOUT DISPLAY AD TRENDS

See research from all Digiday Media Brands:
Modern Retail+ Research
Digiday+ Research
Glossy+ Research