Nonalcoholic beer startup Athletic Brewing plots further growth amid momentum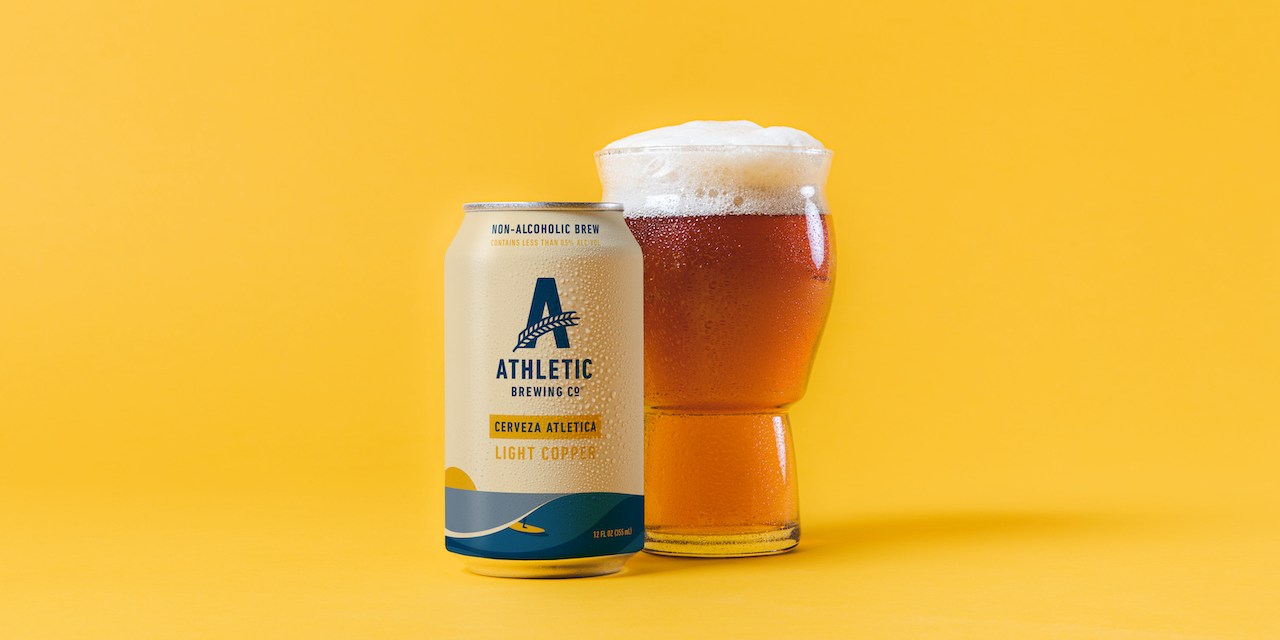 Athletic Brewing
Since launching in 2017, nonalcoholic beer startup Athletic Brewing has become a CPG darling in retail circles — and now it has big growth plans. 
The Connecticut-based brewer's sales reached $37 million in 2021, and grew 100% year-over-year in 2022. Between 2018 and 2021, the company confirmed that revenue growth exceeded 13,000%. That growth helped catapult Athletic Brewing to the top of the overall craft brew category, ranking as the third largest nonalcoholic brand in the U.S. behind Heineken 0.0 and Bud Zero. As of the end of 2022, Nielsen data showed that Athletic Brewing accounts for nearly half of nonalcoholic craft beer sales in the U.S., a segment that's grown 352% year-over-year.
Now the beverage startup is eyeing a bigger national expansion, with a 2023 roadmap consisting of a major retail and marketing splash. Last November, Keurig Dr Pepper announced a $50 million investment in Athletic Brewing to fuel the brand's next growth stage. In 2023, the company will continue its sports-centric marketing efforts, while also investing in more mainstream channels like TV and out-of-home advertising. These are meant to support the brand's growing retail presence; Athletic Brewing products are currently sold at 49,000 retail doors nationwide, and plans to add thousands more by the end of this year. 
A category disruptor focused on nonalcoholic craft beer
The increased interest in the health benefits of cutting back on drinking has been a large part of Athletic Brewing's rapid success.
"Coming out of the pandemic, people are becoming more aware of alcohol's impact on their bodies," Andrew Katz, chief marketing officer at Athletic Brewing, said. He also pointed to the general sales decline within the craft beer industry, which experienced a boom in the early 2010s. 
Still, there is a finite amount of space available within the refrigerated beverage industry aisle. "So the product quality is important, given the reputation that NA beers have had in the past," Katz said. 
"We consider ourselves the disruptor brand within this category," he said. Unlike major traditional beer makers that have launched nonalcoholic varieties in the past few years, Athletic Brewing's owned brewery only produces NA brews, ranging from lagers to stouts to IPAs. "The founders know that unless it's as good as the best-tasting craft beer, it's not going to succeed," said Katz. He also pointed to other startup value propositions, such as being a certified B-Corp company and its Two for the Trails nature conservation donation program.
When Athletic Brewing launched about five years ago, its revenue was split 50-50 between direct-to-consumer website sales and retailers, with many of its DTC sales coming from young, digitally-savvy customers. These days, that split has shifted heavily toward brick-and-mortar, as Athletic has struck more retail partnerships and raised its profile.  
As is the case for many CPG startups, Whole Foods was the first major retailer to champion the brand, with Katz saying that the retailer is considered a tastemaker among nonalcoholic brands. He explained that on average, nonalcoholic beer accounts for about 2% of national beer sales. The segment is well-represented at a grocery chain like Whole Foods, where nonalcoholic beer is about 8% of its total beer set. "They've been a great partner for us, and were the first retailer to take us on regionally in Connecticut."
However, Athletic Brewing doesn't use a one-size-fits-all retail distribution strategy. To date, the company's SKU footprint is still at about 20% of the retail capacity — meaning there is still a long way to go to be a ubiquitous nonalcoholic beer brand nationally. As he put it, "80% of the brand's customers do drink alcohol, so that tells us this is a mainstream product." At the same time, there is a need to balance digital and physical efforts. The company released about 75 beers last year, with some being limited batch runs. So while the website acts as a digital taproom for enthusiastic customers, the brand has its sights set on nationwide distribution to bring more customers into the fold. 
Now that specialty retailers have adopted its products, the company is next focusing on courting conventional grocery chains, such as a recently-launched Walmart distribution deal. 
"Retailers are pragmatic, and they take what's selling," Katz said. "They're really excited about this category, and have given us a disproportionate amount of display space like front lobbies and end caps," Katz said. 
A push into the mainstream
Despite Athletic Brewing's growing presence, the company is still in the early stages of becoming a mainstream beverage brand. "Last year, we sampled over a million cans of Athletic," Katz said. "But there is still a tremendous amount of education required and getting people over the 'is it going to taste any good?' hurdle." This barrier of entry is typically solved through a heavy sampling program, as well as on-premise presence, which the company will continue to invest in. 
This month marks Athletic Brewing's biggest ever Dry January campaign, a strategic move to increase household penetration and repeat purchases. "Our spin on it is 'give dry a try,' where it's not all or nothing," Katz said. According to consumer insights platform Veylinx, almost half (46%) of drinkers said they're reducing their alcohol consumption during Dry January, and 52% of them are replacing drinks with nonalcoholic beverages. 
This growing sober-curious trend is top of mind for Athletic Brewing as it tries to target more people. This month, Athletic Brewing climbed to the top of Instacart's Dry January sales chart — where the brand is running ads — which Katz said is testament to its Dry January visibility among grocery shoppers.
Currently, Athletic Brewing is running a partnership with digital fitness company Whoop. The company is also experimenting with out-of-home ads this month, along with sponsorships at NFL games and the recent college football Cotton Ball Classic. On the media side, the company is currently sponsoring the Barstool Sports' popular Token CEO podcast, to introduce nonalcoholic beer to young audiences.
Since the beginning of its founding, Athletic Brewing tapped into sporting events as a way to sample products. Katz said this strategy has paid off over the years, "because who's going to say no to a cold beer at the end of a race?" 
"But there is an aspirational target and there's a consumption target," he said. For Athletic Brewing, the aspirational target is reflective in the brand's name — its spokespeople include ironman participants and other professional athletes like J.J. Watt, who is also an investor in the company. However, Katz said the beer's appeal has spilled over to general audiences, especially sober-curious Americans trying to cut back on alcohol or don't drink at all. 
David Schneidman, director at Alvarez & Marsal consumer retail group, said nonalcoholic beer in particular was well-primed for disruption when Athletic Brewing arrived at the scene. But now, he said, the company has an opportunity to compete with major conglomerates as a brand solely specializing in nonalcoholic craft beer.
"NA beer has been around for a long time. Unfortunately, it was mostly concentrated with the large beer brands that had a zero alcohol product," Schneidman said, who added that Athletic Brewing has the advantage of entering retail doors state-by-state without regulatory hurdles. "It's a lot easier to scale nonalcoholic beer, as manufacturers do not need to be bound to a three-tier system." 
For Athletic Brewing, the coming year marks a turning point both for the category and the brand's ambition to become the go-to nonalcoholic brewer among Americans. 
"We know consumers are looking for us on Instacart, Drizly and Gopuff, as well as at their local stores," Katz said. "We're very indifferent, and just want to be where the shopper is looking for us."