DTC Briefing: How startups are building 'grown-up' marketing teams as they scale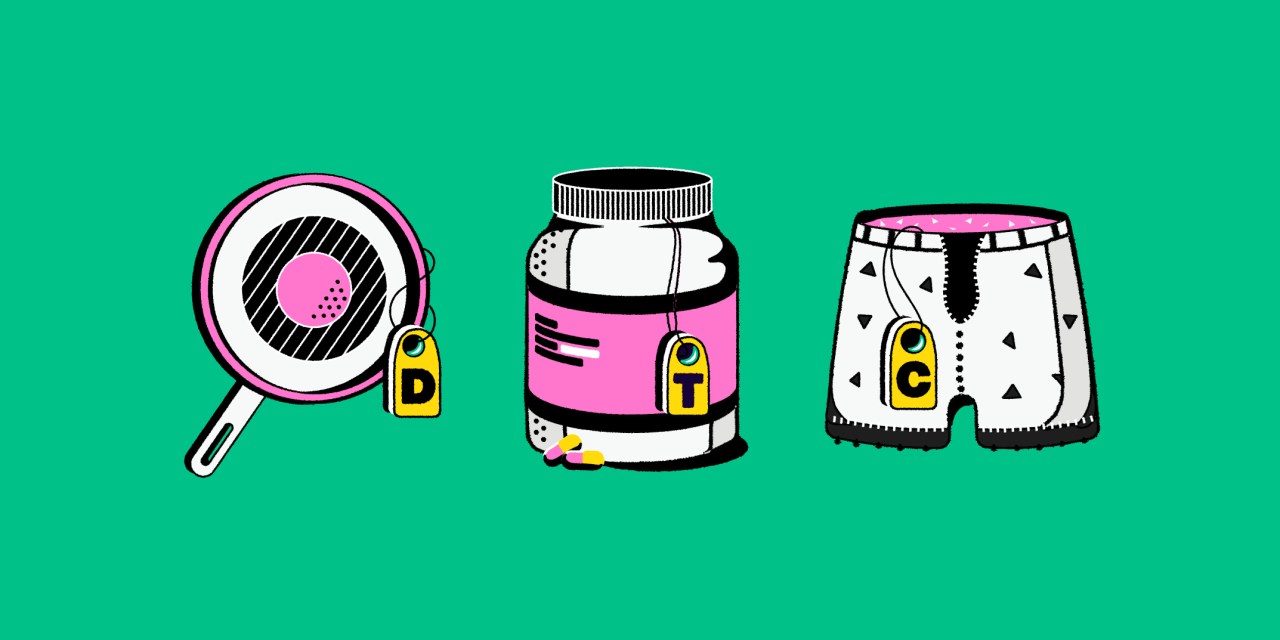 Illustration by Ivy Liu
This is the latest installment of the DTC Briefing, a weekly Modern Retail+ column about the biggest challenges and trends facing the volatile direct-to-consumer startup world. More from the series →
This is the latest installment of the DTC Briefing, a weekly Modern Retail column about the biggest challenges and trends facing the volatile direct-to-consumer startup world. To receive it in your inbox every week, sign up here.
As direct-to-consumer brands start to more closely resemble traditional retail brands, they are looking to revamp their marketing teams accordingly. 
Over the past couple of years, there's been a big shift in what type of talent DTC brands are looking to hire at various stages of growth. That's due to a couple of factors. For starters, the iOS 14 update has driven some brands to lessen their reliance on Meta, and test out a greater variety of marketing channels earlier on than they would have in years past. Second, more startups are abandoning the online-only DTC model in favor of generating more sales through wholesale and their own brick-and-mortar stores. 
Put together, DTC startups — specifically those that are aggressively expanding into physical retail — are prioritizing hiring marketing talent that can ensure their brand voice is showing up consistently in multiple places. Recent job postings from growing DTC brands like Mack Weldon, Tecovas, Parade and more illustrate the changing demands for marketing leaders. Some of the roles that are becoming more popular to hire for right now include a retail marketing manager, who is responsible for driving foot traffic to new stores and creating unique in-store events. Additionally, a director of partnerships who can suss out the right influencers and startups to work with on co-branded events. And, a variety of supplemental roles that help define the brand voice across channels. 
Mack Weldon CEO Brian Berger told me that up until a couple years ago, the menswear brand had a marketing team that was reflective of how young DTC brands typically think about marketing. "Marketing to us really meant growth marketing — lower funnel customer acquisition, coupled with retention, [specifically] email-based retention and loyalty programs — paired with a creative team, or a set of creative resources that was responsible for essentially serving the needs of those two channels."
But over the past two years, Berger said that Mack Weldon has been on a mission to revamp its marketing team in a way that is more in line with "how grown-up brands think about marketing, which is in much more of an integrated way." He said that part of this was driven by Apple's iOS14 update, which he said led to "increased competition overall, and certainly within those lower funnel marketing channels." 
An increased focus on brand
As a result of those challenges, Berger said that Mack Weldon needed to do a better job of defining who it was as a brand.
So at the beginning of 2022, Mack Weldon added two new positions to its marketing team. One was a brand strategist, who was responsible for making sure that "how we show up in the world, irrespective of the marketing touchpoint, ladders up to whatever it is we are trying to achieve at the brand level." 
The second was a director of marketing operations, who was responsible for making sure that logistically, on the campaign level, things went according to plan as Mack Weldon expanded into new types of advertising and required more creative assets. 
"If you're going into a photo shoot production, you want to make sure that somebody isn't coming out of there saying, oh man, I needed these types of assets in order to deliver against objectives," Berger said. 
Within the past month, Mack Weldon has posted job openings for two roles that will be new to its marketing team: a customer insights manager, who according to the job description, will "represent the voice of the consumer at Mack Weldon by bringing customer insights to life through data and exceptional storytelling." Essentially, the role will be responsible for surveying Mack Weldon's customer base for insights that can inform the company's strategy, including its marketing strategy and product development pipeline. 
Additionally, Mack Weldon is also hiring for a retail marketing manager that will work to "drive & innovate customer in-store experiences that deliver measurable results, including driving foot traffic, brand engagement, customer acquisition and customer loyalty." 
Before the pandemic, Mack Weldon had just one store, in New York City's Hudson Yards. Today, it has six. As Berger acknowledged, "as much as we would love to think traffic flows naturally to our stores" the company still has to actively create unique in-store events, experiences and creative assets to drive people to its physical retail locations. 
A marketing strategy that taps more channels
The roles that Mack Weldon is looking to hire for are similarly in-demand at other top DTC brands. Underwear brand Parade for example is hiring for a head of consumer insights, while western wear startup Tecovas is hiring for its first-ever retail and events marketing manager. 
In their early days, many direct-to-consumer brands rely on two channels, Google and Facebook, for the bulk of their marketing efforts. That has started to change following the iOS14 update, as DTC brands are more likely to test out a greater variety of customer acquisition methods, like TikTok and influencer marketing partnerships, earlier on. 
That means many DTC brands — especially those that were built before the iOS 14 update — had a very binary way of thinking about marketing. Growth marketers were largely focused on paid social. And as those brands grew, they often thought about expanding their marketing capabilities by addressing the most low-hanging fruit possible.
For example, retention marketing meant email marketing for brands first and foremost. But now, more brands are looking to incorporate a greater variety of tactics into their retention strategies, including, but not limited to, email and SMS marketing and building out more robust loyalty programs. Inclusive fashion brand Universal Standard, for example, is looking to hire for a senior retention marketing lead that, according to the company's job description, will overhaul its loyalty program. 
The other factor that is driving a lot of DTC brands to revamp their marketing teams is an increased focus on opening up more stores. Particularly when DTC brands move beyond just a handful of stores, they are finding that like Mack Weldon, they need a retail marketing manager that can think more strategically about how to drive foot traffic to stores through events and partnerships.
Gillian Kennedy, the chief marketing officer at Tecovas, said that there are two roles she has added to the company's marketing team since joining in May. The first is a director of partnerships and PR. She said that Tecovas's social channels are often flooded with requests from influencers, small businesses and other startups that are looking to work with Tecovas. 
"By building up the resources on that part of the team, not only can we interact with all of those inquiries…but it's also an opportunity to be a lot more strategic," Kennedy said. 
The second — which the company is still hiring for — is an events and retail marketing manager. "[Our retail stores] are one of our most exciting and most expressive brand touch points. But there's just so much more we can do," Kennedy said — for example, by hosting more in-store events. Tecovas currently has more than 25 stores, and plans to open up six to eight this year. 
Overall, Kennedy said that while Tecovas had a "secure foundation" when she joined the company, that her main priority has been on "really building an ecosystem that can turn every single consumer touchpoint into a meaningful brand experience."
It's indicative of the challenge that the modern DTC brand faces. As it has proven more difficult for young, digitally-native startups to build their brands purely online, they find they have to reach more potential customers in more places. And in turn, they are looking for marketing talent that can keep up with those demands.
Mack Weldon's Berger rejects the premise, however, that this means that DTC brands are just becoming traditional retail brands.
"We have stores that strategically support the business and brand objectives, but it's not like — let's just go build as many stores as we can," he said. "A digital-first brand thinks about everything through the lens of e-commerce and the digital relationship being in the center of the wheel between them and the consumer. Stores and wholesale and all of those other things support that." 
What I'm reading
A lot of ink has been spilled about

Glossier's

remodeled Soho store

. So far, long lines indicate Glossier's experiential approach to retail is successfully drawing buzz, though it remains to be seen how the makeup brand's forthcoming launch at Sephora changes things.

DTC founders tell Thingtesting they are receiving

dozens

of cold pitches each week from people offering to create content for their brand. While most of these cold pitches are junk, it raises a bigger question about how founders can suss out what content creators are right for their brand. 

Purple

issued

a Proportional Representation Preferred Link Stock, or PRPLS, to thwart a bid by Coliseum Capital Management to reshape the mattress maker's board. Essentially, the PRPLS will limit how much of a say Coliseum gets in voting for new board members.
What we've covered 
ThredUp

appears to have quietly launched a

new site

called "777thrift" promoting clothes for $7 and under. It's unclear yet, though, what the resale platform plans to do with the new site. 

Tinned fish startup

Scout's

products have been flying off the shelves ever since "tinned fish date night" took off on TikTok. In turn, Scout was able to parlay a regional distribution deal with Whole Foods into a

national one

. 

As e-commerce growth slows, so too is

Shopify's

revenue growth. While the e-commerce giant still managed to report 26% year-over-year revenue growth during its

fourth quarter earnings

, that's down from 41% growth compared to the same period last year.