How the tinned fish TikTok trend led to Scout's first national retail partnership at Whole Foods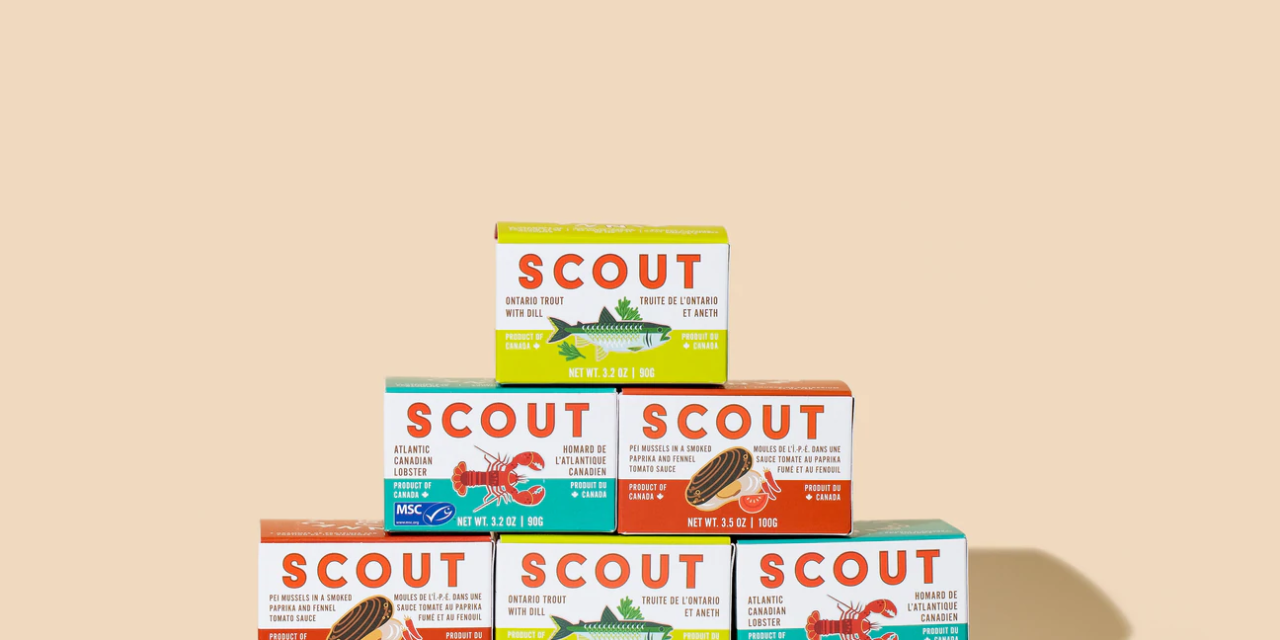 Scout
Since the "tinned fish date night" trend took hold on TikTok, products from tinned seafood company Scout have been flying off the shelves.
Thanks to its performance in the past year, Scout's northeast regional deal with Whole Foods — which first began in 2020 — expanded into a national retail partnership that would bring its total store footprint count to over 2,000 doors throughout North America. The startup's retail sales grew 200% for the fourth quarter compared to the third quarter of last year. During that same period, Scout's e-commerce sales rose 208%. 
"Our products were totally wiped out from the shelf, including mussels, which before was our lowest performing product," said Adam Bent, CEO and co-founder of Scout, which offers 12 tinned fish products including Smoked Wild Pink Salmon and Wild Albacore Tuna. "It's a bit of a weird seafood species for the average consumer and now it's a product that we can barely keep in stock."
Scout was originally founded back in 2014 and launched its first commercial shelf-stable tinned fish products in 2020. The founders saw the potential high-quality tinned fish had in North America given its popularity in European countries like Spain, Portugal and France. Its total revenue to date is $4 million and the company has raised $4 million in funding. 
The canned fish trend took hold on TikTok when content creator Ali Hooke shared a series of videos of how she and her husband developed a tradition called "tinned fish date night." Hooke typically opens cans of seafood to add to a charcuterie board, with one of these videos gaining 4.5 million views. On the app, videos under #tinnedfish have over 28.7 million views. Scout was one of the beneficiaries of this trend, which has drawn more sales and more retailers interested in having the brand on its shelves.   
In addition to Whole Foods, the company will also launch at H-E-B and Meijer this year. Bent said he expects Scout products to be available at around 4,000 doors. In the last 60 days alone, Bent said Scout has confirmed 2,000 new retail doors for its new product line that will be released in March.  
At Whole Foods itself, Scout's Atlantic Canadian Lobster, PEI Mussels and Rainbow Trout will be available in stores across the country. Due to Scout's sales in northeastern Whole Foods stores, the retailer was interested in bringing Scout products in other regions, Bent said. Scout's products are also available on enjoyscout.com, Farm to People, Fresh Direct and Thrive Market, among others.
Scout said the company will continue to focus on retail over its direct-to-consumer channel. Back in 2020, 40% of Scout's sales came from DTC channels. In 2023, DTC accounts for fewer than 10% of its sales.
When Covid hit, Scout's $7.49 per can of seafood took off. 
"It really shifted a lot of people's perspective from tinned fish being a cheap and cheerful item that you throw in your pantry and forget about for a tuna sandwich into something that became a bit more center of the plate and adopted across multiple meal times," Bent said. "There's some cultural capital built around the interest in tin fish and that's one of the reasons I think it's blown up on social media and has reached a much younger consumer base than tinned fish was reaching before."
Scout jumped on the "tinned fish date night" trend by tapping influencers like Ali Hooke herself. Every month, Scout said, Hooke drives about 500 transactions via affiliate sales on TikTok. In some videos, Hooke is seen testing out various Scout products and describing the taste to viewers.
Much like Scout other canned seafood companies have also benefitted from the TikTok trend. U.S. sales of canned seafood rose 10% to $2.7 billion in 2022, according to data from Euromonitor International. For example, The Tinned Fish Market told The Guardian that its sales have doubled in the past year.
"It's just an incredibly powerful branding tool," Marcel Hollerbach, chief innovation officer at commerce software company Productsup, said about TikTok. "The algorithm, once it recognizes that you're interested in a certain topic and basically it will show you… again and again."
Hollerbach said that TikTok can impact physical sales because it has the ability to inspire purchases. The challenge for many of these brands, he said, is how to maintain their relevance once the trend has passed. 
For Scout, TikTok now holds 85% of its social media focus. This is a stark contrast from a few months ago when Scout's main focus was Instagram and Facebook. Bent said a few months ago, Scout didn't invest anything at all in TikTok, and "now it has only grown."
Bent said the company uses a mix of paid partnerships on TikTok.
"We want to be a big brand. So we were really intentional about kind of nurturing our early adopter consumers," Bent said. "Now that we have that two years of success we've grown, we are going to continue our foray into conventional grocery, into club, into foodservice channels."