DTC Briefing: How BelliWelli is using customers to aid its national retail launch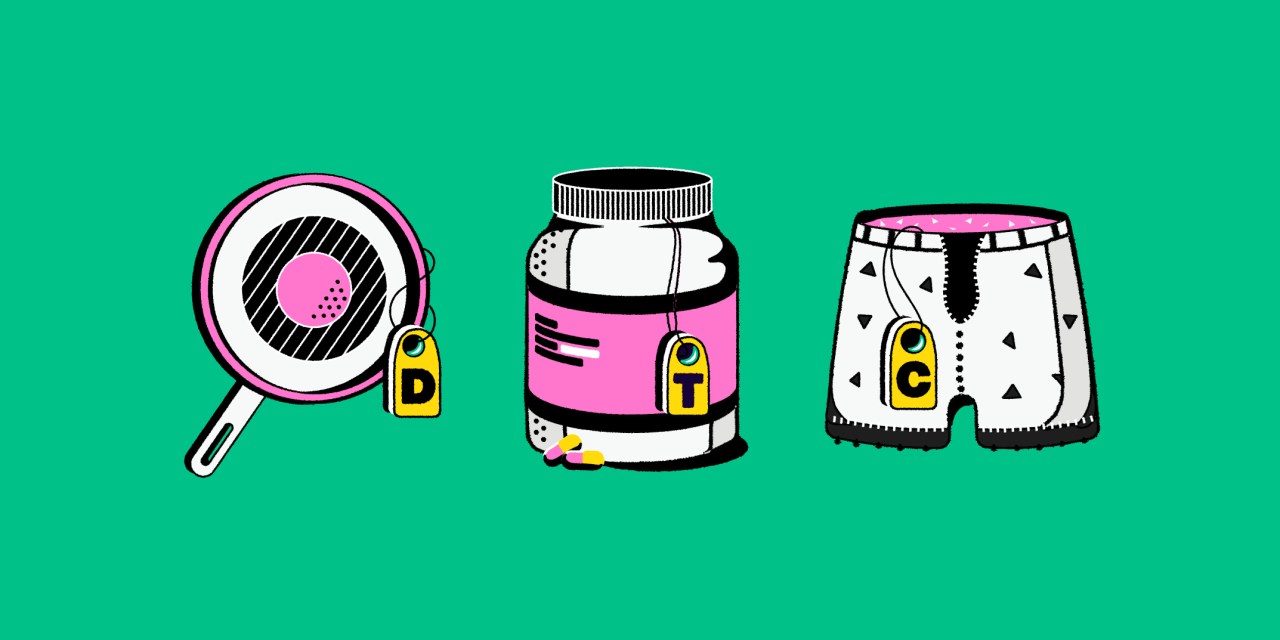 Illustration by Ivy Liu
This is the latest installment of the DTC Briefing, a weekly Modern Retail+ column about the biggest challenges and trends facing the volatile direct-to-consumer startup world. More from the series →
This is the latest installment of the DTC Briefing, a weekly Modern Retail column about the biggest challenges and trends facing the volatile direct-to-consumer startup world. To receive it in your inbox every week, sign up here.
In the coming weeks, snack brand BelliWelli — known for its probiotics bars — is launching nationwide at Sprouts. The expansion marks the year-old DTC brand's first major retail partnership. And it's leaning on its enthusiastic online community to help with this retail launch — even paying some superfans to go into stores and facilitate sampling sessions.
BelliWelli found online success thanks in part to its viral "Hot Girls Have IBS" campaign, which ran earlier this year. Since then, BelliWelli's advertising efforts have focused on offline channels, such as out-of-home billboards promoting its IBS-friendly snacks. Through these activations, the brand has accumulated thousands of dedicated followers who had a say in the brand's launch. The company grew by double digits between 2021 and 2022, with the majority of revenue coming from its official website and Amazon store.
Now, BelliWelli is using this army to repackage and launch its bars at Sprouts in October. The move is part of a trend among DTC startups, many of which have long argued that one of their biggest advantages is owning the relationship with their customers. Now, brands like BelliWelli are looking to maintain that customer connection even on store shelves. Most recently, Asian sauce brand Omsom took a similar route when it launched in Whole Foods.
BelliWelli itself was born out of a Facebook group that co-founder and CEO Katie Wilson created last year to share IBS tips and recipes. After buying out adjacent groups discussing IBS and SIBO symptoms, Wilson was able to aggregate 300,000 members under one group. So when she was preparing to launch the brand officially in March 2021, she had the group members choose the slogan and colors. 
For the upcoming Sprouts launch, Wilson said the company implemented a similar strategy — this time on its Instagram page, where BelliWelli ran a series of questionnaires and polls. "When you enter retail, you have to sacrifice aesthetically beautiful packaging," Wilson said. "So we gave up our glittery wrappers for loud pink boxes that stand out in the mostly neutral bar aisle." 
To kick off the crowdsourcing, the brand's Instagram page announced the company is working on new box designs for upcoming retail launches. From there, BelliWelli asked questions like "We want to hear from you: which brand always stands out to you in the grocery store?"
The account also polled followers on their preference between a number of variations on the hot pink colorways, eventually landing on the final design. It also worked with a branding agency to finalize the new packaging design. 
The new boxes more prominently feature photography of each bars' flavor. For example, cinnamon swirl features a cinnamon bun image, along with a "zero bloat probiotic bar" tagline. The new packaging also notes the lack of potential allergens, like "gluten-free" and "no sugar alcohols" in a large font. These design features are a departure from BelliWelli's original pastel, minimalist boxes, which touted a more vague "gut-friendly goodness" slogan.
Until now, the Los Angeles-based company has had a few of what Wilson refers to as "backyard retail accounts." They include regional grocery stores Gelson's Market in Southern California and Earth Fare in the southeast. Through these trials, the company has tested out strategies to get shoppers' attention. 
These smaller retailers allowed BelliWelli to nail down its in-store marketing strategy throughout 2022, featuring community members. To date, BelliWelli has hired a handful of followers to do one-off demo sessions, which they're paid for. 
One recent customer-hosted sampling event took place at an Earth Fair store in June.
"We reached out to a follower named Ashley who always likes and comments on our posts, and happens to live near the store," Wilson. The experiment paid off, even getting attention from Earth Fair's staff. "We got amazing feedback from them on the way she spoke about the product," Wilson added. Similarly, this past summer BelliWelli hired another superfan from social media to demo flavors at a Central Market store. 
Eight months ago, BelliWelli also built a product gifting program for followers to further help jumpstart the community. "We get dozens of requests a day asking us for products," Wilson said – with customers hoping to become a brand ambassador by posting about their free goods. "So we created a Google form for people to unlock free BelliWelli, both online and in stores."
Wilson said the team is still working out how to best scale this program alongside its influencer program. Customers are chosen based on their engagement with BelliWelli's account, rather than followers.
DTC strategist Kendall Dickieson said that as DTC-first food brands enter grocery stores, they want their digital customers to do the talking. "I'm a fan of brands utilizing their community to either create the product they want to see, or to help advocate for their products in real life," she said. She added that these interactions come off more natural and convincing to new customers, compared to a demo rep reading from a pamphlet.
Indeed, community-building has become one of the biggest buzzwords in brand marketing. At a time when digital advertising is experiencing volatility, DTC brands are counting on reliable, passionate power users to spread the word about their products. 
Wilson noted that while the community-driven marketing has been effective, it will be challenging to scale as BelliWelli enters more major retailers. 
With that, the company is already incorporating its retail expansion in its marketing material. "We started putting the retail logos on our billboards to signal our growing presence," Wilson explained.
Still, as the company continues to expand nationally, it's aware that it may lose some of the personal touch of its earlier days. "We'll lose some of that real-time feedback on retail," Wilson said. "But we believe our biggest fans will help power our retail business."
One DTC startup weighs a takeover bid
An ownership battle may be brewing at one of the first digitally-native startups to go public. 
On Saturday, Utah-based mattress brand Purple disclosed in a press release that it received an unsolicited takeover bid from Coliseum Capital Management. Retail Dive first reported the news.
"The Purple Board of Directors will carefully review the proposal to determine the course of action that it believes is in the best interest of Purple and all Purple shareholders," the company said in the release. 
When Purple went public in 2018 via a reverse merger, it was a rarity among DTC startups in that it was profitable. However, Purple has had a rough year. During its second quarter earnings in August, Purple reported net revenue of $144.1 million, a year-over-year decrease of 21.1%. 
The bulk of this decline was driven by a decrease in DTC revenue. The company also reported a net loss of $8.3 million. 
Seth Basham, a managing director at Wedbush Securities, said that Purple has been hurt by a recent slowdown in home goods sales. "A lot of people bought mattresses during the pandemic, and it is a purchase and product that lasts a few years," he said. 
In December, Purple named a new CEO, Rob DeMartini.
Coliseum Capital Management hasn't disclosed what it hopes to do should its takeover bid go through. There's a chance the firm could take Purple private, as private equity firm Durational Capital Management did with Casper.
But one difference between those two cases is that Coliseum Capital Management has been a longtime backer of Purple; the investment firm provided $65 million in debt and equity investments in 2018 to help fund the reverse merger.
"There's definitely been a lot of interest [in Purple] from Coliseum for quite some time," Basham said. 
What I'm reading
Instacart

unveiled a suite of new tools on Monday called

Connected Stores

, that purport to help grocers make their stores more high-tech by syncing Instacart shopping lists to smart carts and electronic store tabs, among other features. 

The Wall Street Journal has a deep dive into how retailers like

RH

and

Wayfair

have responded to the slowdown in

home goods sales

, with furniture and home furnishings stores reporting a 1.6% year-over-year decline in sales in August, according to the Commerce Department.

Thingtesting looks at how

seasonally-dependent brands

like

Dormify

and lawncare brand

Sunday

have tried to squeeze out more sales year-round. 
What we've covered
Everlane

disclosed last week that it had secured $90 million in

debt financing

. 

E-commerce giant

Shopify

previously hinted at its intentions to help more merchants grow internationally when it decided to host all of its Shopify Unite events outside of the U.S. It recently made those intentions clear with the launch of Shopify Markets Pro and

other tools

. 

Reusable packaging startup

Olive

, the brainchild of Jet.com co-founder Nate Faust, announced that it was pivoting to a

business-to-business model

.