Bobbie and Elvie team up for "combo feeding" Target campaign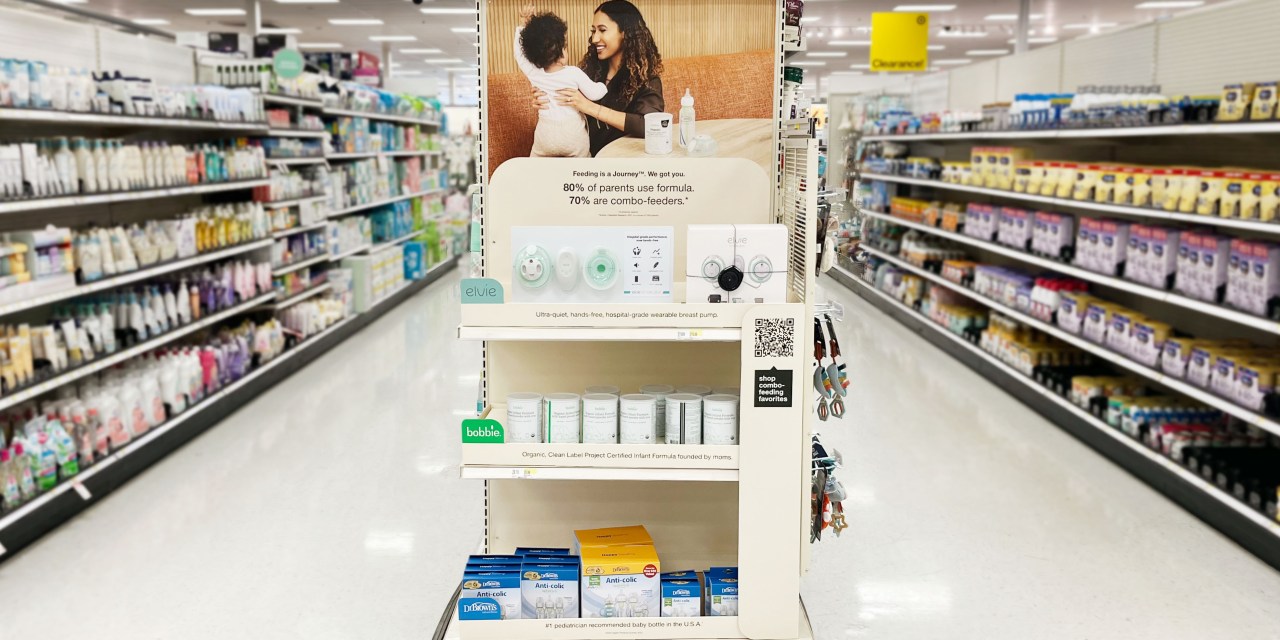 Two startups in the baby feeding space are looking to eliminate the divide between formula and breastfeeding with a new Target marketing campaign. Formula brand Bobbie and breast pump maker Elvie are featured in a first-of-its-kind Target display for "combo feeding," a term used for giving both breastmilk and formula to babies.
Traditionally, marketing for infant feeding has looked one of two ways: either a mother lovingly nursing her newborn, or a cherubic baby pawing at a bottle. The decision to feed one way or the other can lead to contentious debate. But the power of the Target display lies in reflecting reality: about 70% of parents combo feed, according to Bobbie research.
"It isn't either-or," Sara Ahmed Holman, vp of strategic growth & innovation at Bobbie. "The retail experience has to shift to support how moms are actually shopping to support their feeding journey."
The campaign, which will run through October, includes end caps on the formula aisle in 1,000 Target stores with the face of the campaign, Elaine Welteroth, who is journalist and inaugural Bobbie MotherBoard member. The shelves are stocked with products from Bobbie, Elvie, and bottle company Dr.Brown's. A parallel "Combo Feeding" section is also live on Target's website.
The brands aren't bundling the products or sharing any revenue. Data was not available on corresponding sales lifts seen so far. But those involved are hoping that introducing the phrase "combo feeding" into the retail zeitgeist will start a new wave of acceptance for the way millions of people are feeding their babies.
"It's time for us to start talking, in a very authentic and raw and real way, what it means when you are in those moments of feeling stigmatized, for feeling like your body didn't do what everyone's telling you it's supposed to do, or your baby needed something different," Ahmed Holman said. "We owe it to parents to speak to them in the moment that they're at."
How the brands teamed up
Bobbie, founded as a DTC formula brand in January 2021, launched in Target stores in July 2022. It marked a high-water point for the once DTC-only brand's retail expansion amid a nationwide formula shortage. And it was the first new entrant into the market in seven years, as the formula space has a high barrier to entry due to federal safety regulations.
The idea for a combo feeding campaign has been in the works for nearly two years, Ahmed-Holman said. The goal was to bring together the formula aisle and the feeding aisle to address the reality of modern feeding journey. Elvie, which makes wearable hands-free breast pumps that are meant to be discrete, made sense as a partner because it has a similar mission, she said.
Ahmed Holman also credits the campaign launch to the lived experiences of those involved. The formula buyer and feeding accessories buyers at Target are both moms, as well as the women who are two layers of bosses above them.
"That's really how you can make change like this," she said. "Do I think we would have been successful if the buyers at Target were a bunch of people that felt disconnected from feeding their own babies? I don't know that we would have, to be honest."
Elvie's U.S. general manager, Kerry Holleran Bailey said companies in the baby space have to modernize how they're speaking to their customers.
"It becomes really important for us to all have an honest conversation about the lives that our shoppers are living today," Holleran Bailey said. "If we don't ultimately address the core way that women are living their lives, we're not going to be able to find solutions that help to make their lives easier."
It's not unheard of for brands in similar categories to team up; partnerships are a way for brands to reduce customer acquisition costs by introducing themselves to a related audience. Sometimes that looks like an Instagram giveaway, or announcing a co-branded product to email subscribers. DTC brands have even gone so far as to feature other brands in web storefronts, like Lunya's The Rest Shop.
But the Bobbie-Elvie partnership is bringing it to a new level by landing in a big-box store. While Elvie had already been sold in Targets, Holleran Bailey said teaming up was a chance to "speak our shoppers in a new way," with Target being an accessible place for moms to shop.
"The Target shopper is very much aligned with us, in terms of making it easy for her to discover the product, to find the product in store, to pick it up how she wants it," she said.
More mothers combo feeding
The American Pediatric Association recommends exclusively breastfeeding for six months. But with the average maternity leave in the United States lasting just around 10 weeks, many mothers introduce formula when they go back to work so their child can be fed in their absence.
Dominique De Lope, senior manager of trade insights at What to Expect, has researched a multitude of child-rearing trends, including combo feeding. A study from August 2022 found more parents are using formula than they were in 2019.
De Lope said the research showed many moms say nursing is harder than they thought it would be: one in 10 said they tried to breastfeed but couldn't; nearly two-thirds of moms quit breastfeeding by six months. But the decision to combo feed can keep some moms nursing longer rather than switching altogether.
"Combination feeding is a way that moms are opting to take some stress out of the feeding experience, De Lope said, "It has many benefits, including enabling their partner to participate in the feeding responsibility."
Despite the benefits, the decision to supplement with formula can be fraught. Many nursing moms express guilt over giving formula. Meanwhile, social media teems with unrealistic expectations such as moms with freshly pumped eight ounce bottles, when the average might be closer to two to four ounces.
Bobbie's Ahmed Holman said the current marketing and imagery around feeding does parents a disservice. Many moms don't even hear the phrase "combo feeding" until they're doing it themselves — including Ahmed Holman, who combo fed her older child after having a back injury during birth.
She remembers feeling guilty as lactation consultants advised that breastfeeding was "the greatest gift I could give to my child." But she didn't learn the phrase until she had her second child and worked at Bobbie.
"It's actually a shared collective responsibility to educate parents on all the realities that that your feeding journey can take," she said. "All women need to really hear sometimes from each other is 'Good for you, for making the right decision for yourself and for your child.'"