As pumpkin-spiced season comes early, brands push iced fall drinks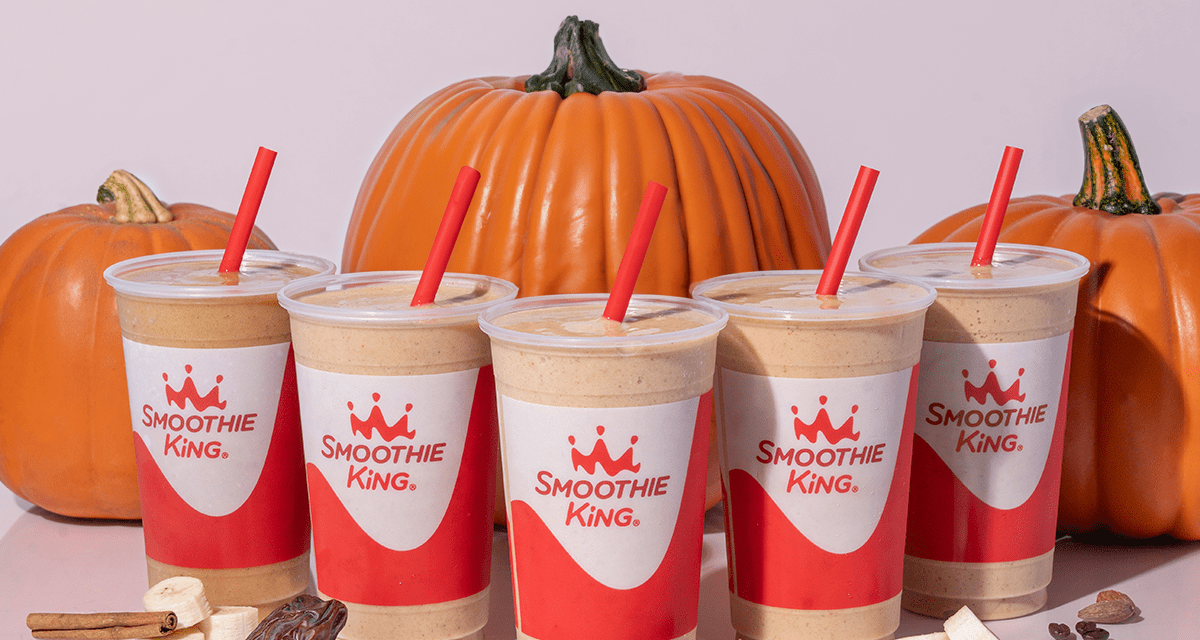 Smoothie King
The unofficial start to autumn occurs in late August, when Starbucks and other food and beverage brands introduce their lineup of pumpkin-flavored items. But when its still triple-digit temperatures in some parts of the country, the steaming pumpkin-spiced latte is getting replaced with iced beverages and frozen desserts as the go-to treat.
A confluence of factors are spurring brands to release more icy pumpkin products. Not only are younger people showing a preference for iced coffee year-round, but other fall trends like Halloween decor sales are starting earlier across the board. That means more brands are seeing heightened demand for the flavor — thus selling fall products in warmer temperatures.
In response, many brands are focusing on releasing cold pumpkin-flavored products. Starbucks this year has a new Iced Pumpkin Cream Chai Tea Latte. Chains like Tim Horton's and The Coffee Bean & Tea Leaf are pushing iced lattes in the marketing for their seasonal offerings. And on the CPG side, Chobani launched a new oat milk pumpkin drink meant to be served or ice or as a flavor in other concoctions.
Frozen dessert brand Goodpop launched its first-ever pumpkin spice latte flavor in Whole Food's grocery stores this year. CEO Daniel Goetz founded Goodpop about 14 years ago and initially resisted pumpkin because the brand tends to focus on more unique flavor combos for it popsicles, like mango chili, hibiscus mint and watermelon agave. But as the brand grew, Goetz said pumpkin became the top-requested flavor.
"Even if it's 100 degrees outside, people are thinking and getting messages about fall things," he said. "A pop plays much better, or a cold pumpkin spice drink, than hot pumpkin spice lattes."
Goodpop started developing its pumpkin flavor around two years ago to get ready to launch this season. It's made with oat milk, fair trade cold brew coffee and real pumpkin. Goetz said he thinks the demand for cold pumpkin products kicks in because people are ready to transition to the new season.
"It's at the point where it's now a classic. Fall rolls around and people think pumpkin spice latte," he said. "It's less about pumpkin itself and more about the emotion it evokes."
The cold pumpkin treats are also a response to "pumpkin creep," or the season starting earlier and earlier each year. Starbucks first introduced the pumpkin spice latte in October, while this year the fall menu launched on August 24. 7-Eleven rolled out its pumpkin products on August 1 this year, the earlier it's ever done. Some CPG brands, like Samuel Adams and Dogfish Head, also release their fall products on August 1.
Overall, the pumpkin profile is a growing category — sales of pumpkin-flavored products hit $802.5 million in the year ended July 29, according to Nielsen data reported by the Associated Press. That's a 42% increase from 2019.
Lori Primavera, vice president of research and development and product development for Smoothie King, said the brand has seen its pumpkin products get more popular each year, which she attributes partially to the early introduction of the season.
"When you think about pumpkin, you think about fall and the change in the season, but it's still hot outside," she said.
Smoothie King offers five limited edition pumpkin products, including a new "power meal" version that has 20 grams of protein.
To prep for this year's season, Smoothie King ordered a record high amount of organic pumpkin puree. And it's marketing the effort with a giveaway day on Sept. 6 for customers who sign up for its rewards app.
Jordan's Skinny Mixes, a line of flavor syrups and mixers, is also experiencing record demand for its pumpkin products. So far this year, sales of pumpkin-flavored items are up 30% year over year, said cmo Dana Paris.
The trend to colder pumpkin beverages is also playing out in the brand's content. Out of about a dozen pumpkin-flavored beverages that Jordan's Skinny Mixes has for fall so far, only two are hot drinks. The most popular so far is a nutty pumpkin spice iced coffee that uses hazelnut and pumpkin syrups with iced coffee and oat milk.
The syrups are also a staple for fans of "watertok," or the trend of making flavored water drinks using different mixers. This year, a new pumpkin donut water is proving to be a popular flavor, mixing a pumpkin spice syrup with a maple donut syrup into ice water. Jordan's Skinny Mixes also introduced a new naturally sweetened pumpkin spice flavor this year that uses real pumpkin, monkfruit and stevia to its line of fall syrups.
Paris said that while she expected pumpkin demand to kick in after Labor Day, the early start makes sense given the weather.
"We were expecting to have a slower start to pumpkin season because it's been so unseasonably hot, but consumers are already excited," she said. "I think people are ready for the changing flavor profile."