Why Keurig and Nespresso are leaning into at-home iced coffee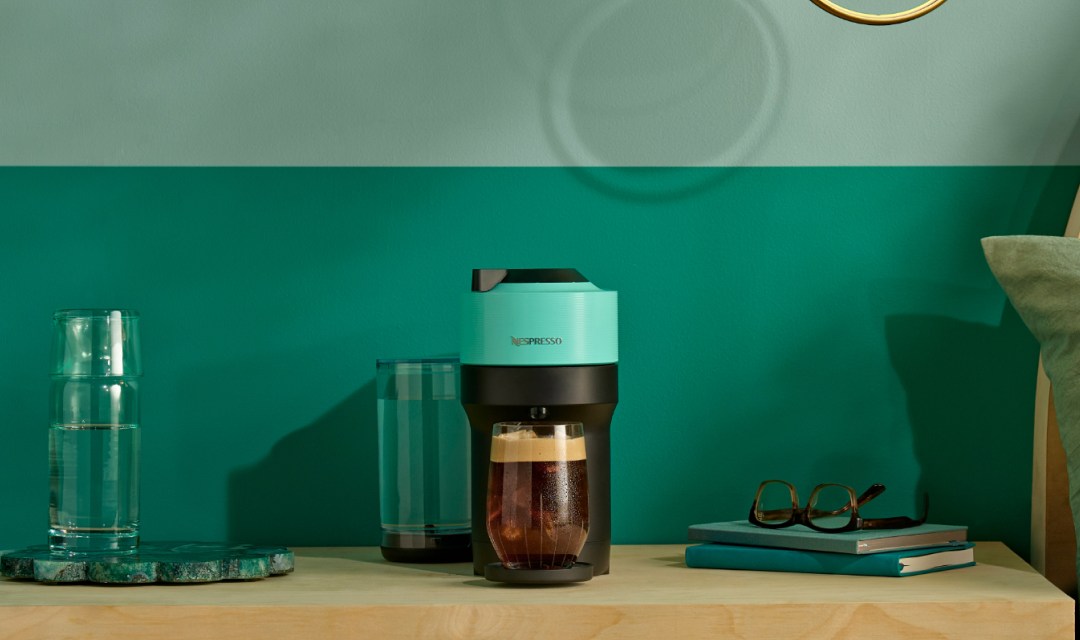 George Clooney has been a Nespresso brand ambassador since 2006. But this summer's ad campaign was the first time he's clutching a tumbler of iced coffee.
"That is a breakthrough for Nespresso, a company who built our foundation on hot coffee," said Jessica Padula, vice president of marketing and interim head of sustainability of Nespresso.
As iced coffee becomes as mainstream as its hot counterpart, coffee brands are changing up their product and marketing strategies. Both Nespresso and Keurig launched new iced formulas of their single-serve products this year. Keurig has a line of new brewers meant to emphasize iced brewing, and this week announced it invested $300 million in La Colombe, known for its cans of ready-to-drink cold brews.
The companies are also relying on social media and influencer marketing to sell products specifically to Gen Zers, who are helping fuel much of the iced coffee boom.
"Cold coffee is coffee for the younger consumer," Padula said. 
According to the National Coffee Association, about eight in 10 coffee drinkers consume it at home. And about 26% of them drank cold coffee during the winter, and about 39% last summer, the NCA found. Meanwhile, Starbucks estimates that about 80% of customers order ice drinks in the summer — and brands like Nespresso and Keurig are looking to siphon off some of those with its in-house systems. 
Padula said Nespresso used to only offer iced coffee capsules as a seasonal limited edition. But it now has three in its permanent collection, including a cold brew released this spring. Sales of those capsules are up almost 25% in the first quarter of 2023 compared to the year prior, not counting other seasonal flavors. 
In addition to the Clooney spot that also stars Julia Garner and Simone Ashley sipping cooled beverages, Nespresso is marketing the Vertuo Pop+, a $129 machine rolled out last year. While the machines can brew hot and iced coffee, Padula said its marketing photos exclusively shows it with iced coffee as a subtle nod to the growing trend. 
"We've had to do a lot of work to break down this misperception that you can't get what you want out of coffee at home. And that that continues to be a bit of a barrier for us, but not something that is insurmountable," she said. 
Products meeting preferences
Much of the focus on how to brew a great iced coffee at home started during the onset of the coronavirus pandemic. Lockdown orders shutdown cafes and force caffeine heads to make do on their own.
Greg Carlucci, senior director analyst at Gartner who specializes in consumer goods, said research shows that many shoppers are looking for more affordable alternatives for food and beverage.
But these shoppers may still want a premium experience — meaning brands in the space can cater to the customer with specialized blends and products. 
"That consumer that they're trying to target is likely someone that is a convenience craver, that values quality ingredients and is willing to kind of pay a premium for that type of experience," he said.
Nespresso's Padula said that elevated experience often looked like the creation of a "coffee nook," with shoppers investing in new brewers, frothers, flavor syrups and other accessories. Sales of espresso machines, French presses and cold brew rigs grew by double digits from May 2020 to May 2021; sales of milk frothers alone increased by 120%, according to data from The NPD Group.
"The entry point for cold coffee and coffee in general is this higher end flavors, things they've seen in cafes," Padula said. "And actually, it's really easy to do at home."
Becky Opdyke, svp of coffee marketing at Keurig Dr Pepper, told Modern Retail that 2023 is "the year of iced coffee" for the brand, with a specific eye toward Gen Z coffee drinkers. 
This spring, it launched its latest round of machines, called K-Iced, that can make hot or cold coffee. The launch features Target exclusive model for $129 that's larger than both and can fit a travel mug or tumbler underneath the brewer. Additionally, a new line of Keurig pods include formulas that are meant to be served over ice, like Mocha Frappe and Hazelnut Latte on the McCafe line. 
Opdyke said these pods have recipes that include the dairy and flavors of the drink to mimic what a customer would get in store.
"As we modernize our system and go for bringing younger consumers in, it is a no-brainer that we need to go after the iced category of coffee," Opdyke said.
Gen Z marketing plays
To cater to the Gen Z consumer, Keurig is focused heavily on social media and connected TV to push its new iced products. Some posts feature a branded Keurig tumbler. A Reels post shows the coffee makers in action, brewed over ice in a mason jar topped off with a swirl of milk. A recent Threads post heralds "Iced Coffee (Keurig's Version)".  And on TikTok, influencer Trey Kennedy, who boasts 3.4 million followers of his spoof videos of family life, debuted a campaign for making #McCafeAtHome.
More influencer work is going to be launched in the back-to-school period, Opdyke said. 
"It was a completely new way for us to be doing marketing to reach these new consumers and wanting to better reflect how consumers use our products, " she said. "A little cheerkier, a little different, and all basically on the digital space." 
These are the same platforms that Opdyke credits with helping push iced coffee into the forefront. 
"In this day and age where we are taking photographs of everything that we do and sharing them, it is a much more shareable drink than the traditional black coffee in a cup that you can't see. "