Flavored water brands are riding the popularity of 'watertok'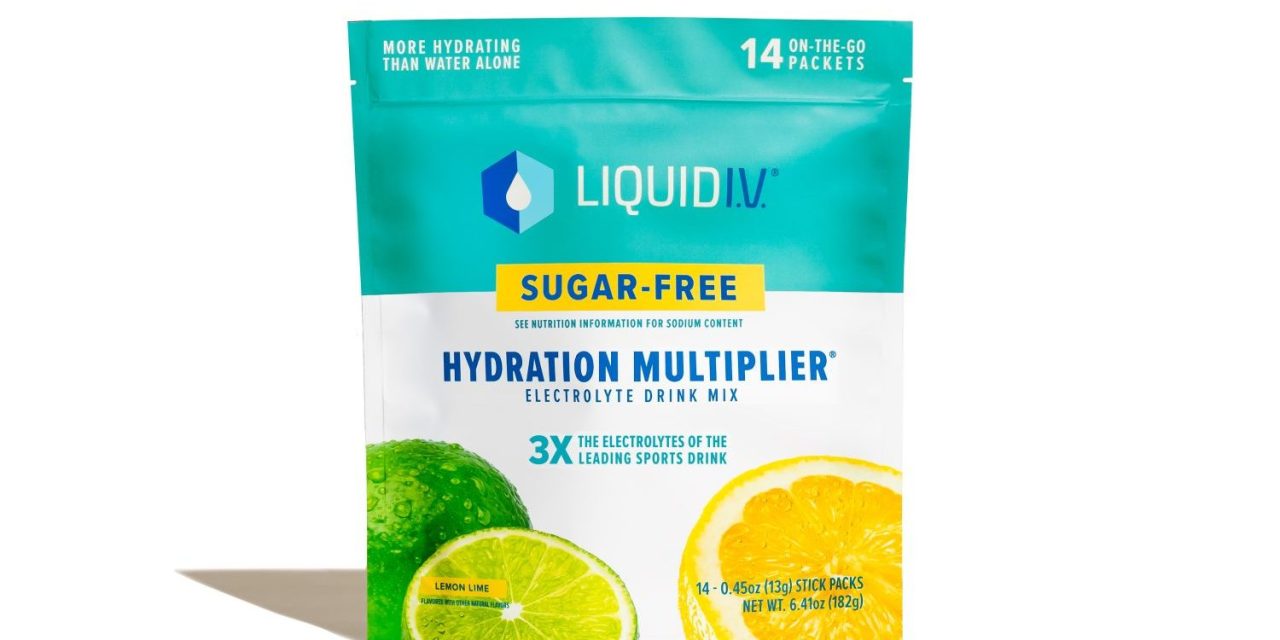 Beverage brands are continuing to push healthy hydration this summer with flavored water formulas that boast alternative sweeteners — much of it thanks to a viral TikTok moment dubbed 'watertok.'
Liquid I.V. in late June debuted a long-awaited sugar-free formula, while Bigelow Tea added new flavors to its line of Botanicals Cold Water Infusions. Coca-Cola's Vitaminwater released two new flavors and a new formula that uses monkfruit and stevia. Appliance company SharkNinja launched the Ninja Thristi, a single-serve dispenser for customized flavor water, and a line of sugar-free flavor drops. 
The flavored water market was once dominated by bottled sweetened concoctions and sparkling beverages. But this year, with the rise of do-it-yourself flavor blends on "watertok" and a heightened awareness around artificial sweeteners, beverage brands large and small are pushing new products that are marketed to be healthy alternatives.
Stacey Andrade-Wells, vp of marketing at Liquid I.V. credits the shift to sugar-free to an overall awareness of health and wellness. Shoppers care what's in their products, she said. And the latest World Health Organization research on aspartame as a possible carcinogen is changing the conversation around what kind of sweeteners are in a product.
"There's just far more awareness from consumers than there ever has been of the ingredients in their products," she said.
As the hydration trend grows, so do the companies that thrive off it. Liquid IV, founded in 2012, has grown from a niche DTC startup to being acquired by Unilever in September 2020. Packages of its packets are now found in Costco, Target and other major retailers. And while Liquid IV has rolled out new products before, like its energy booster in 2019 and immune booster in 2020, Andrade-Wells said that the sugar-free product is the biggest launch in the brand's history, in part because it was the most in-demand product that fans of the brand were asking for.
The company spent two years researching and testing how to make a sugar-free version that didn't use artificial sweetener, she said.
"As soon as we tell people we have a sugar free version of Liquid I.V., they say 'What are the artificial sweeteners you put in there?'" she said. "People are having an in-depth understanding of what these are." 
The product uses a blend of the amino acids L-glutamine, L-alanine and Allulose, which is a naturally occurring sweetener found in in figs and jackfruit. Flavors include lemon-lime, green grape and white peach.
"It would've been easy to just remove sugar and come up with a sugar-free version," she said. "We really didn't want to do that. It's important to us we continue to deliver on the high bar we have for flavor, but also deliver on the promise for functional hydration."
The hydration trend is nothing new, as reusable water bottle sales have been up in recent years. And neither are single-serve flavor packets, with powered drink mixes like Crystal Light dated back to the 1980s. But this year, flavored water sales are buoyed by "watertok." The viral trend has racked up more than 600 million views, resonating as a way for people to show off their "recipes" for flavored water by mixing a variety of packets and flavor drops, like peach ring gummy, ocean water, or birthday cake.
Some videos show off "hydration stations" that include colorful packets and syrups — and usually a Stanley tumbler. In the comments, some critics call out what they're mixing up as juice, claiming it isn't water at all if it has the flavors mixed in. But Watertok is still full of references to wellness, weight loss and health — including some who highlight "aspartame-free choices."
"Waterotk is a perfect example of how consumers are becoming more and more attuned to the role of hydration in everyday life," Andrade-Wells said.
This spring, Liquid I.V. hit the festival circuit by putting up its own hydration "oasis" at Coachella, as well Bonnaroo and Rolling loud in Miami. It also plans for an installation at Outside Lands in San Francisco later this month. Andrade-Wells said festivals are a natural fit for a "sticks in hand" marketing strategy for sampling, given how concertgoers are sweating and partying in high temperatures.
Legacy beverage brands are getting in on the trend, too. Bigelow Tea, a family-owned operation since its founding in 1945, launched the Botanicals Cold Water Infusions line several years ago. This year it rolled out two new flavors: blood orange tangerine, and pineapple coconut mango. Other flavors include Blueberry Citrus Basil and Watermelon Cucumber Mint.
Bigelow Tea vp Chris Costello said the company created Botanicals as a way to create "spa water" at home. And while beverage brands like Liquid IV and Vitaminwater are known for their flavor profiles, Botanicals has had a bit more of a challenging rollout because of its association with Bigelow. Some customers expect a bold flavor, mistaking it for iced tea.
"Tea is very strong and brewed and rich," he said. "This is really meant for a different type of occasion, to stay hydrated and just add a little flavor of water."
Bigelow's product doesn't include caffeine and no sugar, but uses fruits, herbs and spices. The bags are dunked in cold water, steeped for at least eight minutes, and give off a light flavor.
"Botanicals was really meant to appeal to the trend we saw in hydration," he said. "Consumers need to stay hydrated, and they get tired of drinking plain water."