'We got thousands of new followers a day but then we started to have issues': Brands report major logistics challenges with TikTok Shop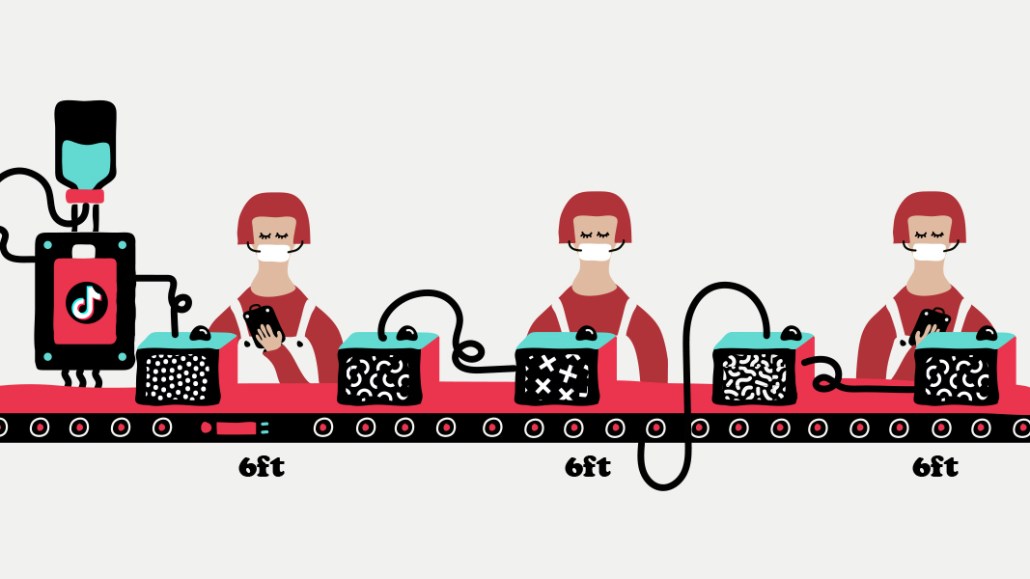 Rinseroo, a brand that offers an assortment of slip-on attachment hoses, saw $50,000 worth of sales just from one video after joining TikTok Shop in May.
"In the beginning, we were seeing incredible scale. I would say we got thousands of new followers a day but then we started to have issues with the platform," said Lisa Lane, creator of the Rinseroo brand. The brand has gained recognition through cleaning videos on TikTok and is available on Amazon, Chewy.com and Lowes.com. The challenge came when the company attempted to ship products through the platform.
TikTok didn't integrate with Rinseroo's shipping platform, and as a result, the brand wasn't able to create an end-of-day form, which makes it more efficient for carriers to scan products into their system. That meant that the post office had to painstakingly scan all of Rinseroo's orders, and, inevitably, not all orders got scanned. This hiccup caused Rinseroo's shop to get flagged and garner losses from reshipping products that weren't scanned at the post office.
Just a few months after joining TikTok Shop, brands interviewed by Modern Retail are already seeing the highs and lows of the app's e-commerce platform. More U.S. brands started getting invited to test out TikTok Shop earlier this year, but many of these brands already have fulfillment systems or fulfillment partners set up. While many have reported increased sales, some are experiencing logistical problems because TikTok doesn't integrate with their shipping platforms.
TikTok declined to comment on the logistical challenges brands are experiencing on its platform. Recent announcements also show that TikTok has been working on its own logistics offering. Earlier this month, TikTok introduced "Fulfilled by TikTok" in the U.K., which offers to store, pack and ship sellers' products.
TikTok Shop has been in its testing phase in the U.S. since November last year and has been quietly inviting brands of different sizes to join the platform. In some countries, like the Philippines, TikTok has already announced a "Shopping Center" tab in March that takes people to its shopping page. In the U.S., TikTok has already proven its ability to drive sales for viral products, such as Gap's hoodie, Abercrombie's jeans and even emptying shelves of Ocean Spray's Cran-Raspberry beverage at grocery stores.
"Imagine getting everything you need to be convinced [to make a purchase] in just one place," said Nicla Bartoli, vp of sales at marketing firm The Influencer Marketing Factory. "You don't necessarily need to go on Google and research the product or go on Amazon and read through hundreds of reviews. [TikTok] has everything in there: video, comments, shares, bookmarks."
Indeed, TikTok virality can lead to skyrocketing sales. Since joining TikTok Shop in April, toy brand Educational Insights has been seeing 300% to 400% month-over-month sales growth. The brand, which was founded in 1962, has about 30 of its products available on TikTok Shop.
"What TikTok has done right that a lot of other platforms have tried and failed is they built a massive loyal community first," said Lee Parkhurst, senior brand manager for Educational Insights. "Now, there's just a seamless way for people to engage and interact through TikTok and then have the opportunity, if they're inclined, to make a purchase."
Parkhurst said that the company has benefitted from TikTok's reach and has even received interest from other retailers after some of its products went viral, such as its Kanoodle puzzle game. Much like Rinseroo, however, logistical issues hit Educational Insights. The company can get anywhere from 500 to 2,000 orders in a day, which had to be manually processed through TikTok Shop. Orders through TikTok Shop also had to be shipped after two days — but because Educational Insights doesn't operate on weekends, the company got penalized because orders placed on Fridays couldn't be shipped until Monday.
"Those were rules and regulations based on these smaller sellers being able to pull that off," Parkhurst said. "Now that [TikTok is] working with bigger brands like us, they're starting to understand that is a challenge for these brands. We can't be penalized and lose out and have orders refunded because it's not our business hours."
Rinseroo's Lane said that these penalties can be tough for sellers. When a brand's account gets flagged, she said TikTok limits the amount of orders they can process per week.
"When you post videos that week where your shop is suppressed, you'll barely get any traction," she said. "When the suppression is lifted, you get thousands and thousands of views." Lane said that the large discounts of up to 30% that TikTok gave to shoppers on their first order have helped sales from her shop climb. Thanks to the volume the brand sells on TikTok, Rinseroo is assigned a brand rep that helps escalate issues.
Confectionary company XO Marshmallow, which is available in 400 boutique retailers, said the company was taken off guard by the amount of sales it received. In August alone, overall sales grew 190% year-over-year. Kathryn Connor, co-owner and co-CEO of XO Marshmallow, said that meeting the demand and integrating its back-end operations had been some of the biggest challenges on the platform.
"If you're a business that wants to sell just specifically on TikTok, you're already integrating with their system as is," Connor said. She added that because XO Marshmallow already had a website and fulfillment system set up, it had to make adjustments to sell on TikTok Shop. "I will say they're pretty receptive to everything we've said."
More changes are coming for the brands, however. TikTok recently announced that it plans to discontinue its Storefront integration with Shopify by September 12 to push sellers to use TikTok Shop instead. The feature previously allowed Shopify sellers to sync their assortment to TikTok.
Despite the challenges on the platform, Rinsaroo's Lane said the opportunity to be one of the earlier brands to join the platform is hard to miss. "Maybe in five years Tiktok Shop will be a destination for shoppers, where people will go to TikTok first," Lane said. "To miss out on that over the next five years might be a mistake, so why not ride the TikTok Shop road into the future?"