Sprouts Farmers Market taps Instacart to power its retail media network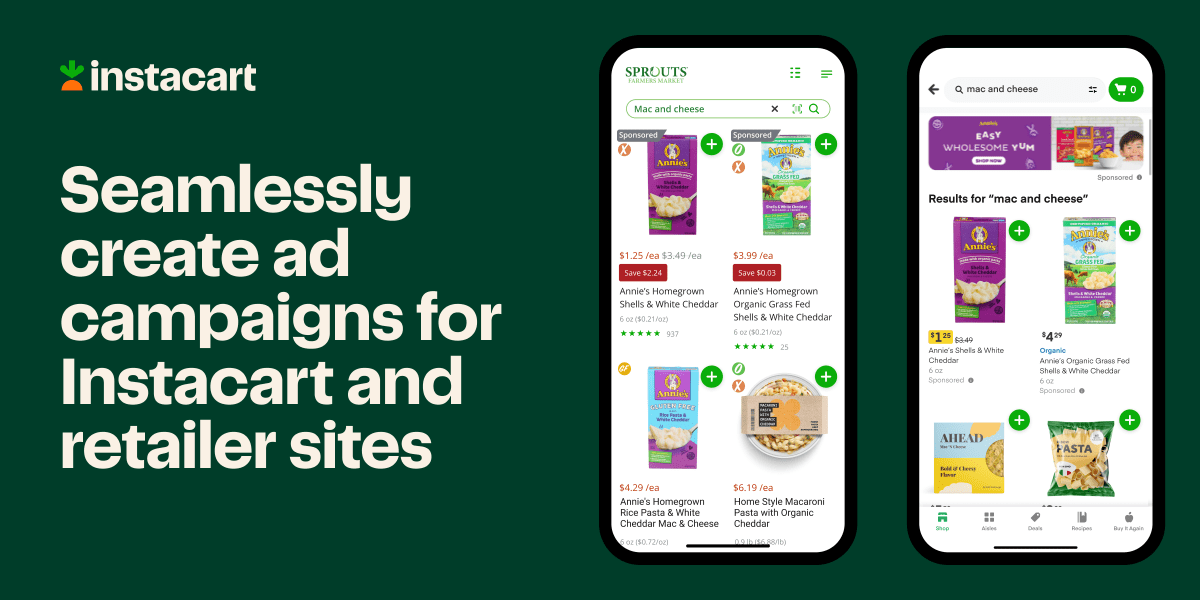 As it seeks to grow its business-to-business revenue, Instacart is looking to get more grocery chains to use its retail media offerings.
On Wednesday, Instacart announced that regional chain Sprouts Farmers Market is the latest grocer to use its Carrot Ads solution to power its retail media network.
Instacart launched Carrot Ads, which is being used by other chains like North Carolina's The Fresh Market, over a year ago to help its retail partners sell advertising space on their owned and operated properties. In February, Instacart expanded Carrot Ads to include display ad units to offer more targeted ads and improved measurement to advertisers. Partnering with Instacart could help drive a new revenue stream for Sprouts. Meanwhile, expanding the scale of Carrot Ads helps Instacart position itself as more than just a grocery delivery platform. Growing its various business-to-business offerings has been a crucial focus for Instacart in recent years, particularly as rumors have swirled this year that the company may go public.
Through this new partnership, Sprouts will have access to Instacart's ad tech, its engineering team, hundreds of salespeople that work with its 6,000 advertisers as well as data insights.
At a high level, Instacart's Chief Business Officer Chris Rogers told Modern Retail that Instacart wants to establish itself as a technology company that supports other retailers. "This partnership really underscores Instacart's position as a retail enablement company," said Rogers.
Sprouts and Instacart first partnered together in 2018 when they launched same-day delivery on Instacart. The two companies have since launched curbside pickup at nearly all stores and support EBT and SNAP payments, as well as alcohol delivery and pickup in select states.
There's been a greater interest from retailers in growing their media arms in order to capitalize on the surge in e-commerce sales — and to emulate the success of Amazon's fast-growing advertising business, which generates roughly $30 billion a year and grew 21% year-over-year in the first quarter.
According to Dave Marcotte, senior vice president of global retail at Kantar, retail media requires a great deal of investment in terms of IT capabilities, which can be a challenge for regional grocers like Sprouts. "You have to have a substantial database, you have to have electronic coupons. You have to have all types of ways of not only being able to contact customers, but to prove to vendors that you could do it. So, that is a challenge, and that's where Instacart has kind of stepped in," he explained.
In addition to the success Sprouts has already had this year, Marcotte said, that this is a way for the retailer to add "incremental money" to grow its business. This week, Sprouts reported a 6% year-over-year increase in sales to $1.7 billion in its first-quarter earnings. E-commerce orders contributed about 12.2% to Sprouts' total sales.
"They [Sprouts] are still growing stores, they still have a market cachet that's unusual and not very well defined. But they're not looking at this as a primary source of revenue," Marcotte said.
For its part, Sprouts Farmers Market's Chief Marketing Officer Alisa Gmelich told Modern Retail that the driving factor behind the Instacart partnership was to "enhance our e-commerce experience for our customers and being able to put these amazing brands in front of them."
"We think that this is really going to help us just continue to grow our e-commerce business," Gmelich added, and specifically to better personalize the Sprouts e-commerce experience.
Instacart's Rogers said that Carrot Ads is just "one of the many service pillars that we provide to our retail partners." Indeed, Instacart has sought to grow its B-to-B offerings in the past few years. The company started offering fulfillment solutions to retailers and expanded its product line to include non-grocery items including prescription deliveries and cosmetics. In August 2022, Instacart offered retailers such as Big Lots among others its "Big & Bulky" fulfillment option, so customers can order large items like furniture, appliances or electronics via Instacart.
In total, Instacart now works with over 1,100 retail banners. Rogers added that while grocery as a segment was a little late to embrace e-commerce, adoption has accelerated over the last three to four years. "It's gotten to the point now where having pickup and delivery as a grocery retailer is table stakes, and many retailers have been investing in this heavily over the last several years," he added.
Ultimately, Instacart's Rogers said, the company's ad business is very important. "The trend towards retail media networks in the overall scheme of media spend is just getting started. I think products like our Carrot Ads launch help create reach for any of the smaller players," Rogers said.